Are you looking at the best restaurants in Oahu? That's great, you are at the right place. In this article, I will share my best food in Oahu bucket list for you, and you can choose any restaurant you like. Let's break down this food list.
Actually, the most part of Hawaii vacation is eating at the best restaurant in Oahu. Introducing a free-spirited trip to Hawaii would be incomplete without sharing the local restaurants and culinary delights!
Oahu Island is a hub of global cuisine, offering a wide range of options including authentic American, Hawaiian specialties, Japanese cuisine, Korean dishes, and even Chinese food. No matter which area you visit on the island, there are delicious delicacies waiting for you to try.
As I'm a foodie, I'm always looking for great food, whether in Hawaii or anywhere else in the United States. If you're traveling to Oahu Island today, you definitely need to refer to this list of recommended Hawaiian restaurants. I guarantee they won't disappoint, and they're also budget-friendly and affordable.
1. Zippy's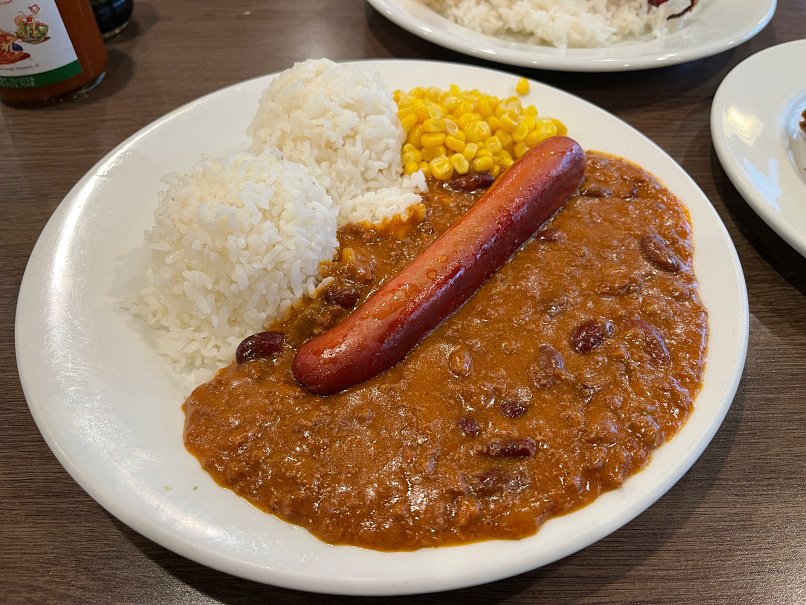 This is one of the most famous restaurants you'll come across in Hawaii, likely Zippy's, where you can enjoy all the local specialties. Whether it's the famous Chilli (a must-try), Surf Pac (a convenient beachside bento box), Korean Fried Chicken, Hawaiian Food, and more, Zippy's has it all.
Zippy's not only serves breakfast, lunch, and dinner, but also offers a variety of cakes, bread, and desserts. My personal favorites are the Apple Napple (apple pie) and the Custard Long John (a custard-filled pastry). If you have a sweet tooth, you must give them a try.
It's worth mentioning that Zippy's provides options for takeout, dine-in at the restaurant, and phone reservations for meal pickup. If you want to save on tipping, you can choose the takeout option and enjoy your meal in the indoor seating area they provide.
Read More:Zippy's Unbox
Zippy's Hawaii Oahu
2. Side Street Inn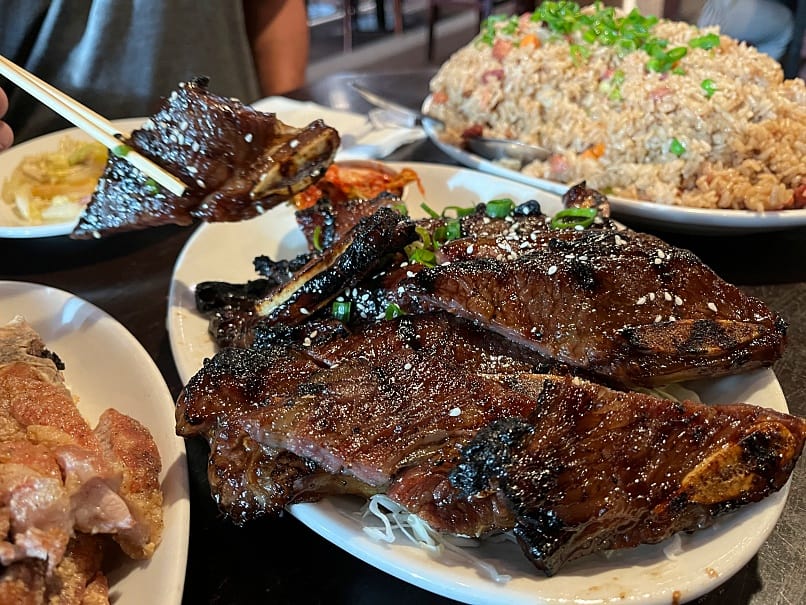 I like this Side Street Inn restaurant and the reason is they have tasty steak and stir-fry rice that you better try it.
Side Street Inn is another famous restaurant in Oahu, Hawaii. They provide a local flavor which mixes Eastern culture like Japan, South Korea, and Chinese food, not only the American style steak, here, you get an international eating culture.
If you have tried stir-fry rice before, then you can try their rice again! Don't just order the steak. In addition, you can order their kimchi fried rice, pork chops, and some drinks like beer, and cocktails. These foods are delicious so I recommend it to you.
Overall, Side Street Inn offers local but international flavor foods, so that you can sit down and try them all.
Side Street Inn
3. Liliha Bakery
Liliha Bakery is a famous restaurant in Honolulu, they sell various desserts and some special bakery stuff that is worth it to you.
The most popular selection is their Coco Puffs, it is a choux pastry filled with a light and creamy chocolate pudding, topped with a generous dollop of Chantilly frosting. I like that pudding's texture and taste so sweet that I recommend you can come in the afternoon.
Another choice you can try is cake, cookies and bread, and don't forget to order a cup of coffee.
If you don't want to eat sweets, then you can have some special salty food like Loco Moco, it's a classic Hawaiian food, a local food like the rice, hamburger patty, fried egg, and gravy, mixed them all on a special plate. Looks like curry rice but tastes like coconut sauce, a special stuff.
Overall, Liliha Bakery is not only a dessert store, and they offer the Hawaiian rice meal that is worth it to you.
Liliha Bakery
4. Cafe Kaila
Cafe Kaila is a popular breakfast and brunch spot located in Honolulu, Oahu, known for its delicious and comforting dishes made with fresh, locally sourced ingredients and its friendly atmosphere so that you better try it.
The cafe offers a diverse menu that caters to a range of dietary preferences, including traditional breakfast staples and lighter fare such as granola bowls and yogurt parfaits.
Cafe Kaila prides itself on its commitment to community and sustainability and supports local farmers and businesses. Despite sometimes long waits due to its popularity, Cafe Kaila continues to attract locals and tourists alike with its tasty dishes and welcoming setting.
Cafe Kaila
5. Yanagi Sushi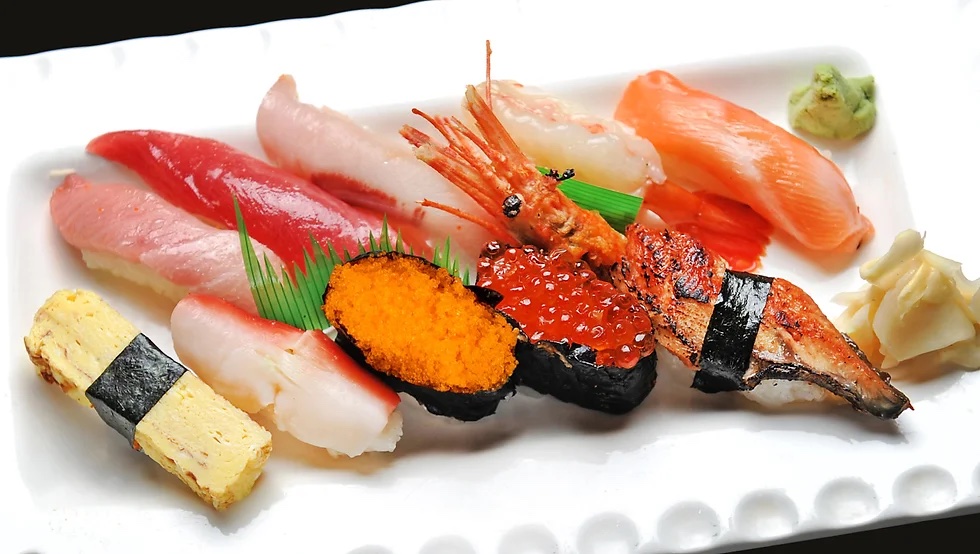 In Honolulu, Oahu, Yanagi Sushi is a well-known and highly regarded sushi restaurant that has been serving contemporary and traditional Japanese cuisine since 1978. The eatery is known for utilizing superior grade, new fixings to make tasty dishes, and their accomplished sushi cooks offer a wide determination of sushi rolls, nigiri, and sashimi.
Furthermore, Yanagi Sushi offers a scope of cooked dishes that feature the kinds of Japanese food. The sushi bar and table seating in the restaurant create a warm and inviting atmosphere, and the helpful staff provides excellent service.
Yanagi Sushi's fresh fish, generous portions, and attention to detail have earned it a devoted following among visitors and locals alike.
Yanagi Sushi
6. Scratch Kitchen
Scratch Kitchen is a well known café in Honolulu, Oahu, serving an assortment of upscale solace food roused by Southern cooking. The Ward Village-based eatery has received favorable feedback, with many customers praising the flavor and quality of their dishes.
For both brunch and dinner, there are a variety of options, including Scratch chili, beef patty, garlic rice, and pork adobo. Scratch Kitchen likewise offers takeout and conveyance choices for clients, as well as bookings for supper administration.
Moreover, they have a Heat Shop situated in Kaimuki, which serves prepared products and baked goods. Scratch Kitchen has areas of strength for a media presence on Instagram, with more than 13,000 devotees. In general, it is highly regarded for the delectable food and warm atmosphere.
Scratch Kitchen
7. Egghead Cafe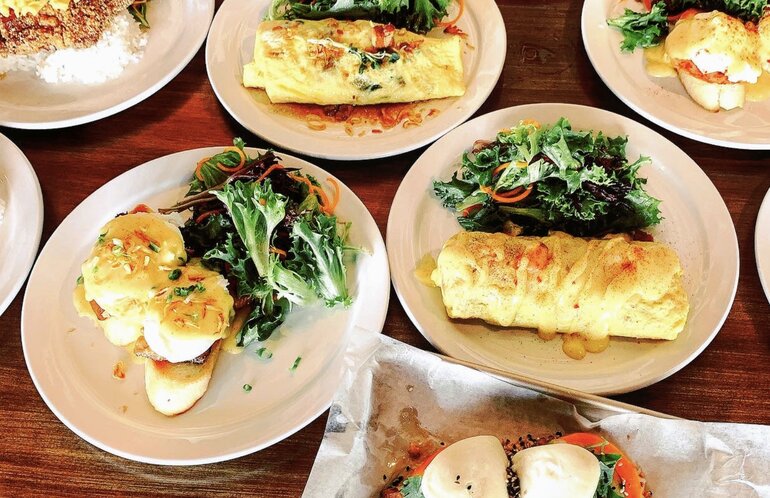 Egghead Bistro is a famous breakfast and early lunch spot in Honolulu, Oahu, Hawaii, known for their imaginative and tasty egg-driven dishes, obtained from privately developed produce.
The "Loco Moco" and other traditional dishes are also available at the cafe. The comfortable air and easygoing energy makes a lovely feasting experience with the cordial staff offering mindful support.
On Oahu, Egghead Cafe is a must-visit for breakfast and brunch lovers looking for new menu options.
Egghead Cafe
8. Waiahole Poi Factory
Waiahole Poi Factory is a popular Hawaiian restaurant on Oahu, Hawaii, situated in the beautiful and picturesque Waiahole Valley.
They specialize in traditional Hawaiian dishes, featuring poi made with freshly pounded taro root, laulau, kalua pig, lomi salmon, and squid luau.
The restaurant offers a casual and rustic atmosphere with indoor and outdoor seating, surrounded by the stunning natural landscapes of Waiahole Valley.
It is recommended to check their hours and make a reservation before visiting.
Waiahole Poi Factory
9. Cinnabon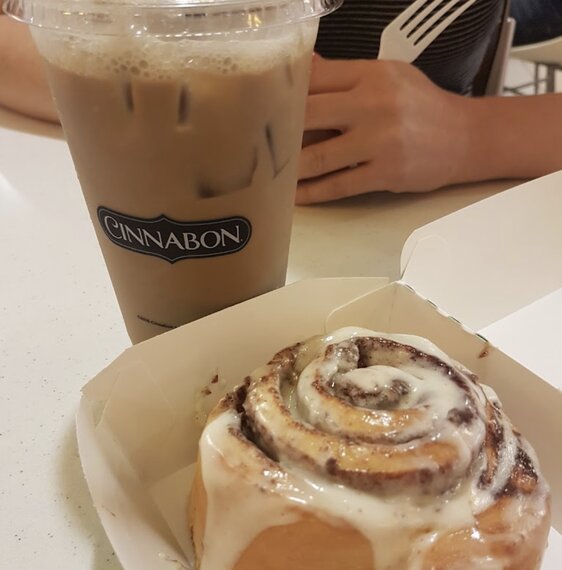 Cinnabon is a well-known bakery and café chain famous for freshly baked cinnamon rolls in Oahu, Hawaii. Cinnabon outlets offer signature products such as classic Cinnabon Roll, Caramel Pecanbon Rolls, Minibon Rolls, and BonBites, along with specialty beverages.
The cozy and inviting atmosphere of the bakery makes it convenient for customers to enjoy their treats on-site or opt for takeout.
It is recommended to check for the nearest Cinnabon location on Oahu and their current offerings before visiting.
Cinnabon
10. Giovanni Shrimp Truck
Giovanni's Shrimp Truck is a famous and prestigious food truck situated on the North Shore of Oahu, Hawaii, offering a basic yet delightful menu principally centered around shrimp arrangements.
The most well-known dish is the "Shrimp Scampi," but the truck also serves non-shrimp options like a garlic hot dog or veggie plate in addition to other shrimp dishes like spicy hot and lemon butter garlic.
With limited seating and a casual atmosphere, the location can be crowded during peak hours. It is situated along the North Shore, known for its delightful sea shores and a-list riding spots.
Giovanni Shrimp Truck
11. Boots & Kimo's
In Kailua, Oahu, Hawaii, Boots & Kimo's Homestyle Kitchen is well-known for its signature Macadamia Nut Pancakes. The restaurant serves classic dishes like omelets and loco moco, as well as breakfast and brunch options like burgers and sandwiches, for lunch.
The café has a comfortable vibe, designed with neighborhood memorabilia, and can have potential stand by times, particularly during top feasting hours. It is situated in Kailua, known for its lovely sea shores and easygoing energy.
Boots & Kimo's
12. Matsumoto Shave Ice
In the town of Haleiwa on the North Shore of Oahu, Matsumoto Shave Ice is a well-known shave ice stand. Laid out in 1951, it has turned into a dearest objective for local people and travelers, presenting north of 40 syrup choices to browse.
You can personalize your shave ice at the stand by topping it with mochi balls and condensed milk drizzle, as well as a scoop of vanilla ice cream or azuki beans at the bottom. The lively environment, brilliant retail facade, and Japanese-motivated style add to the appeal of the experience.
It is a popular stop for visitors exploring the North Shore due to its location in the historic town of Haleiwa and its proximity to shops, art galleries, and surf shops.
Matsumoto Shave Ice
13. Teddy's Burger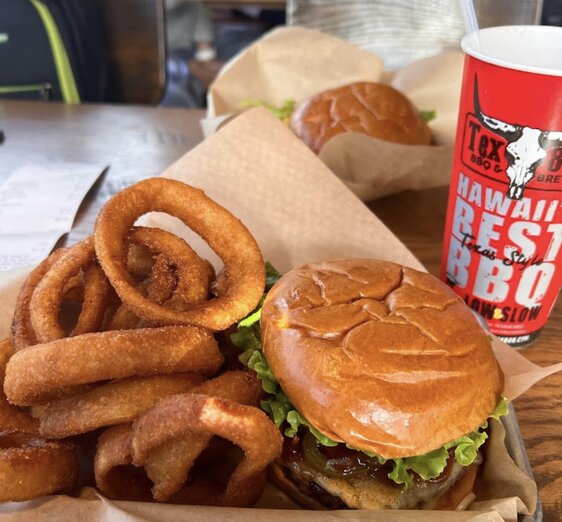 Teddy's Bigger Burgers is a well-known burger joint on Oahu, Hawaii, with several locations. It serves classic American-style burgers made with fresh ground chuck beef patties.
Teddy's Original Burger and specialty burgers like the Hawaiian and Monster Double Burger are among the options for burgers on the menu.
Clients can alter their request with fixings and sauces. The café has surf-themed stylistic layout, well disposed staff, an inviting environment, and is focused on supportability.
Teddy's Burger has different areas on Oahu, including Honolulu, Waikiki, and Aiea, giving helpful choices to the two local people and travelers.
Teddy's Burger
14. Moena Cafe
In Kailua, Oahu, Hawaii, Moena Cafe is a popular breakfast and brunch spot that serves a diverse menu that combines Hawaiian and international flavors. Breakfast burritos, French toast, and acai bowls are just a few of the fresh and delicious dishes that the cafe serves up.
The well known "Red Velvet Flapjacks" and "Kalua Pork Benedict" are champion things. Moena Bistro gives liberal piece sizes, offering both indoor and outside seating choices in a comfortable and inviting climate.
It's a great place to eat for both locals and tourists thanks to the helpful staff and attentive service. Notwithstanding, potential stand by times particularly on ends of the week and during top eating hours ought to be thought of.
Moena Cafe
15. Eighty Chicken Sandwiches
Eighty Chicken Sandwiches is a well known food truck and broiled chicken joint situated in Kahuku , Oahu. They are well-known for their buttermilk fried chicken sandwiches, which come with hand-cut fries, a generous portion of juice or water, and a single item on their menu.
On average, they serve only 80 sandwiches per day. The café has acquired a faction following and has been highlighted in different food online journals and video blogs.
On Saturdays and Sundays, it is open from noon until they sell out.
Surveys for Eighty Chicken Sandwiches are predominantly certain, with numerous clients adulating the quality and kind of the chicken sandwiches.
So I will say, if you really would like to try this such as a giant incredible burger, you have to go there earlier before 12 PM! More earlier! More!
Eighty Chicken Sandwiches
16. Da Bald Guy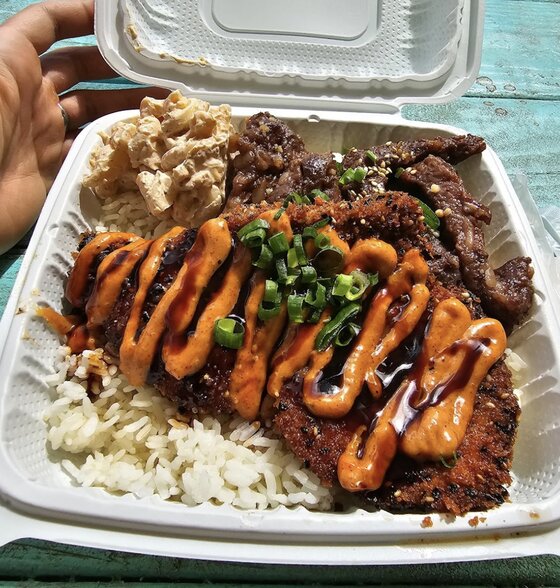 Da Bald Guy is a popular food truck and restaurant located in Kahuku, Oahu. They are known for their local kine grindz with a personal touch, including plate lunches, all-day breakfast and lunch, and Hawaiian cuisine.
The food truck is located at Kahuku Sugar Mill and draws lots of raves for their delicious food. The restaurant has received positive reviews, with many customers appreciating the quality and flavor of their dishes.
The owner of Da Bald Guy is James Martin, who is known for being friendly and engaging with customers. Da Bald Guy is open Monday through Saturday from 7am to 2pm and is well worth a trip for those looking to enjoy some local Hawaiian cuisine.
Da Bald Guy
17. RY's Poke Shack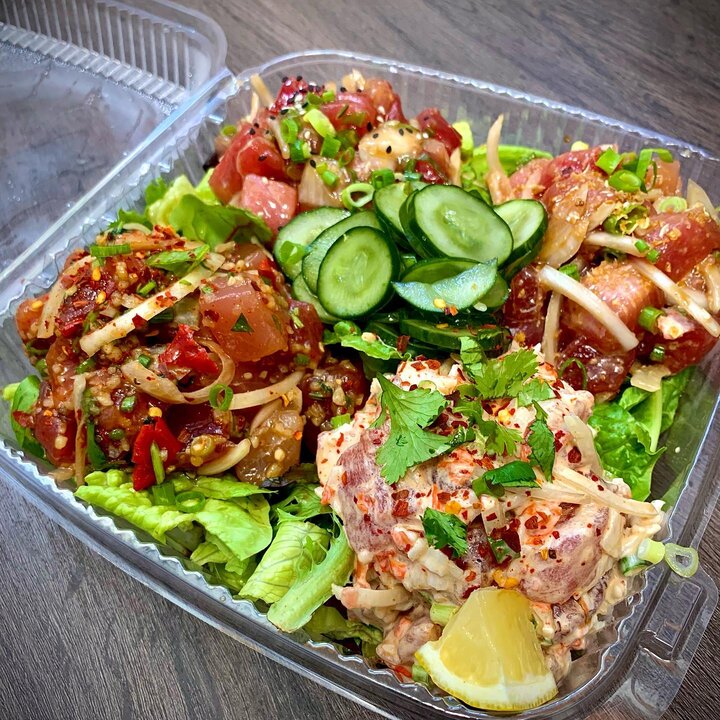 RY's Jab Shack is a famous café in Oahu, Hawaii, known for its wide assortment of new and tasty jab bowls and plates, utilizing great and privately obtained fixings.
There are a variety of seafood options and toppings that can be customized for customers to choose from. The café likewise serves other Hawaiian sides and dishes, making it a balanced feasting experience.
RY's Jab Shack offers an easygoing and inviting climate, drawing in the two local people and sightseers looking for a sample of bona fide Hawaiian food.
RY's Poke Shack
18. Da Ono Hawaiian Food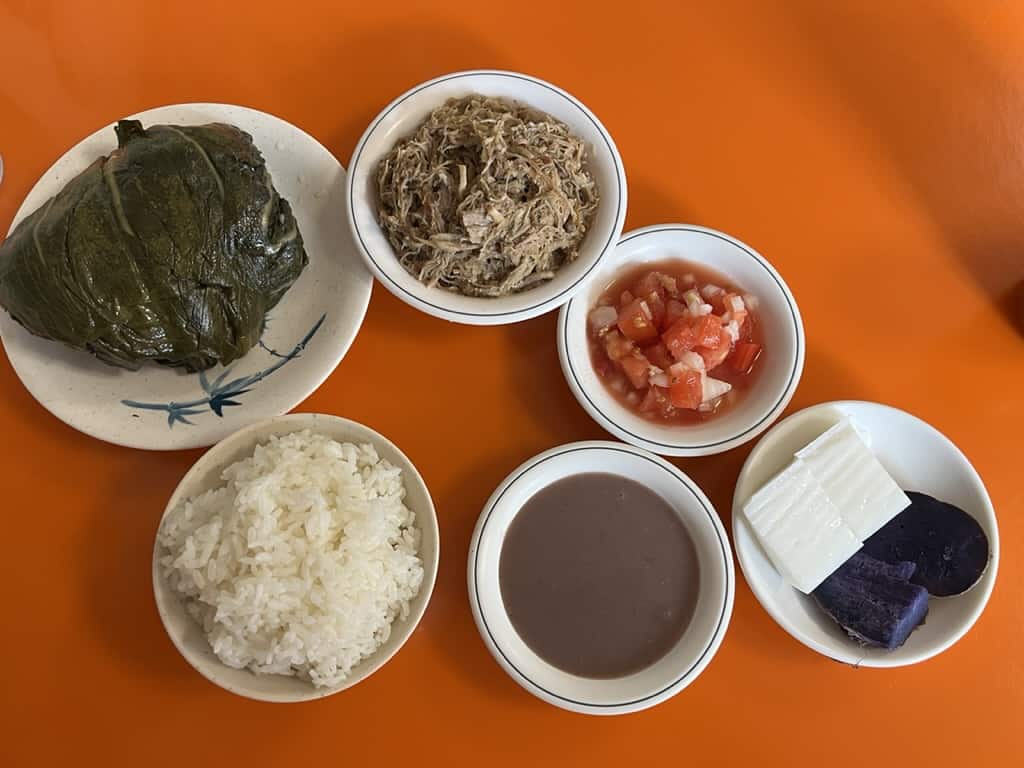 Da Ono Hawaiian Food is a notable café in Honolulu, known for serving conventional Hawaiian dishes, for example, kalua pig, laulau, lomi salmon, poi, and squid luau, exhibiting the different and one of a kind kinds of Hawaiian cooking. Tourists and locals alike enjoy the restaurant's generous portions and reasonable prices.
The relaxed and easygoing climate adds to the appeal, making an agreeable space to partake in a credible Hawaiian food experience.
Additionally, Da Ono offers plate lunch combinations; however, it has limited seating and can get crowded during peak hours.
Da Ono Hawaiian Food is a dearest objective for those looking to encounter the culinary legacy of the Hawaiian islands on Oahu.
Da Ono Hawaiian Food
19. Tamura's Fine Wine & Liquors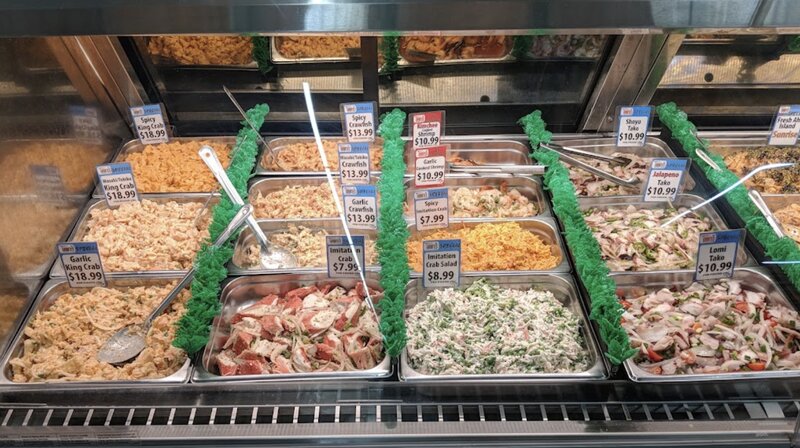 Tamura's Fine Wine and Mixers is a believed alcohol store in Oahu, Hawaii, with a set of experiences tracing all the way back to 1963, offering a wide determination of wines, spirits, brews, and other cocktails.
Tamura's conveys a scope of items taking special care of various preferences and inclinations alongside luxurious cuisines, tidbits, and stogies.
The learned and agreeable staff is dependably prepared to help clients in choosing the right drink or any connected things.
The store has a few areas with extraordinary climates and choices, giving a standing to quality and client care on Oahu. That's incredible so you can try.
Tamura's Fine Wine & Liquors
20. Maguro Brothers Hawaii Waikiki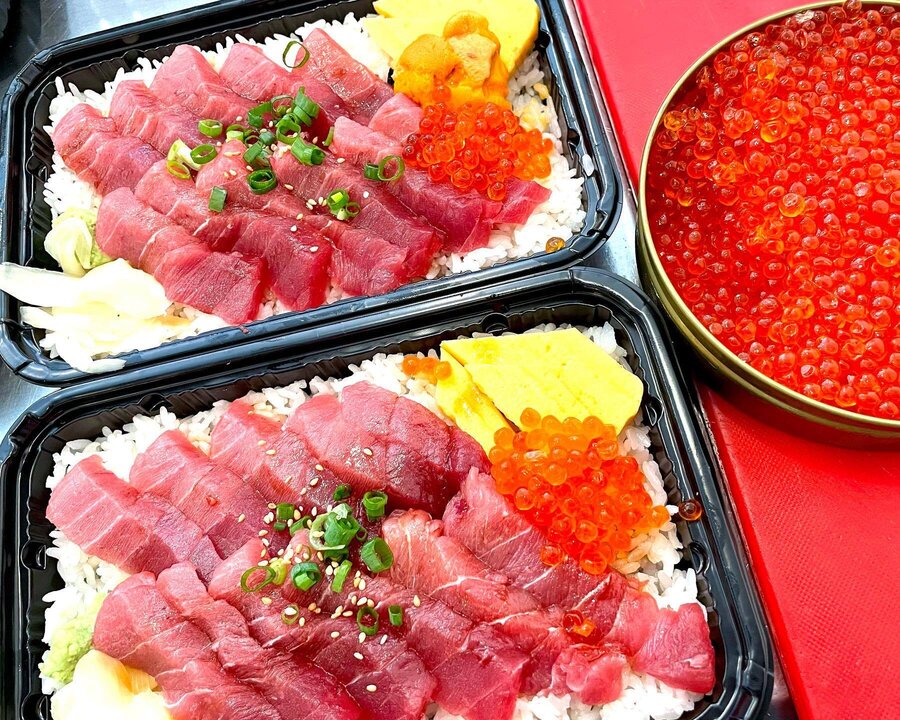 In the Waikiki area of Honolulu, Oahu, Hawaii, Maguro Brothers Hawaii Waikiki is a well-known seafood restaurant that is known for serving fish that is both fresh and of high quality.
Like poke bowls, sashimi plates, grilled fish plates, fish sandwiches, and seafood salads are among the seafood dishes available at the restaurant that you better try.
The café sources its fish straightforwardly from neighborhood anglers and the Honolulu Fish Sale, guaranteeing newness. Staff are agreeable and educated, and there is restricted seating accessible.
Overall, the café has two areas: a food truck at Duke's Lane Market & Eatery and a storefront on Kapahulu Avenue.
Maguro Brothers Hawaii Waikiki
Conclusion
So, what would be like for your Hawaii food trip? These 20 restaurants are just a part of my bucket list, I still have more food choice in Oahu Island that I can share to you. I'll share more Hawaii trip information on this website to you and hopefully this article can help you a little more!
People are interested on these topics: