Hawaii offers a wide variety of delicious cuisine, but among the restaurants and snacks, one that stands out and is locally renowned is Zippy's Restaurant.
Inside, you can find a range of dishes that showcase local specialties, Korean fried chicken, sushi, American desserts, and much more. What's great is that Zippy's has branches throughout Oahu, the island of Hawaii, making it a convenient dining option for visitors.
Today, I'll take you on a tour of Zippy's, showcasing their menu and ambiance. If you're in Hawaii, this is definitely a convenient place to enjoy a meal.
A Story of Zippy's
In Hawaii, there is no one who doesn't know Zippy's Restaurant. Founded in 1966 by the Higa brothers, Francis and Charles, this local establishment now has 22 branches across the Hawaiian Islands, including Oahu, Maui, and the Big Island.
Zippy's is most famous for its Chili and Zip Pac bento boxes, which have gained a lot of popularity among locals and tourists alike. These meals are convenient to grab before heading to the beach and come with a variety of Hawaii's signature dishes and side dishes.
Zippy's also has a well-known bakery brand called Napoleon's Bakery, which was established in 1983 and specializes in bread and cakes. Among their offerings, Apple Napples and Long John are particularly famous. They happen to be one of my favorite desserts.
Now that we've covered some background about Zippy's, let's take a closer look at its ambiance and menu.
Zippy's McCully Unbox
Zippy's has changed its brand colors in recent years. Previously, the main color was blue, but now it has been changed to orange. If you're driving on the road and come across buildings with this color scheme and design, chances are it's Zippy's.
During the Covid-19 period, many restaurants in Hawaii faced difficulties, and several unique establishments had to close down due to the pandemic.
Zippy's, in order to avoid person-to-person contact in indoor spaces, implemented a system where customers could place their orders over the phone or online.
When customers arrived at the restaurant, they were required to park in designated parking spaces, and the staff would bring their orders to their vehicles (a unique form of drive-through service).
In the image shown, it demonstrates the use of an app for placing orders, and customers only needed to inform the staff of their assigned parking space.
Typically, these designated parking spaces for phone and online orders should not be occupied. If you're exploring Hawaii by car, it's important to be mindful of this to avoid the risk of being towed away.
Today, we are visiting Zippy's McCully, which is one of the earlier locations. If you see a large Zippy's sign next to a building that doesn't quite look like a restaurant, that's actually the headquarters of Zippy's.
The interior of the restaurant is not particularly remarkable in terms of decoration; it's just a typical setup you would see in an American movie. Currently, many restaurants in Hawaii still have partitions in place, but masks are no longer required when dining outside or inside the restaurant.
After each customer finishes their meal, the staff will thoroughly wipe down the tables and chairs with disinfectant cleaning supplies.
Best Meals of Oahu Zippy's
Like many other restaurants in Hawaii, Zippy's offers a wide variety of dishes, making it difficult to decide what to order. Many restaurants in Hawaii serve breakfast items all day, and there can be similarities in the menu options. Therefore, it's best to try specific dishes at specific restaurants.
At Zippy's, some recommended dishes include Chili (rice topped with meat sauce), Zip Pac (a signature bento box), Oxtail Soup, Fried Chicken (highly praised), Korean Fried Chicken, and Loco Moco (a unique Hawaiian hamburger steak dish). These are among the famous menu items you can consider trying.
I personally enjoy having Chili with a hot dog, which is known as the Chili Frank. I highly recommend giving it a try.
By the way, it's worth mentioning that food portions in Hawaii are usually generous, and the Chili Frank is no exception. If you're unsure about the portion size, you can start by ordering the Mini (small) size. If you're still hungry, you can always have a dessert afterwards.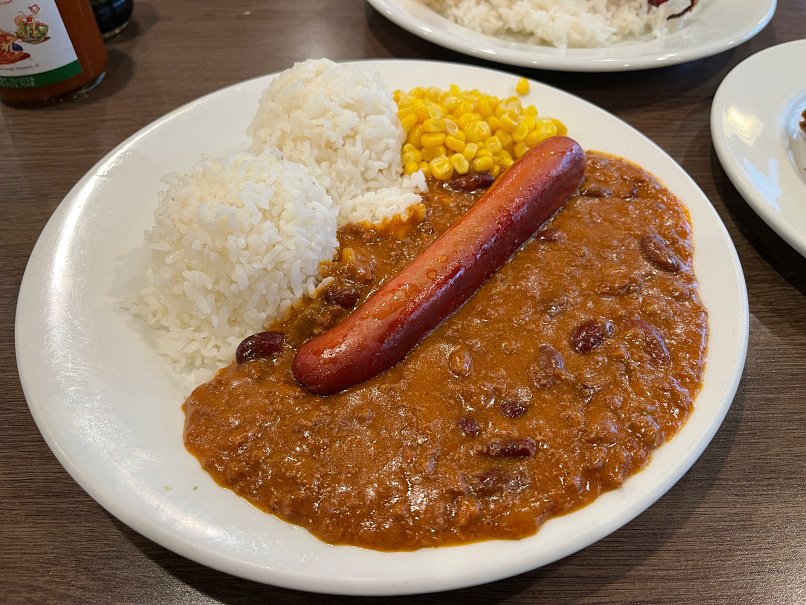 The beloved fried chicken has arrived at the table, with its incredibly crispy skin and juicy tender meat. It pairs perfectly with the main course!
Today I happened to be dining with my aunt, and she chose the Korean Chicken with Bacon meal, which was also fantastic!
Additionally, American-style bacon is fried until it becomes crispy and fragrant. If you come to the United States, you must try Crispy Bacon.
Tip reminder:
Currently, in restaurants in the United States, it is customary to provide a tip of 15% to 20% for dining in. So when we settle the bill after dining, please remember to fill in the tip amount or place the cash tip directly on the table.
If you want to save on tipping today, Zippy's actually offers take-out at the counter next to the dine-in area. You can place your order for take-out there. Please refer to the image below:
After getting take-out, there are tables available nearby that you can use. Just remember to dispose of your trash in the communal dining area's trash bin after you finish.
This is the Chicken Katsu, a breaded chicken cutlet with a special sauce, and it's highly recommended!
After finishing your main course, desserts are a must. Napoleon's Bakery is located right outside Zippy's, offering a variety of options such as birthday cakes, bread, pies, and pastries. You can grab some to take home or enjoy them on your way to the next destination.
This is my favorite Long John and Apple Napple. On the left is the custard-filled pastry, with a fluffy texture and delicious American-style custard filling (highly recommended).
On the right is the apple-filled pastry, which is the most famous dessert from Napoleon's Bakery. It's also one of my favorite desserts.
Zippy's McCully Information
Address: 1725 S King St, Honolulu, HI 96826
Phone: (808) 973-0877
Open Time: 6 AM to 10 PM.
Online Menu: Zippy's Menu
You can check the other stores of Zippy's which near you via Google Map: Zippy's on Google Map
People are interested on these topics: