Traveling to Hawaii on your own is not difficult or complicated. I assure you that after reading this Oahu travel guide, you will know how to arrange accommodations, transportation, itinerary for attractions, and how many days you should plan for your trip.
It's a long article, you may take a long time to read this guide post and get most points for planning your Hawaii vacation trip. let's get it.
Something You Need to Know Before Oahu Travel Guide
Oahu, Hawaii is a beautiful travel destination with its pristine beaches, breathtaking mountains, and rich multicultural heritage. When you're planning a trip to Hawaii, there are a few things to prepare to ensure a memorable vacation. Here are some suggestions for preparing for your trip to Oahu, Hawaii:
Book your flight:
Currently, there are many airlines that fly to Hawaii, with common routes from Japan, Korea, or mainland USA. We need to determine the best flight options, and in the next paragraph, I will explain how to choose the most suitable flights.
Accommodation in Hawaii:
Choosing the right area for accommodation in Hawaii directly affects your transportation and itinerary planning. Accommodation and transportation are often intertwined. As there are many places to explore in Hawaii, it depends on which aspects you want to focus on.
Transportation in Hawaii:
Transportation on Oahu Island is very convenient and friendly. Whether you prefer self-driving, using Uber or taking the bus, you can reach any area of Oahu Island. It depends on our budget and preferences.
Plan your tourist attractions in advance:
Hawaii's attractions often require a longer stay, so it is advisable to research and list the places you want to visit. This way, you can ensure you don't miss any worthwhile sights.
Respect the local culture:
As I mentioned, Hawaii combines cultures from around the world and has a very friendly environment. When visiting Hawaii for the first time, you will likely find it super nice, but it's important to be aware of certain cultural etiquettes, which I will provide in the relevant information later.
Learn basic Hawaiian language:
Hawaii has its own language and vocabulary. Learning some basic Hawaiian language can help you better understand the local culture and people.
Overall, Hawaii offers numerous attractions and itineraries worth visiting and experiencing. I will share more details one by one in this article and the whole site, so that I hope if it's your first trip to visit Hawaii, you will instantly get the points like where to go and how to make the most of your time. Now, let's explore the details of these details of Hawaii vacation.
Best Month To Visit Hawaii
Hawaii is suitable for travel all year round, but the majority of tourists tend to gather during the summer vacation period (July-August). I highly recommend visiting Hawaii for a vacation trip during the season from February to April (late winter to early spring) when there are fewer tourists and the temperature is not as hot.
During the period from February to April, there are also special whale watching activities at sea (included in the Go City Pass Oahu All-Day Adventure Pass – Two-Hour Sunset Sail). If you participate in this activity during winter and early spring, there is a good chance of seeing whales.
Additionally, during this season in Hawaii, you can also try to plan a 3-day, 2-night trip to the Big Island, where you can visit Mauna Kea Observatory to see the sunset, stargaze, and experience "snow." Yes, it snows in Hawaii. Just like this: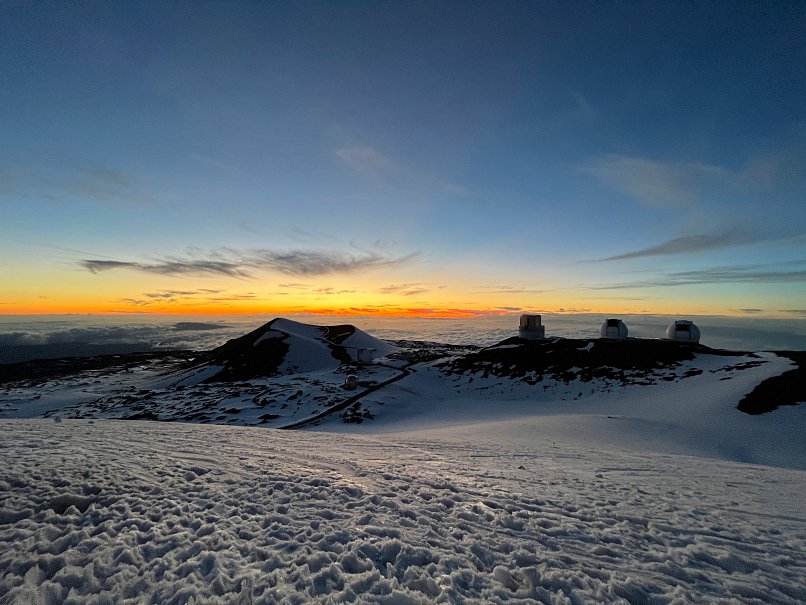 Oahu, Hawaii is pleasant throughout the year, and it doesn't get oppressively hot during the summer.
Although Oahu has a maritime climate due to its island location, it doesn't have a mountain range that would cause extremely hot and humid weather.
Typically, the moisture doesn't linger on the island for too long. Here is a temperature chart for Oahu throughout the year:
| | | | | | |
| --- | --- | --- | --- | --- | --- |
| Month | Max Temperature (°C) | Max Temperature (°F) | Min Temperature (°C) | Min Temperature (°F) | Average Rainy Days |
| January | 25°C | 77°F | 18°C | 64°F | 5 days |
| February | 25°C | 77°F | 17°C | 63°F | 4 days |
| March | 26°C | 79°F | 19°C | 66°F | 5 days |
| April | 26°C | 79°F | 19°C | 66°F | 5 days |
| May | 27°C | 81°F | 20°C | 68°F | 3 days |
| June | 28°C | 82°F | 20°C | 68°F | 3 days |
| July | 29°C | 84°F | 20°C | 68°F | 4 days |
| August | 30°C | 86°F | 20°C | 68°F | 2 days |
| September | 30°C | 86°F | 20°C | 68°F | 3 days |
| October | 29°C | 84°F | 20°C | 68°F | 3 days |
| November | 27°C | 81°F | 20°C | 68°F | 5 days |
| December | 26°C | 79°F | 19°C | 66°F | 4 days |
This is the weather record for the entire year in Oahu, Hawaii. For more detailed information, you can refer to Google's climate data for Oahu, Hawaii. Therefore, when you are planning a Hawaii vacation, you don't need to worry about the weather because Hawaii is almost suitable for any kind of travel throughout the year.
Overall, no matter what month of the year, you can easily to have a family vacation in Hawaii at all because the weather is much smoothie whole year.
Book Your Flight Ticket
The flight airway to Hawaii is not as expensive as you might think. The fact is, if we use Google Flight to search, we can easily find relevant ticket prices, layover points, and layover durations.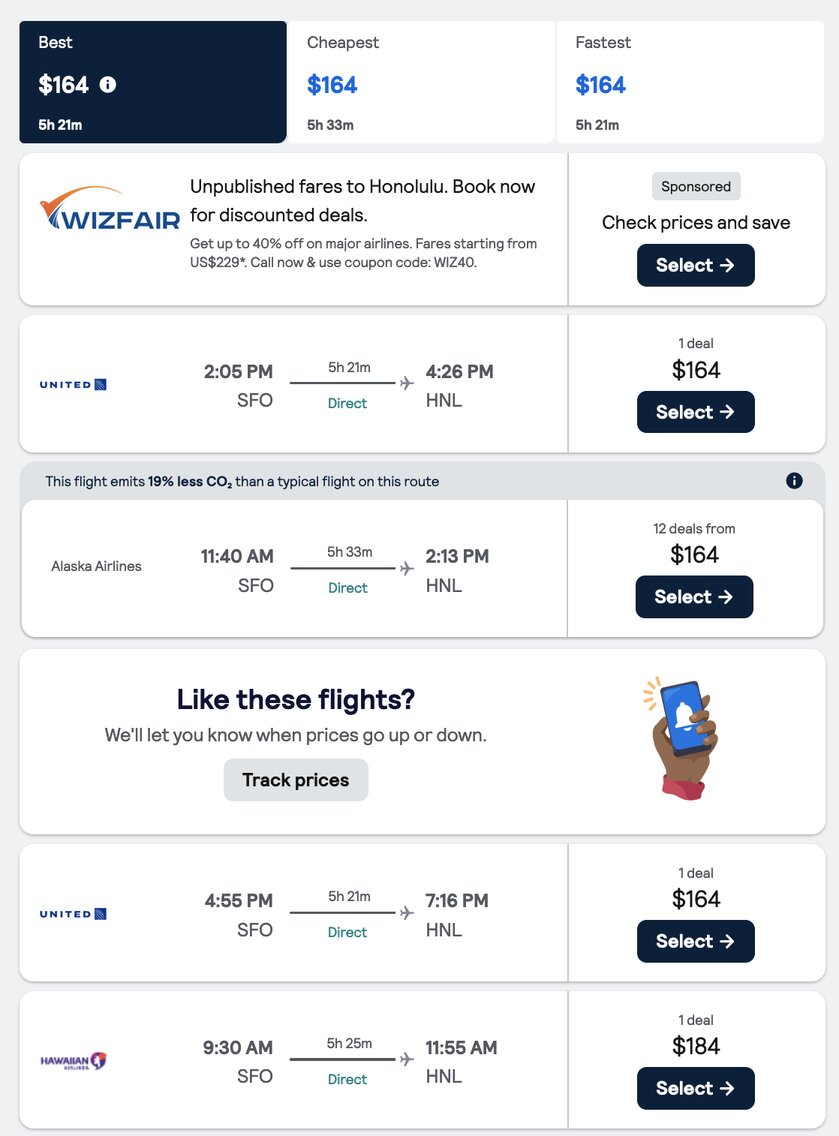 If you don't have any time constraints for your trip, I suggest you fly to SFO or LAX first and trip a few days there before, and then you take a domestic flight to Hawaii from California. The culture in mainland USA is slightly different from that of Hawaii, and there are differences in the experiences as well.
The months of March to May and September to early November are generally the periods when airfares to the US are cheaper. If you consider your budget and want to save some money on flights, it's worth considering traveling to Hawaii during these months (not only are flights cheaper, but accommodation is also relatively more affordable for you).
Lastly, when it comes to choosing flights, you can also consider using mileage redemption from major airline alliances.
Using miles for business class flights is a great option because the price difference between economy class and business class can be quite significant.
However, the details of mileage redemption can be complex, so if you have any questions or are interested in learning more about miles, I recommend checking out my friend Dane Homenick's relevant course.
Best Accommodation in Oahu, Hawaii
The first thing you need to do when you arrive on Oahu Island is to sort out our accommodation.
The majority of tourists stay near Waikiki Beach, where everything, including attractions, beaches, shops, and transportation, is very convenient. I suggest that for your first visit to Hawaii, you stay near Waikiki.
Once you become familiar with the local culture, you can consider staying in cheaper accommodations or other areas (such as the North Shore) on your next visit.
Here is some information on hotels and Airbnb accommodations with their corresponding prices:
Find a Waikiki Hotel via Booking.com
Hotels in Waikiki start at around $200 per night for the lowest-priced options, but this can vary depending on the season and the hotel's level of luxury. If you're looking for a basic place to stay where you can shower, sleep, and rest, there are nearly 50 hotels in Waikiki to choose from. Here are some relatively cheaper hotel options: Click Here>>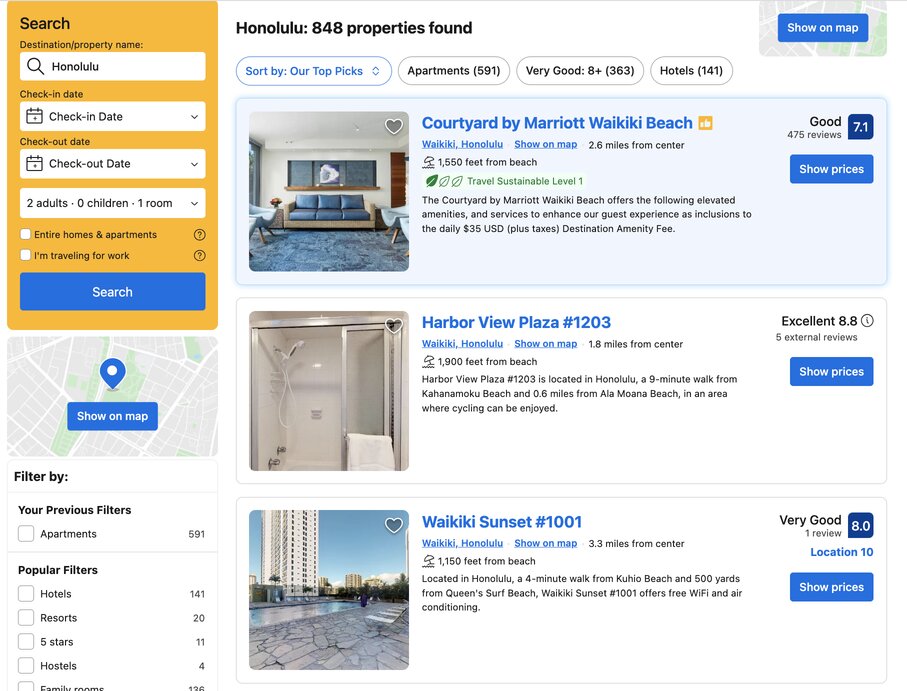 On the other hand, if our budget for accommodation is relatively higher, you might consider some hotels that I have recently stayed at.
These hotels generally offer better service quality and are located in more desirable areas. Here are a few recommendations for your reference:
For the Hawaii vacation trip, choosing the right hotels is a crucial aspect. When selecting these hotels, you might find it helpful to refer to the article I wrote on the subject:
Get More Best Hotels in Honolulu, Hawaii >
This article provides clearer explanations of the things you should pay attention to. Now, let's move on to the Airbnb-related information.
Airbnb
In the tourist destination of Oahu, Hawaii, there are also plenty of Airbnb accommodations available. I usually compare options between Booking.com and Airbnb platforms.
Sometimes, the prices on Booking.com can be much cheaper than those on Airbnb. If I'm traveling with friends to Hawaii, I prefer to book apartments or house rentals, as they provide more beds and space.
Choosing Airbnb accommodations in Hawaii will give you a more cozy and home-like atmosphere, as they are typically furnished with personal touches and not as standardized as hotels. However, it's worth noting that services and facilities may not be as comprehensive as those provided by hotels. Now, let's discuss how to find home rentals on Booking.com. Here is the steps:
Start by visiting the Booking.com homepage.
In the search field where you specify your destination, enter "Honolulu" or "Waikiki" (depending on your preferred location in Hawaii).
Fill in the dates of your stay and the number of guests.
The most important step is to check the box that says "I'm looking for an entire home or apartment." This ensures that the system filters out all hotels and displays only home rentals.

Next, when you reach the results page, look to the left side where you can find the "Entire homes & apartments" filter. If you want to find even cheaper options, you can simply select the "Apartment" option.
The system will automatically filter the results on the right side based on your selection.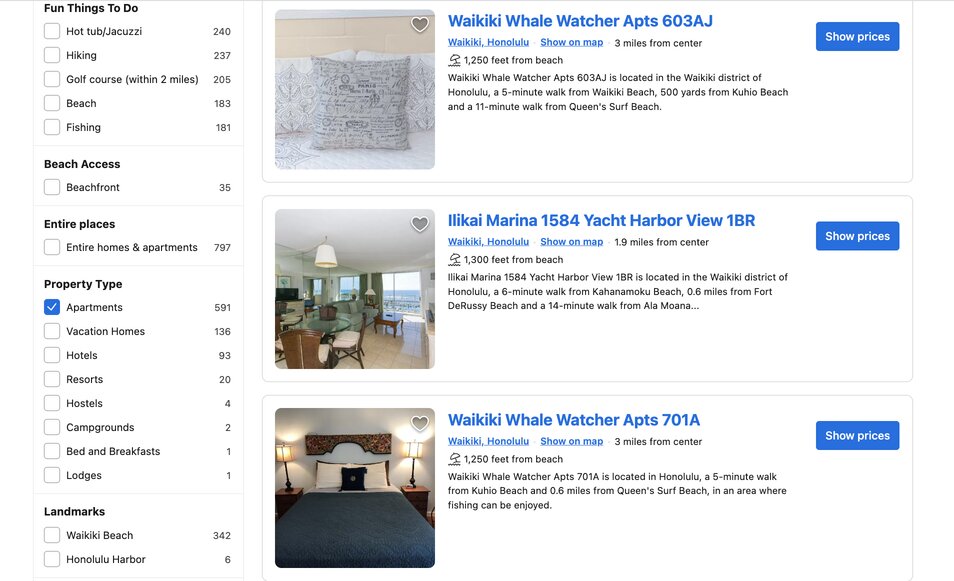 On the right side, you will see options for private apartment rentals that match your selection. If you're specifically looking for Airbnb private home rentals, you can easily find them on Booking.com by following the aforementioned steps. Click Here>>
Lastly, you may wonder, "Why are some vacation rentals more expensive than hotels?"
Well, in Hawaii, there is a wide variety of accommodations available, and many hotels were established a long time ago. Over the decades, they may not have undergone significant renovations or repairs.
On the other hand, vacation rental providers often purchase apartments and refurbish them, resulting in a better overall experience compared to these older hotels.
Therefore, it ultimately depends on individual travel preferences. If you desire a better environment, service, or accommodation quality, you may need to increase your budget accordingly.
Now that we have covered the accommodation aspect of the Hawaii vacation trip, let's move on to discussing the most important topic: transportation on Oahu Island.
Transportation in Oahu, Hawaii
When it comes to the Hawaii vacation trip, transportation is just as important as accommodation. It will determine which attractions you can visit and how you can plan your daily itineraries. On Oahu Island, the most common transportation options for tourists are renting a car for self-driving, using Uber or other ride-sharing services, taking the Trolley, or utilizing the bus system. Here's a brief introduction to each option:
Renting a Car:
Renting a car gives you the most flexibility and freedom to explore the island at your own pace. It allows you to reach remote areas and scenic spots that may not be easily accessible by public transportation. Keep in mind that traffic and parking can be challenging in popular areas.
Uber and Ride-Sharing Services:
Services like Uber provide convenient and on-demand transportation. You can easily hail a ride using a smartphone app. This option is suitable for shorter trips or when you prefer not to drive yourself.
Trolley:
The Trolley is a popular and nostalgic mode of transportation on Oahu. It offers various routes that cover major tourist areas, such as Waikiki, downtown Honolulu, and the North Shore. The Trolley is a great way to enjoy the scenery while hopping on and off at different attractions.
Bus:
Oahu has a comprehensive bus system operated by TheBus. It serves various parts of the island, including popular destinations like Waikiki, Pearl Harbor, and the North Shore. Taking the bus is an affordable option, but it may require some planning as the schedules and routes may vary.
Consider your preferences, budget, and the destinations you plan to visit when choosing the most suitable transportation option for your Oahu Island trip.
1. Rent A Car
When visiting Hawaii, renting a car is usually the preferred mode of transportation. Although Oahu Island is not particularly large, the attractions on the island are relatively spread out, and there can be significant distances between each of them. Here are some maps of famous attractions: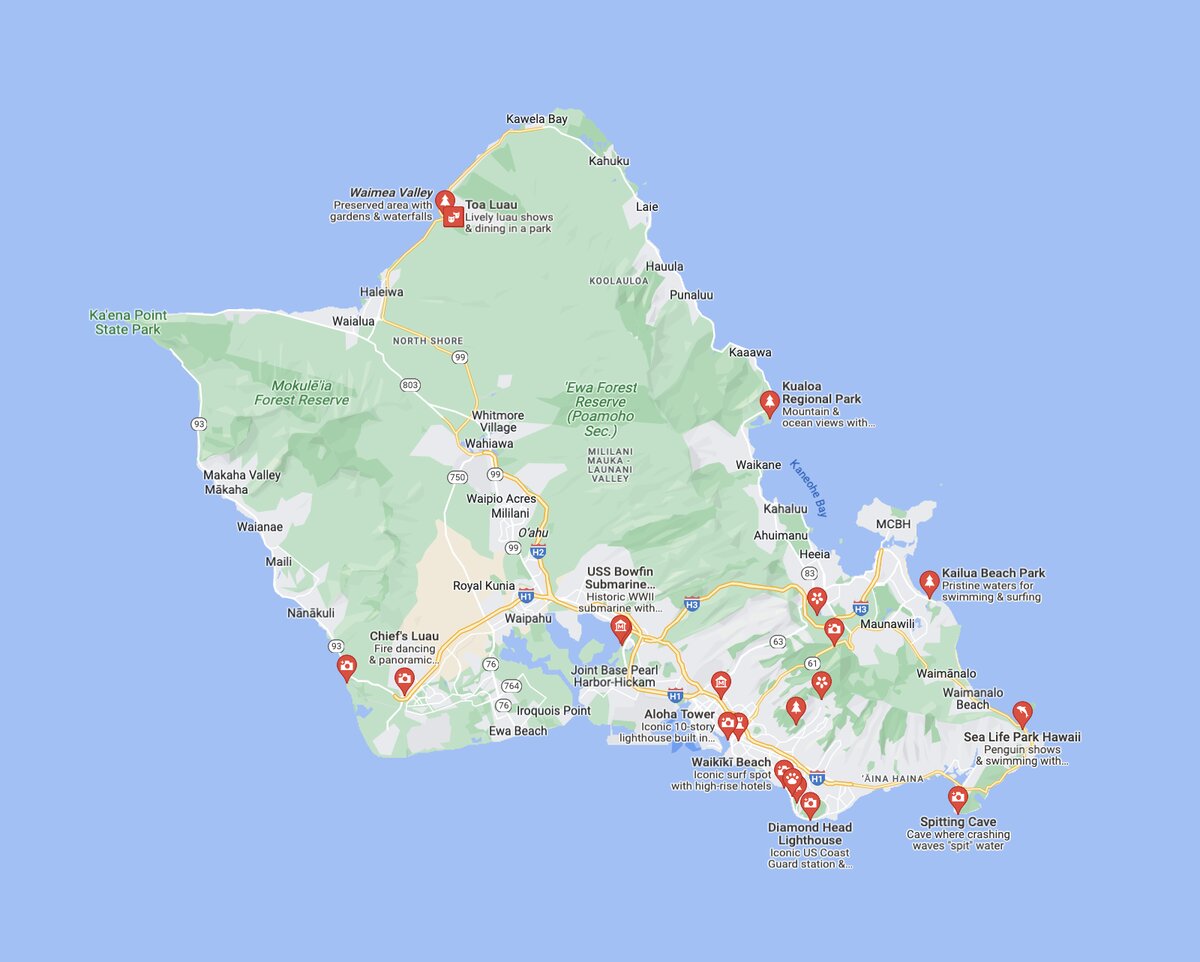 Therefore, renting a car is usually the primary choice when visiting Hawaii. This way, you'll have more flexibility with your time and itinerary. There are two main options for car rentals in Hawaii: traditional car rental companies and Turo.
Car Rental Companies in Hawaii:
On Oahu Island, there are several major car rental companies available, such as Expedia, Enterprise, Avis, Budget, Dollar, Hertz, and other renowned rental agencies. The services provided by these companies are generally similar, with minor differences in terms of pick-up and drop-off locations and promotional pricing.
At the Honolulu Airport, there are 10 different car rental companies to choose from. I recommend reserving your car in advance to secure availability.
I typically use platforms like Kayak, or Klook to make my car rental reservations. Let me provide some information specifically about Kayak, which you may be more familiar with:

On the Kayak platform, you will find partnerships with various car rental companies. However, it's important to note that not every company offers "full coverage insurance" on this platform. In the event of an unfortunate accident during your self-driving journey, the insurance coverage may vary, ranging from full coverage to only basic compulsory insurance.
I strongly recommend selecting "full coverage insurance" to ensure peace of mind. While it may seem tempting to save some money on insurance, you don't want to be worried about bearing the costs of repairs for both your own vehicle and any potential third-party damages in the event of an accident. When using Kayak, be sure to choose the "full coverage insurance" option, which is available in the insurance selection on the left side of the platform.
Some car rental companies may not have physical locations at the Honolulu Airport, but there's no need to worry. These companies usually provide shuttle services, which means that when you arrive at the airport, they will have dedicated shuttles to transport you to their off-airport rental locations.
For more detailed explanations and information, please visit the provided link.
Check the Car Rental Information on Kayak>>
Turo: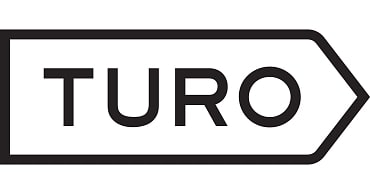 Turo is another car rental option that I frequently use in Hawaii. It is an app platform that allows you to rent cars directly from local residents. Turo provides comprehensive insurance coverage and offers 24/7 customer support. Additionally, the rental prices on Turo tend to be relatively cheaper.
Within this app, you'll get a variety of car options, the car brands ranging from Toyota to Lamborghini and everything in between. If you ever dream of driving a sports car around Waikiki for a day, Turo might be the perfect choice for you.
Here are some of my records using Turo: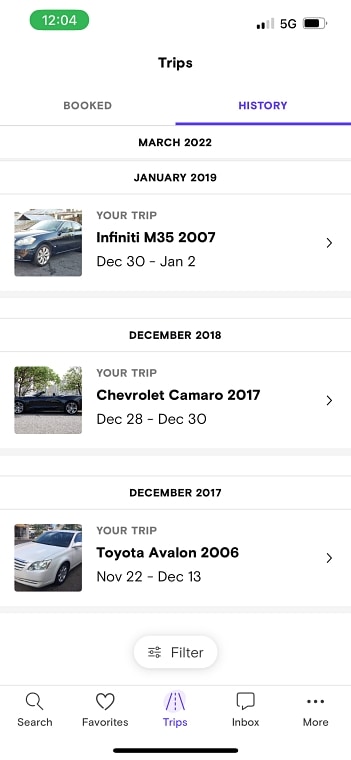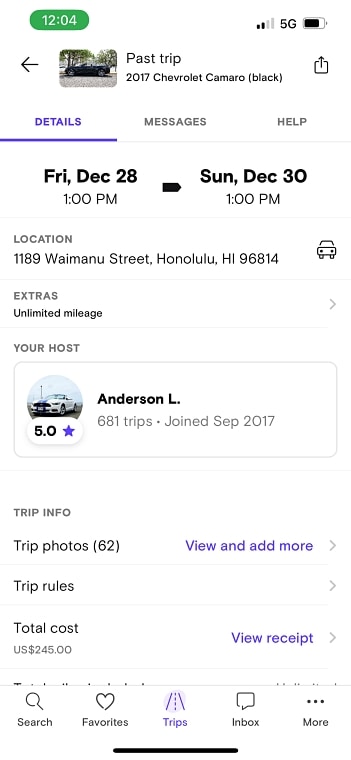 Turo provides decent insurance services. In the event of an accident during your independent travel in Hawaii, as a renter, you would be responsible for a maximum of $500 USD.
Another advantage is the wide variety of car options available on Turo. Not only can you see the condition of the car you want to rent in advance, but you can also read reviews from previous renters.
If I fly to the Big Island of Hawaii, I will definitely rent a car because every time I visit the island, I make sure to go to Mauna Kea volcano. To reach that place, a four-wheel drive vehicle is necessary. Sometimes, I choose a car that I like and enjoy driving without it being too expensive. Here is the BMW X5 I rented on the Big Island: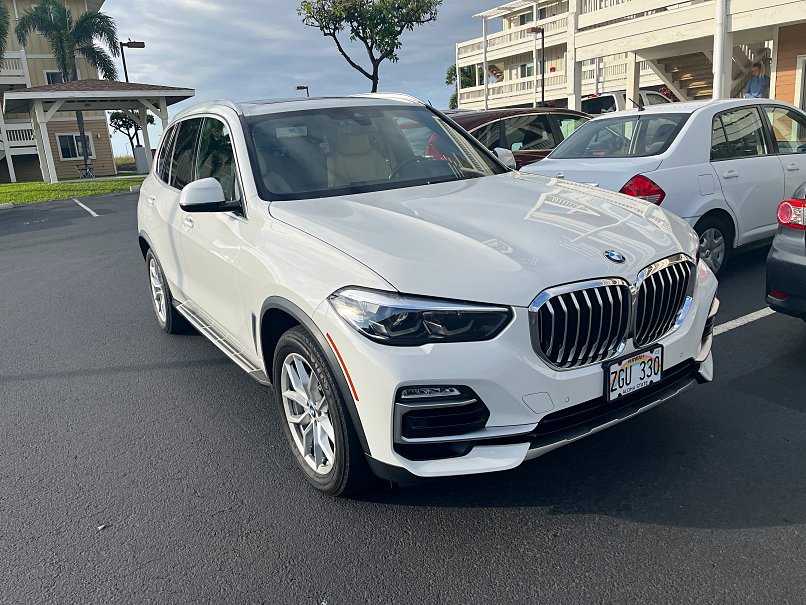 In conclusion, whether you rent a car from a rental company or use the Turo platform, I recommend getting full insurance coverage. It's better to spend a little extra money upfront than to have any unexpected incidents affecting your entire trip.
For first-time visitors to Hawaii who are traveling independently, I suggest renting a car from a local rental company as they tend to be more accommodating to foreign visitors. As for those who are more experienced or fluent in English, you can give Turo a try.
However, if you want to rent a car online, somethings you need to know before you go! Click Here>>
2. Trolley
If you don't have that budget to rent a car when you are in Hawaii, it's not a problem. If you're staying near Waikiki Beach in a hotel or Airbnb, the Trolley and bus are excellent options.
As long as you know in advance which attractions you want to visit, the Trolley and bus can be a great choice.
The Trolley on Oahu Island is very tourist-friendly, with designated stops at various attractions along each route. Several years ago, there were six lines, but two of the lines have been temporarily closed due to the pandemic.
Currently, there are a total of four routes, which are sufficient for exploring the nearby attractions.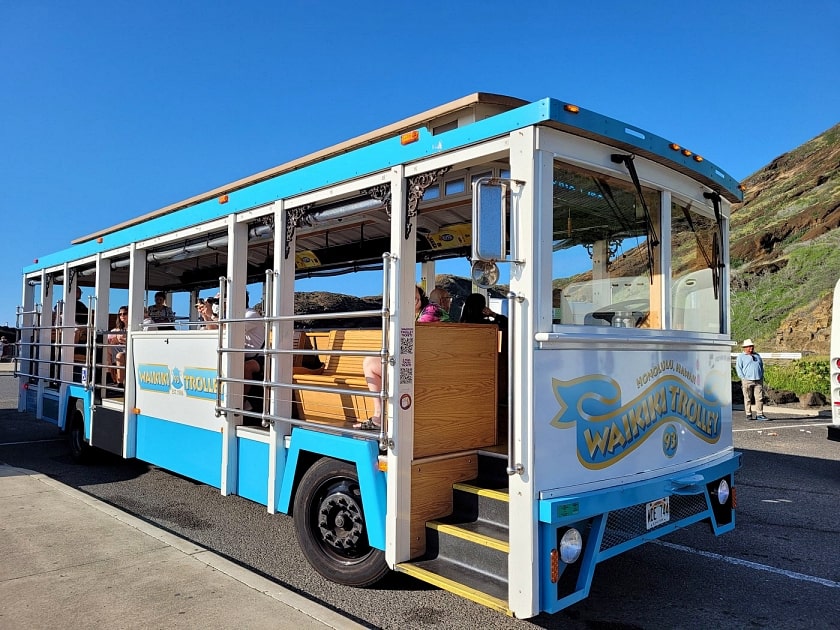 Moreover, you don't need to purchase Trolley tickets locally. You can pre-order them through the car rental site like Klook so you don't have to worry about language barriers or not knowing where to start.
Here's my analysis of each route, and you can take a look at the attractions along each route before deciding which Trolley pass to purchase. Here are the highlights of the Trolley stops on each route:
Red Line: Heroes & Legends Tour (Every 60 mins)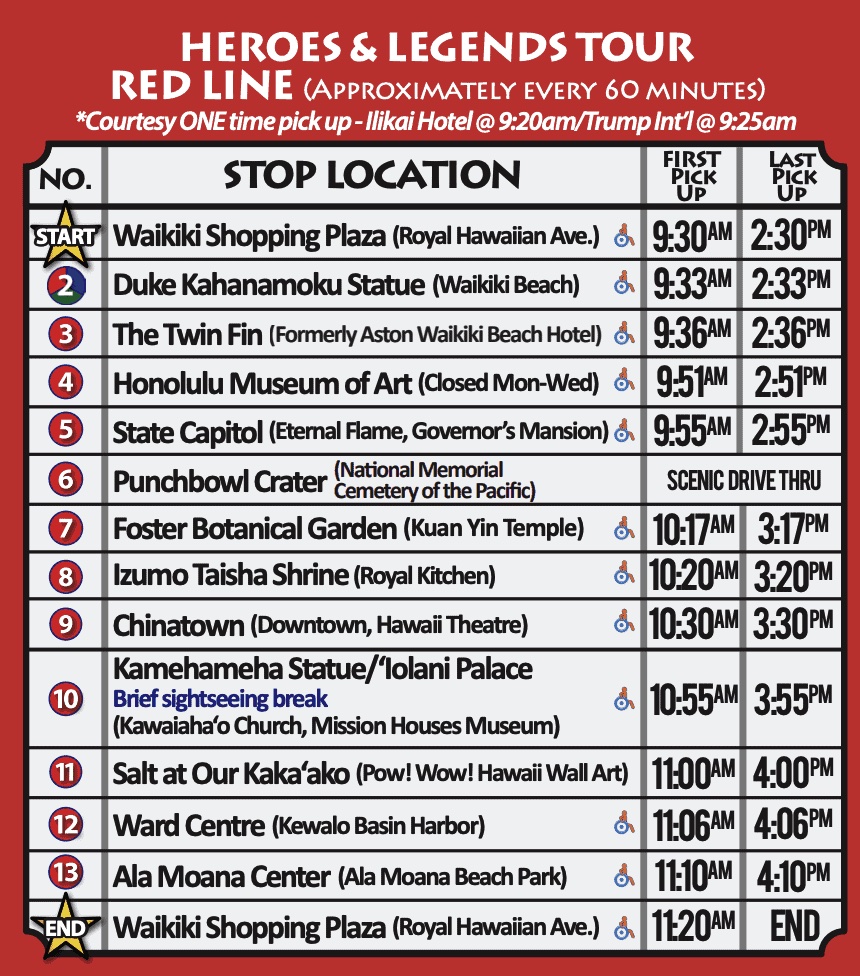 The Red Line takes you to historical sites such as Iolani Palace and the King Kamehameha Statue. It also stops at Chinatown and the Aloha Tower Marketplace.
If you're interested in learning about Hawaiian history, taking the Red Line is a great way to explore nearby museums and historical sites. It includes famous attractions such as the Punchbowl Crater at the National Memorial Cemetery of the Pacific, Foster Botanical Garden, 'Iolani Palace, and the Honolulu Museum of Art.
A helpful tip: When riding the Red Line, you can use the Oahu Go City Pass as your ticket, which offers the best value for your money!
Blue Line: Coastline & Diamond Head Tour (Every 40 mins)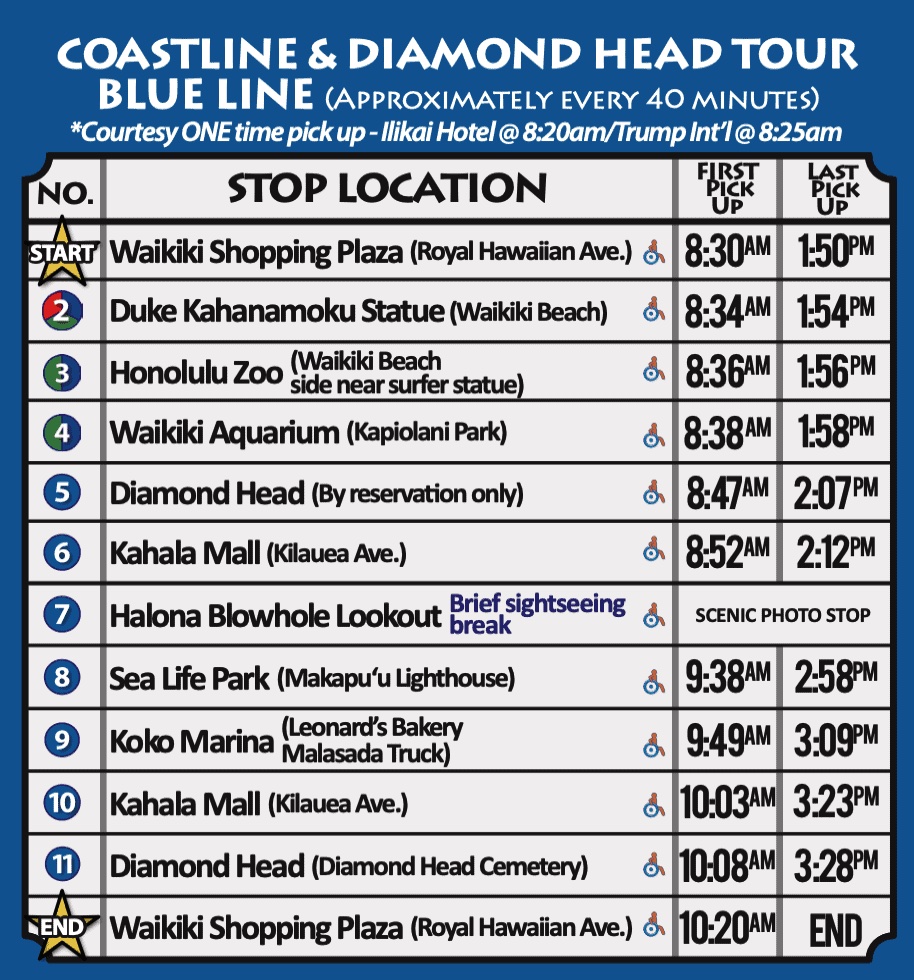 The Blue Line offers a scenic coastal route, stopping at attractions like the Waikiki Aquarium, the spectacular Halona Blowhole, and Sea Life Park, where you can enjoy dolphin shows.
Additionally, for those interested in visiting the popular Hanauma Bay for snorkeling, you can get off at the Koko Marina stop and walk uphill for 10-15 minutes to reach the entrance.
Green Line: Local Dining & Diamond Head Tour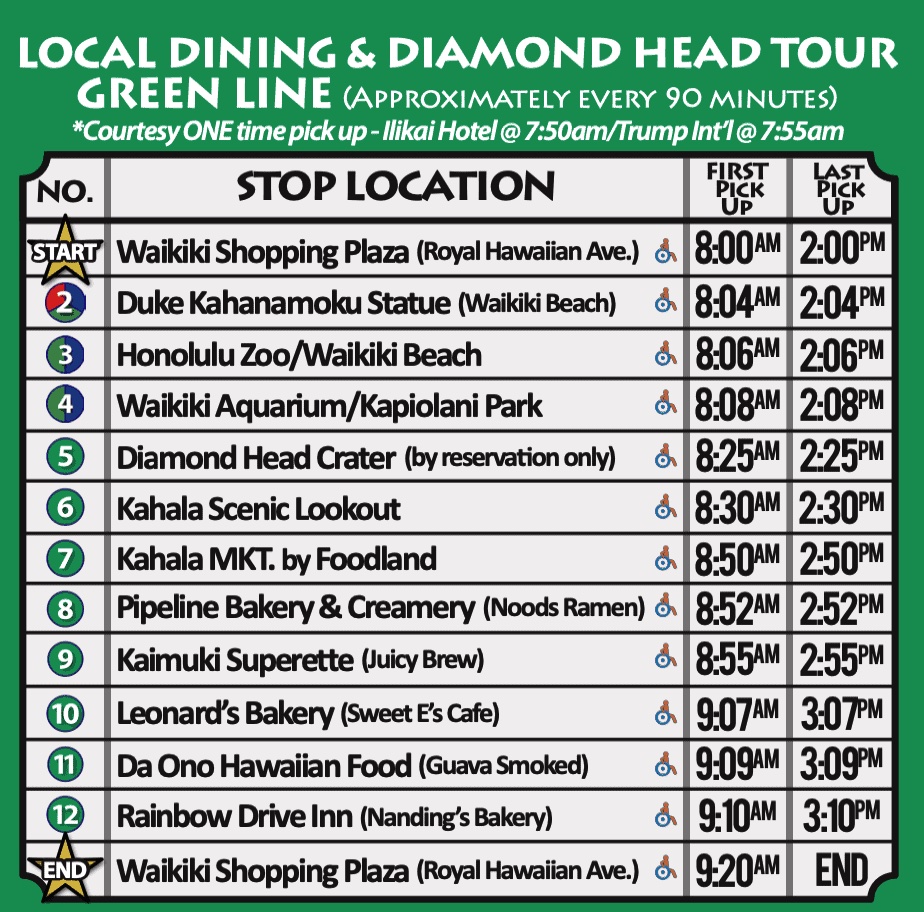 The Green Line of the Trolley is probably the most popular route. Many people like to head to Diamond Head early in the morning for a hike. After hiking, they often choose to have lunch at Da Ono Hawaiian Food or Rainbow Drive Inn, both located along this route, to enjoy some authentic Hawaiian cuisine.
A must-visit attraction in Hawaii is Diamond Head, so it's recommended to allocate a day in your itinerary specifically for this activity.
Pink Line: Ala Moana Shopping.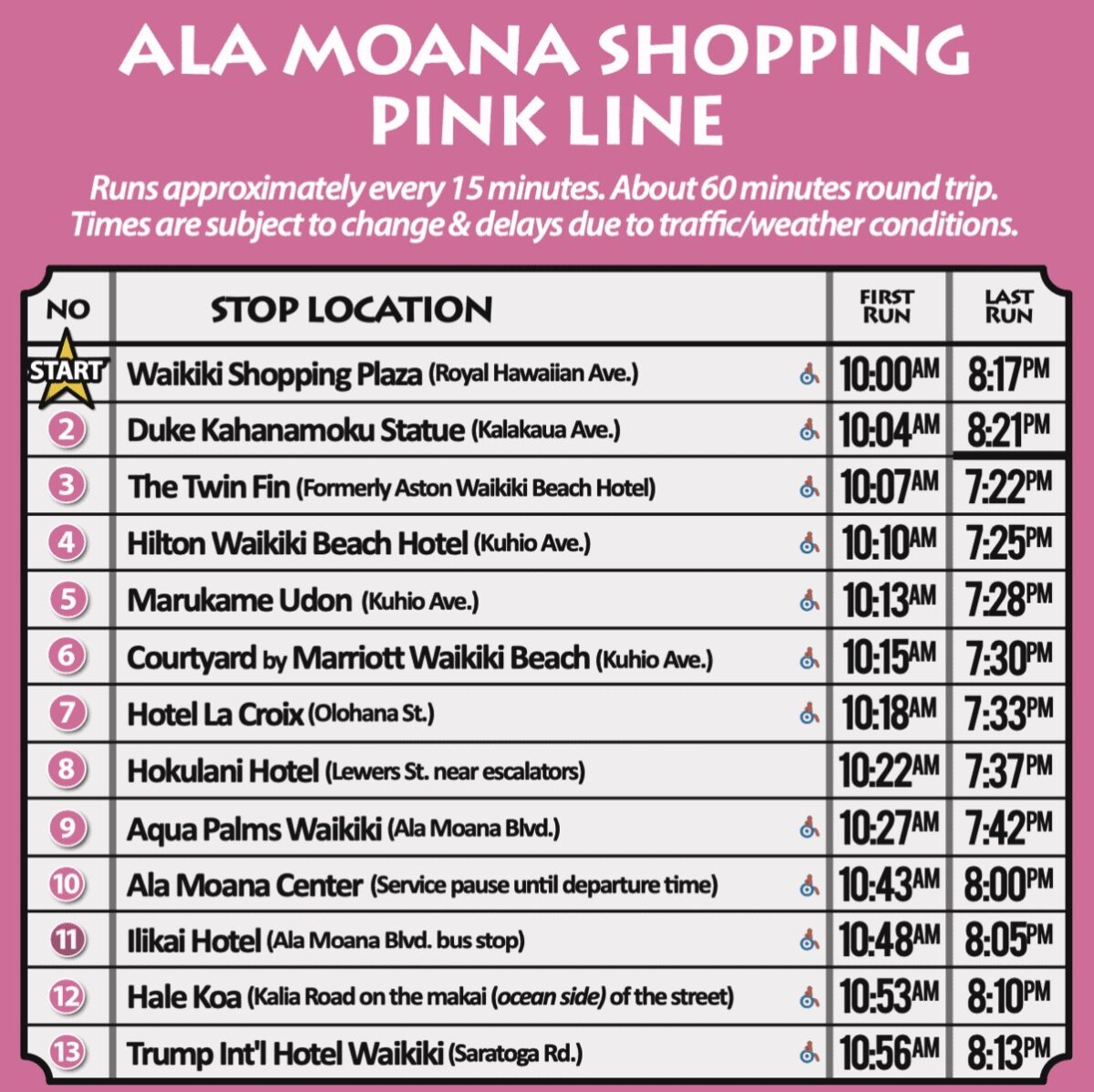 This route to Ala Moana Shopping Center would be popular among many girls. At Ala Moana, there are over 350 stores, offering a variety of options including local brands, international brands such as Hermès, LOUIS VUITTON, Victoria's Secret, as well as a food court.
You can easily spend an entire day exploring the shopping center, so it's advisable for male friends to be prepared for a shopping-filled day.
Overall, I find Trolley a suitable transportation option for those planning a self-guided trip in Hawaii. If I were to purchase a ticket, I would opt for the 7-day all-inclusive pass.
The price difference between the 4-day and 7-day passes is only a little over $3-5, and having the flexibility to hop on the Trolley to any destination without worrying about transportation would be convenient.
For more information, please visit Waikiki Trolley Official Website
3. The Bus
In addition to the Trolley, another convenient transportation option in Oahu, Hawaii is the bus system called "The Bus." The bus system on Oahu is highly developed, and you can basically travel to various areas of the island by bus. During my high school years, when I didn't have a driver's license or own a car, public transportation like the bus was always on my mind.
Currently, The Bus has integrated with the Google Maps system, allowing precise queries for bus routes and travel times to your destination. Here is the bus route information from Waikiki Beach to the popular Instagram-worthy spot, Lanikai Pillbox: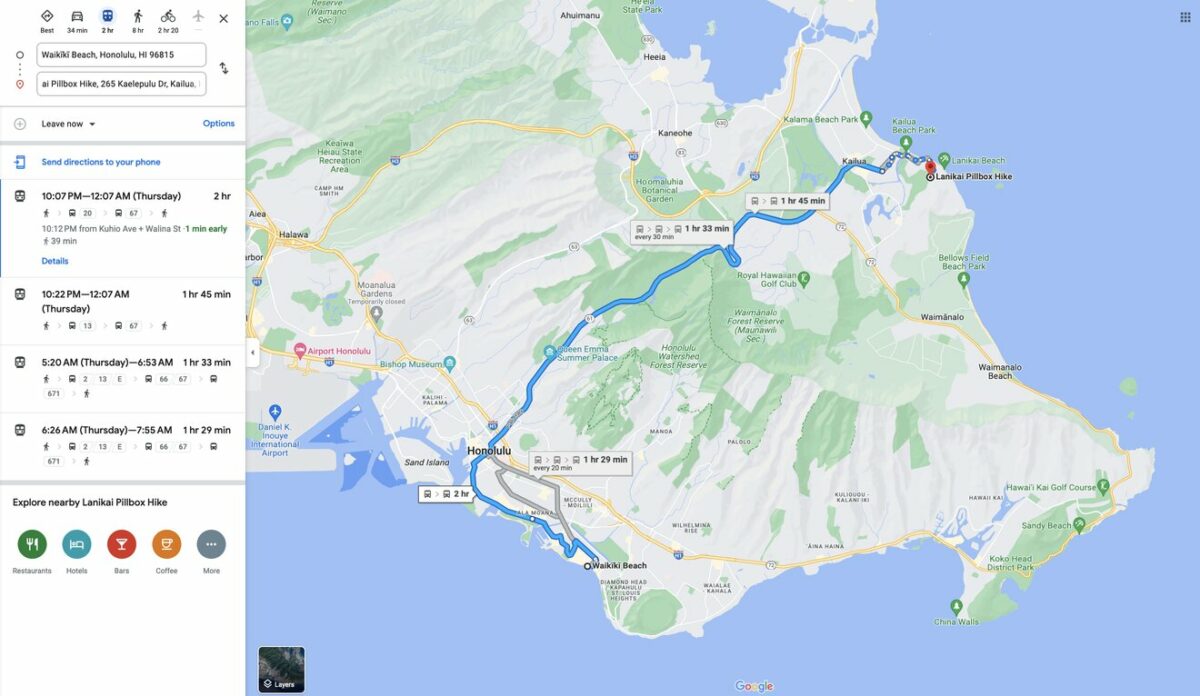 You can see the bus numbers in the top left corner. According to this explanation, you can take bus numbers 23, 42, or E to Ala Moana Center, and then transfer to bus number 67 to reach Kailua. Since Lanikai is located in the inner part of Kailua, you can take bus number 671 to the nearest bus stop to Pillbox.
Although the waiting and travel times for buses may be slightly longer, the prices are super affordable. For a one-way cash/Holo card fare (per ride), it's only $3.
Every time you ride the bus, whether using cash fare or a Holo card, transfers within 2.5 hours are free. In simple terms, if you take a bus from Waikiki to the North Shore, the cheapest fare would be just $3.
Currently, the majority of bus passengers use the Holo card (electronic card). Here is the interface for the Holo card website: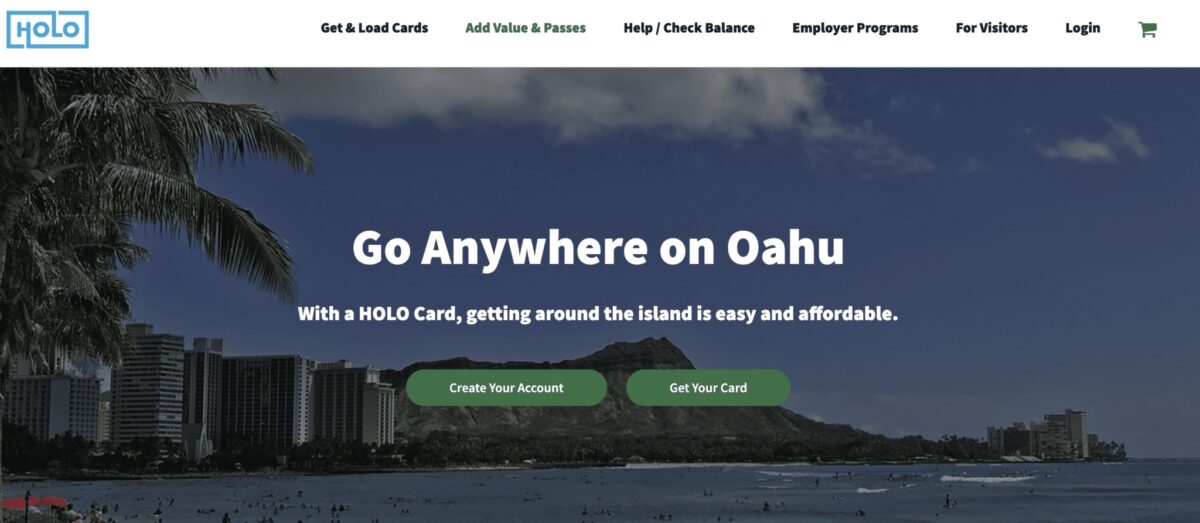 Currently, the Holo card has several consumption modes, but for travelers, it is sufficient to know the following 5 key points and advantages:
Available for purchase at many stores in Waikiki. The card costs $2 and can be loaded with value instantly or online.
Fare per ride is $3.
Transfers or brief stops within 2.5 hours from the first card tap are free.
If you take more than 2 rides in a day (each $3), the maximum daily charge is $7.5.
A 7-day pass (unlimited rides) can be purchased for adults at $30 and for children (6-17 years old) at $15.
Now that you understand the fare structure, let's see how to obtain the Holo card. Currently, 7-day passes are available at 7-Eleven, Foodland Supermarket, Palama Supermarket, and Chit Chat Sundries & Gifts. If you only need a value-loaded card, you can purchase it at ABC stores.
For more information, please visit: Holo Locations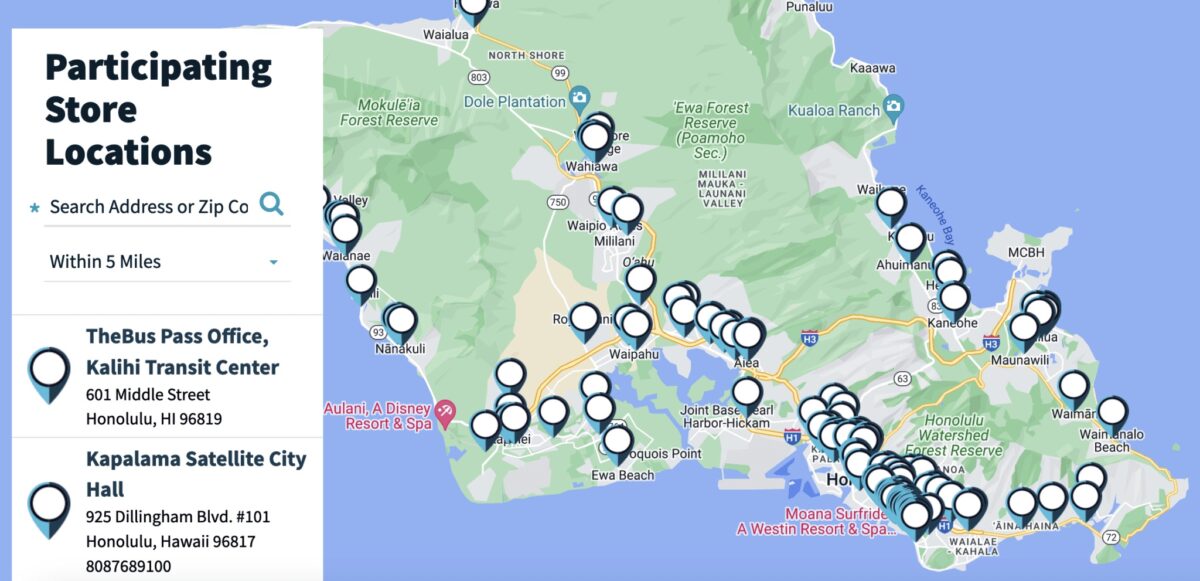 If you don't plan on renting a car during your visit to Hawaii, I suggest you directly purchase the 7-day pass. It's a cost-effective option regardless of how much you use it.
Additionally, if you need to visit popular attractions that require transfers, consider combining it with the Trolley service. This way, you won't have to worry about where to get off or where to transfer.
If you have any questions or want more in-depth details about the bus system, don't hesitate feel free to leave a comment. If there is a demand, I'll provide further explanations about the bus system on Oahu, Hawaii next time.
4. Uber/Lyft

When it comes to Uber and Lyft, they operate similarly to traditional taxis. However, on the streets of Oahu, you'll rarely see traditional taxis as they have been largely replaced by Uber and Lyft. These ride-hailing services can save you a significant amount of time when traveling within the city. However, during periods of driver scarcity or peak hours, the prices may be higher.
You can switch between Uber and Lyft to compare prices before booking a ride. There isn't a definitive answer as to which one is cheaper, as it depends on the current availability of drivers.
Personally, I usually prefer renting a car in Hawaii as it offers the most convenience. However, due to the impact of Covid-19, prices for rentals and other expenses have increased. Therefore, it's important to evaluate your budget before deciding how to get around during your trip to Hawaii.
Planning Your Itinerary for Oahu, Hawaii Vacation
When you visit Oahu, there are plenty of attractions to explore, activities to experience, history to learn, and food to savor. Whenever I guide friends who come to Hawaii, there are certain must-visit places. I recommend planning a maximum of 2-3 activities per day (sometimes even just one) to avoid feeling rushed or exhausted.
Most of the attractions in Hawaii are outdoor and historically significant, so it's important to consider the travel time between attractions and allocate time for meals.
While the distances between destinations on Oahu are not as vast as on the Big Island, many attractions close as early as 4 PM. For example, the popular snorkeling spot Hanauma Bay allows entry until 1:30 PM and visitors must leave by 4 PM.
In cases like this, I suggest dedicating a full day to one activity. Otherwise, if you enter an attraction and have to leave shortly afterward, it may leave you feeling unsatisfied. Remember to take it easy and enjoy the experience at a relaxed pace.
Best Tourist Attractions in Oahu, Hawaii
Here's my tourist attraction list below, it's the basic and must-visit places for your trip in Oahu, Hawaii. For my each place's detail & my TOP tourist attractions list, you may read this article: Click Here>>
1. Pacific Aviation Museum Pearl Harbor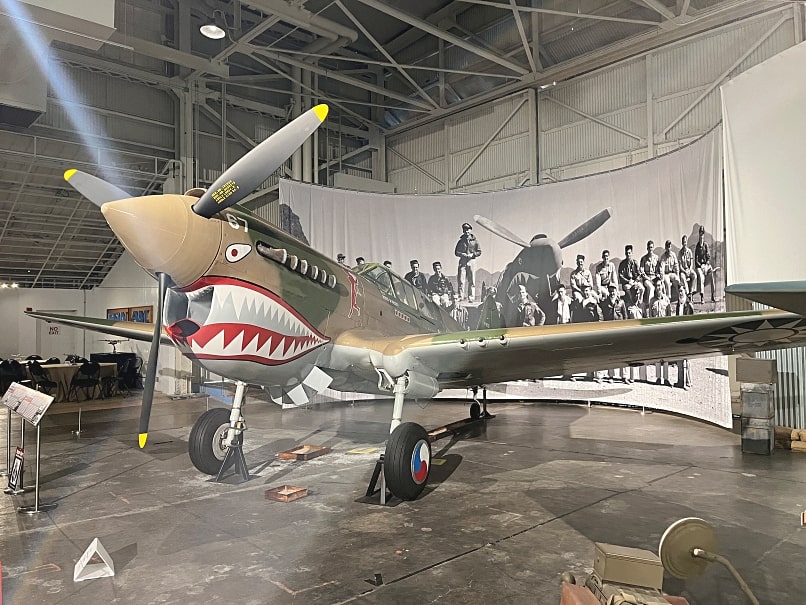 You better not miss this attraction, like this museum. A big thing happened in 1941 and it's Japan's invasion of Pearl Harbor. The Pacific Aviation Museum can let you learn about all the details of history and the stories like how it happened. In addition, you will see many items like aircrafts, motorbikes, battleships, and other broken things, etc.
Overall, it's the most impressive history tour that you have to visit. By the way, you better take your child to learn from this history to let them know what the war is.
2. The USS Missouri Battleship Museum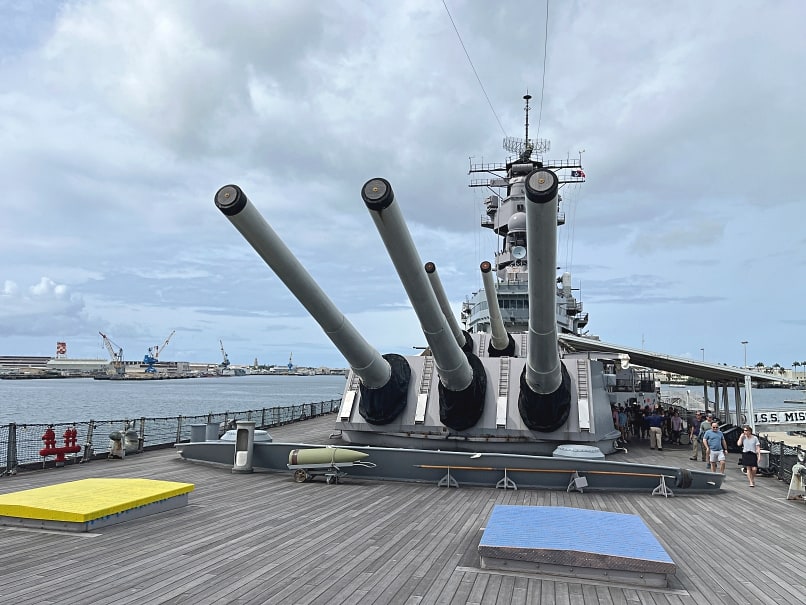 This's another Pearl Harbor tour which is a must-visit place you better add to your itinerary. You can see how huge the USS Missouri Battleship is and its history about Pearl Harbor's invasion.
When Japan's air fighter attacked many battleships at Pearl Harbor, this battleship was one of the warships left. It holds significant historical importance as it was the site of Japan's formal surrender, making it a symbolically significant warship in history.
Overall, you can learn this history from visiting this battleship.
3. The USS Bowfin Submarine Museum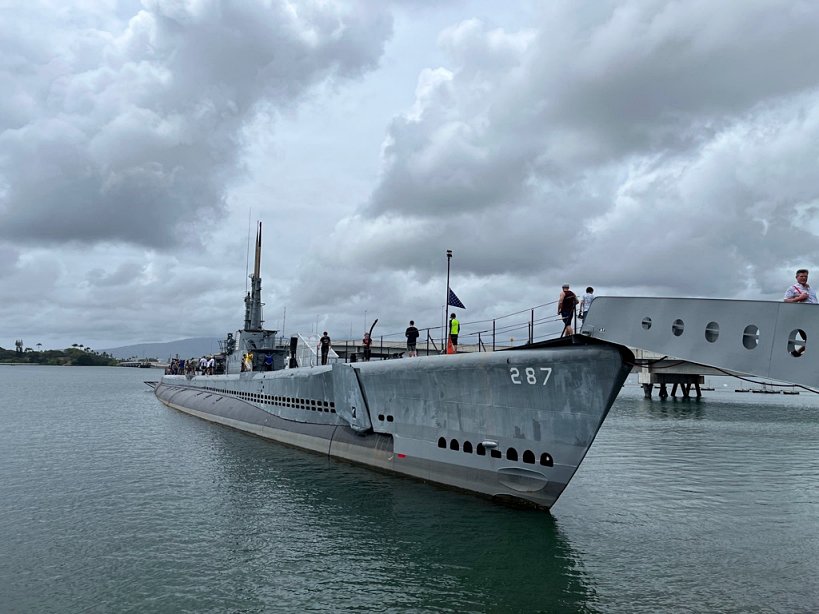 Not only the battleship tour at Pearl Harbor, but also you can visit the submarine: The USS Bowfin Submarine Museum, which is another special tour where you can enter the inside of a submarine and see the whole facilities.
For most people, unless you are a marine, otherwise you never see the inside of this cool attraction. I recommend you add this submarine to your day trip itinerary.
4. The USS Arizona Memorial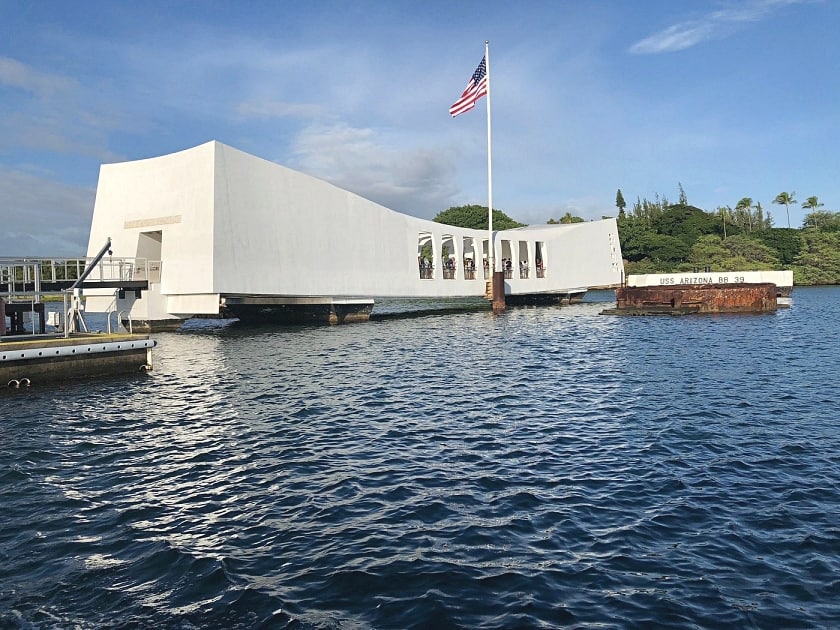 We will never forget this history, especially Pearl Harbor's invasion by Japan. This memorial museum records all of the history and stories for those people who sacrificed. Let us learn what war is and what freedom is. Most people who never experienced the fear, heart break of the war so I strongly recommend this attraction to you as a lesson in your Hawaii vacation trip itinerary.
5. Polynesian Cultural Center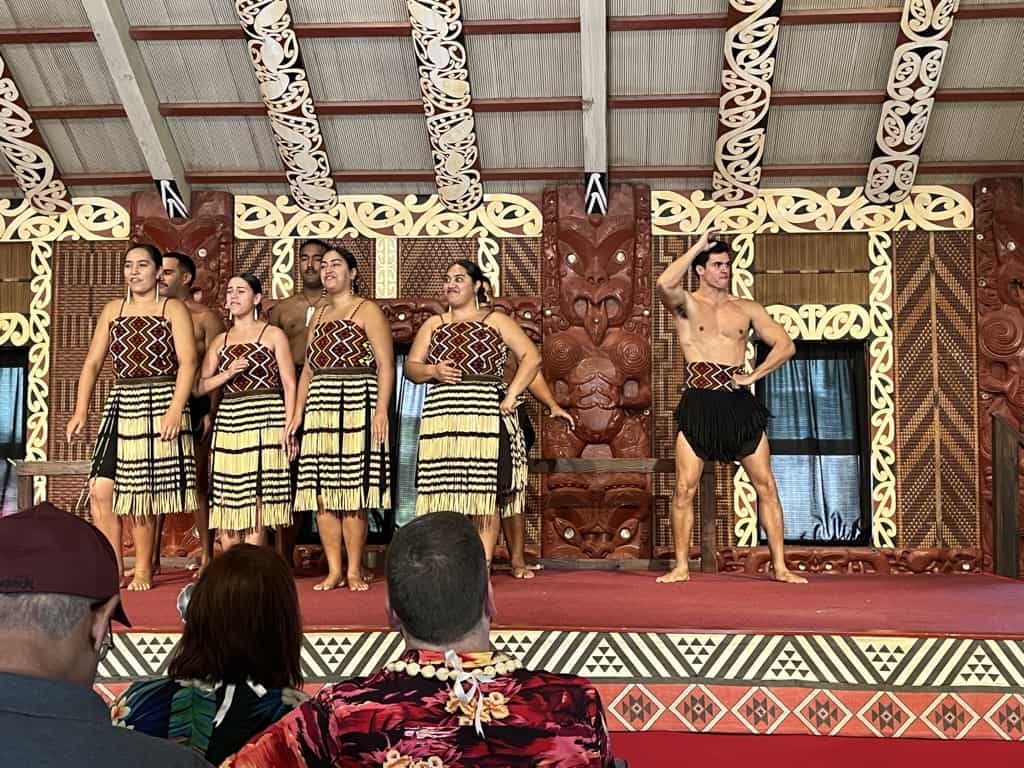 For Hawaiian, the Polynesian Culture includes the cultural influences of Hawaii, Samoa, Tahiti, New Zealand, Tonga, and Fiji. So here you can learn about what aboriginal lifestyle, food, entertainment, and others.
If it's your first time visiting Hawaii and you want to have a quick tour of the local culture, I recommend adding the Polynesian Cultural Center to your first stop.
6. Star of Honolulu Cruise Tour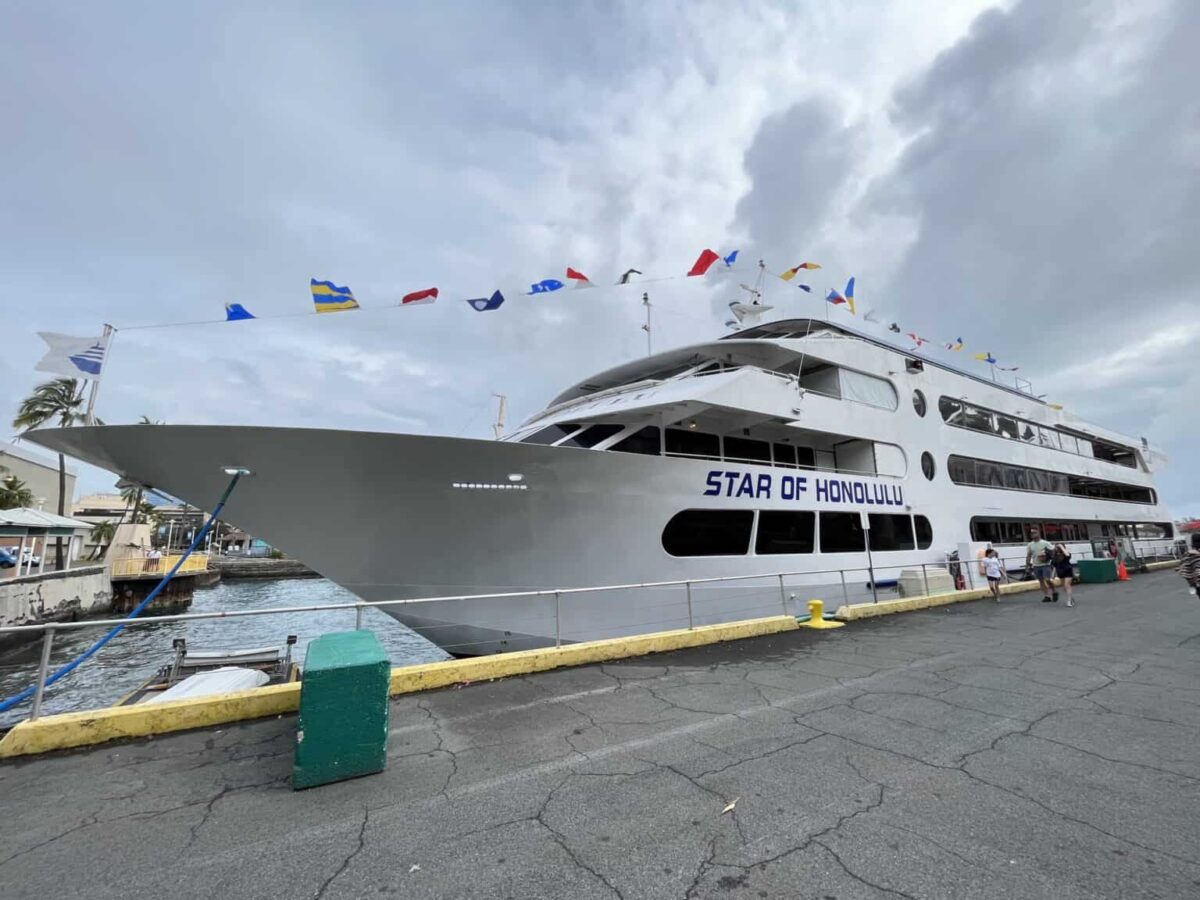 This's a really chill tour as you lie down on the cruise board and enjoy the sunshine and sunset. In addition, you may have to taste their meals, which are high quality and special food. By the way, if the chance is here, you can enjoy the firework show on the cruise. What a fantastic tour! The reservation is too easy to sell out, so get the link below and check if it is available.
7. Iolani Palace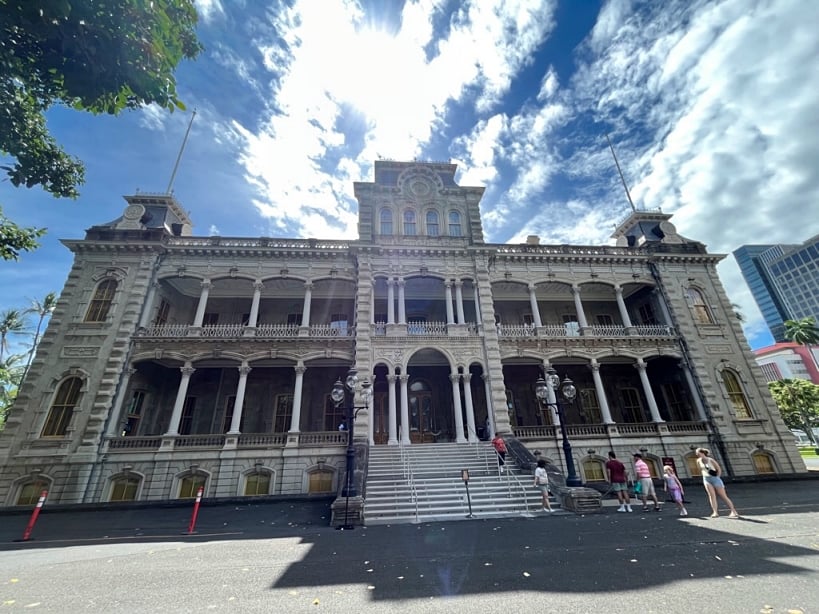 Iolani Palace is another great historical tourist attraction that you may visit in your Hawaii vacation. It includes many Hawaiian lifestyle and stories, you will see many rooms, queen's room, and a beautiful garden.
8. Bishop Museum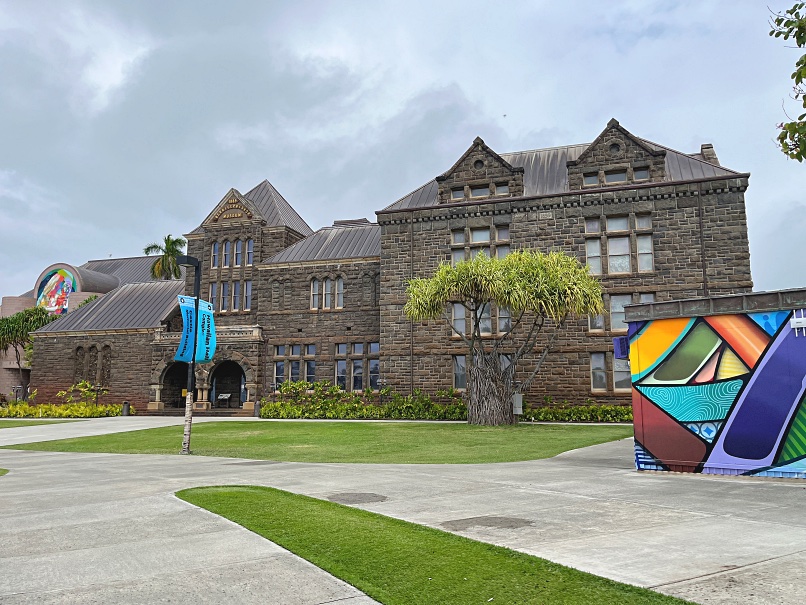 Besides Iolani Palace, Bishop Museum is another must-go tourist attraction. A museum includes the Hawaiian lifestyle, aboriginal cultures, the old items they used. So many things and knowledge you can learn from this museum.
In addition, there's an astronomical observation tour you better not miss! Learning about the galaxy is more important for your child, such as a cool experience.
You may add it to your itinerary, especially combined with your Iolani Palace tour. When you complete visiting the Iolani Museum, then you may visit the Bishop Museum.
9. Hanauma Bay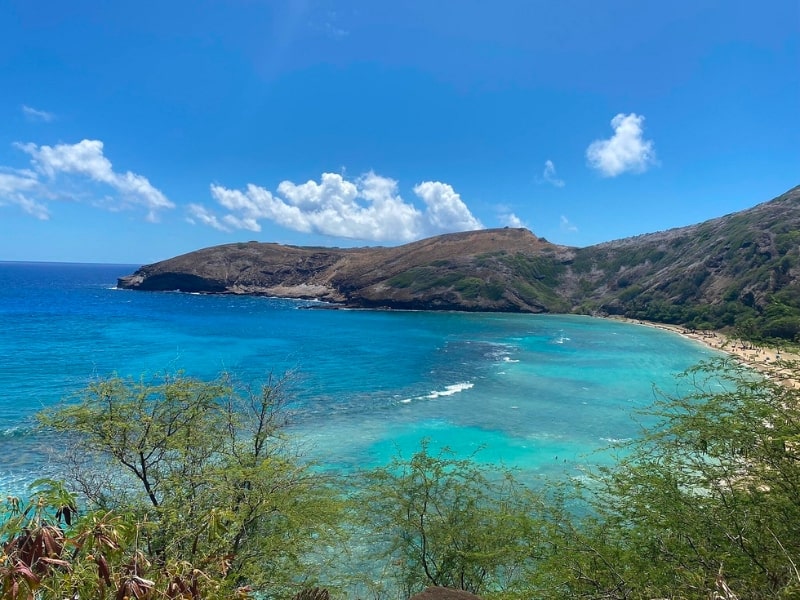 Hanauma Bay is a stunning point that is worth adding to your itinerary for Hawaii vacation. You want to enjoy the beautiful beach vacation? This is it! You can enjoy the water activities and feel the ocean's sound, stress you out so much.
On the other hand, I recommend you hiking at Koko Head Hiking Trail, and then stand on the top and enjoy this bay view. How do you feel? It's not only aqua, when you get this view in sunset, that's another incredible memory for you.
10. Kualoa Ranch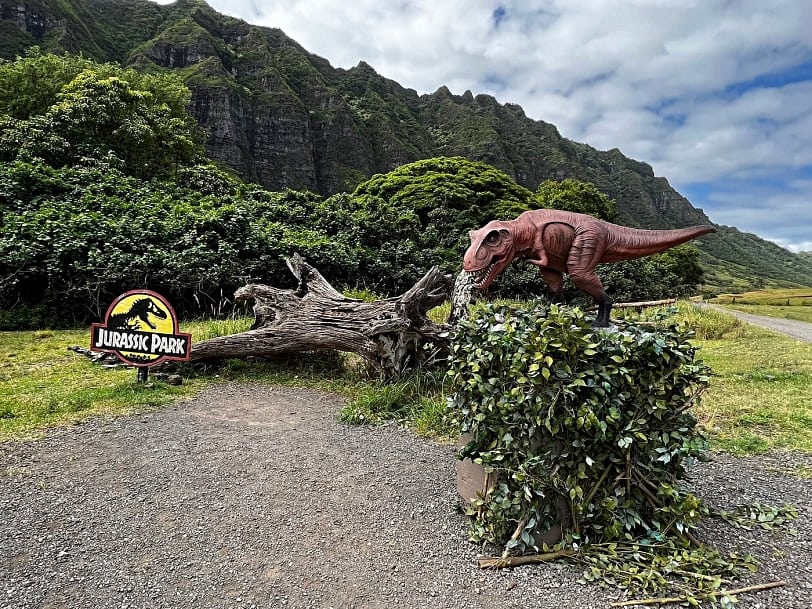 You ever watched the Jurassic Park movie when you were child, yeah same with me! That's the typical movie in many people's childhood. And you will get one sense of all from the movie clips is this widely ground! This is it!
You can enjoy the horse riding tour, ATV tour, and other kinds of tourist activities, just need some dinosaurs behind you when you are moving! The most impressive thing is when you are on the flat ground, and the mountains surround you, now you are the main character in Jurassic Park!
11. Diamond Head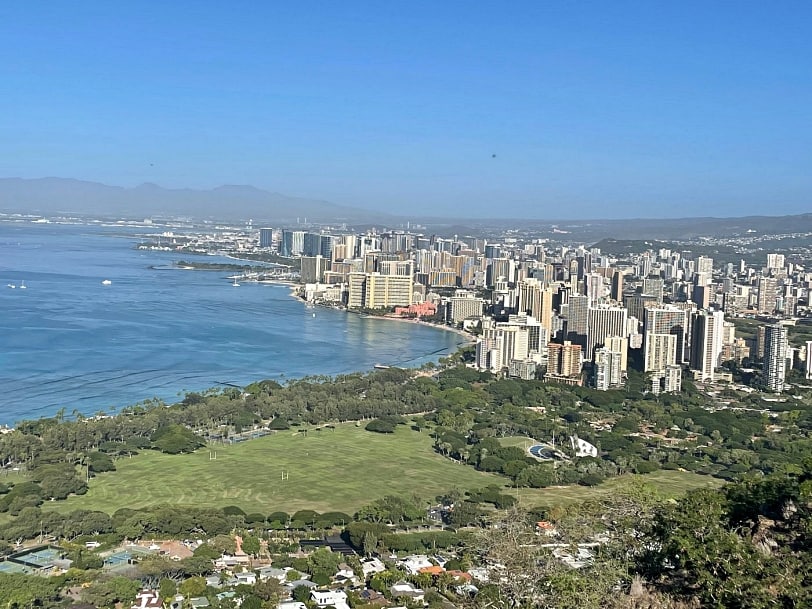 When you are visiting Waikiki, don't miss this stunning place! It's Diamond Head. It's another view that you can enjoy the beautiful sea and coast sights and relieve yourself.
However, there's a hiking trail that you have to walk to this lookout point and you have to park your car if you rent one. It's a stunning view point so many people go for, I suggest you have to go there early, otherwise you couldn't find the parking lot.
12. Haleiwa Town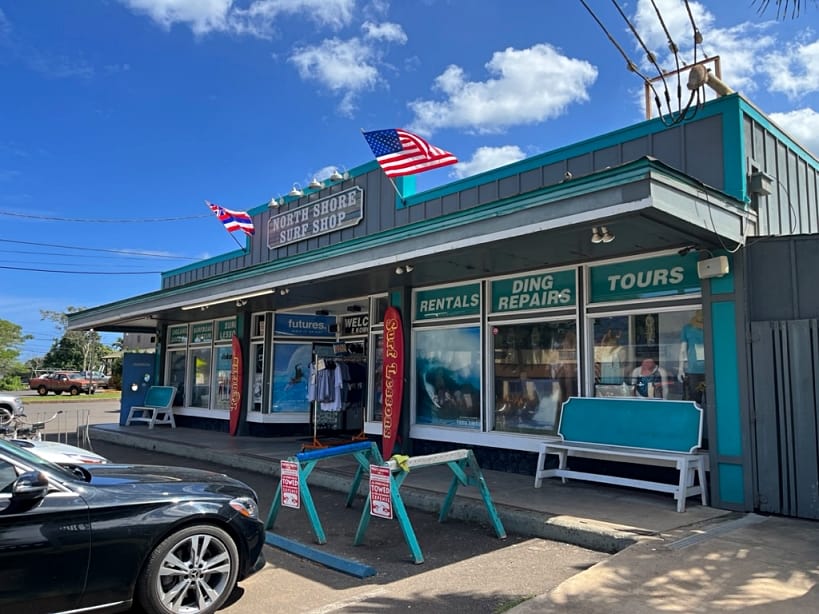 It's not only learning Hawaiian aboriginal culture and history, absolutely their food culture! When you get to this town, never forget to taste Hawaiian's delicious food. Find a restaurant, sit down, and enjoy the meal!
I posted other food unboxing articles on this website, you may check the link below or around.
13. Spitting Cave (My Favorite)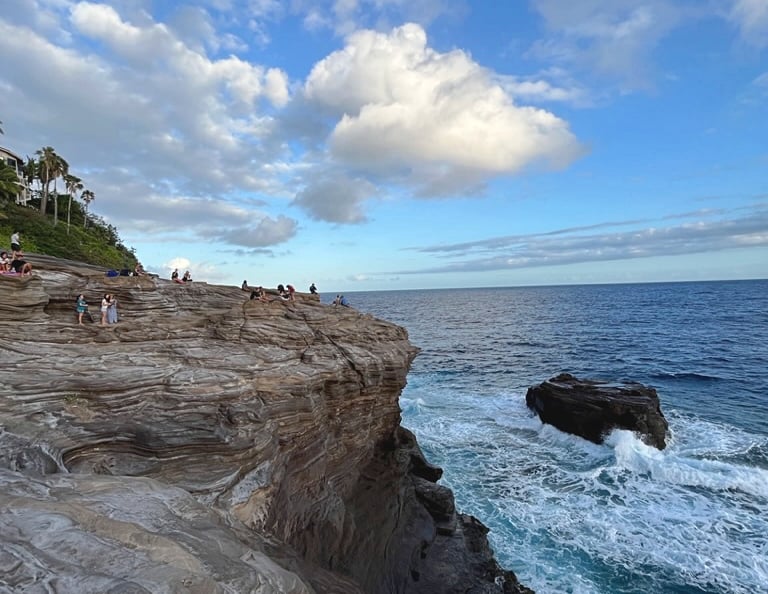 Let me say it's not a cave or a beach, it's a viewpoint, especially for sunset visiting so how do you feel about that? When your day trip is finished and it's close to 4 PM, it's time to go to this Spitting Cave for the sunset. Basically, many people are there and enjoy the view so you may go there earlier. It's my favorite place and I recommend it to you.
14. Lanikai Pillbox (Most Popular on Instagram)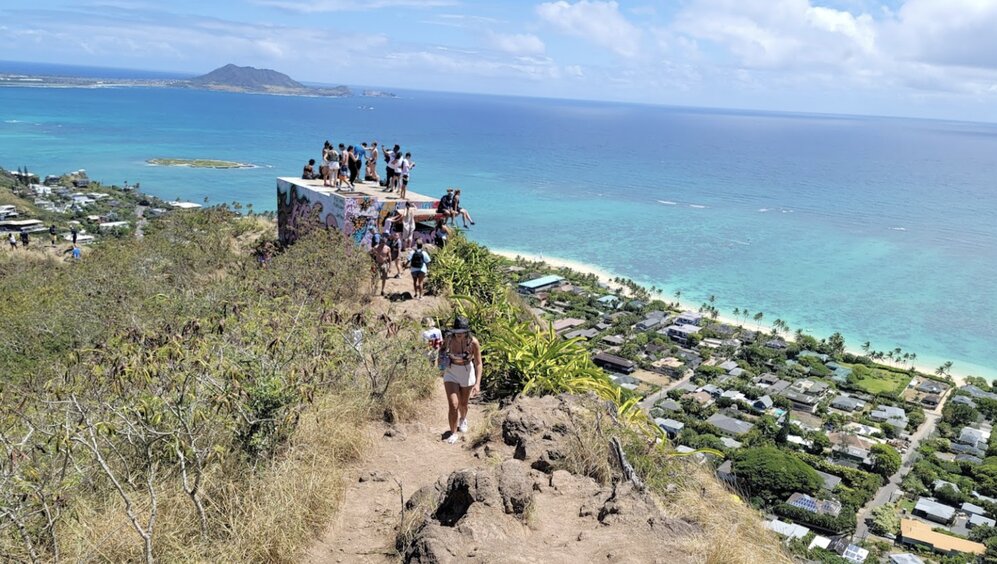 This's another beautiful viewpoint where you can see the whole aqua ocean and the coastal view, so beautiful a place that is worth it! However, this viewpoint is just on the halfway of the hiking trail of Lanikai Pillbox, so you may set the navigation and lead you to this point. Check the address link below and it will switch to the Google Map to start navigating.
If you would like get more popular attractions in Oahu, check this article and get my bucket list: Click Here>>
Best Restaurants in Oahu, Hawaii
Let's check out these awesome restaurants below.
1. Da Ono Hawaiian Food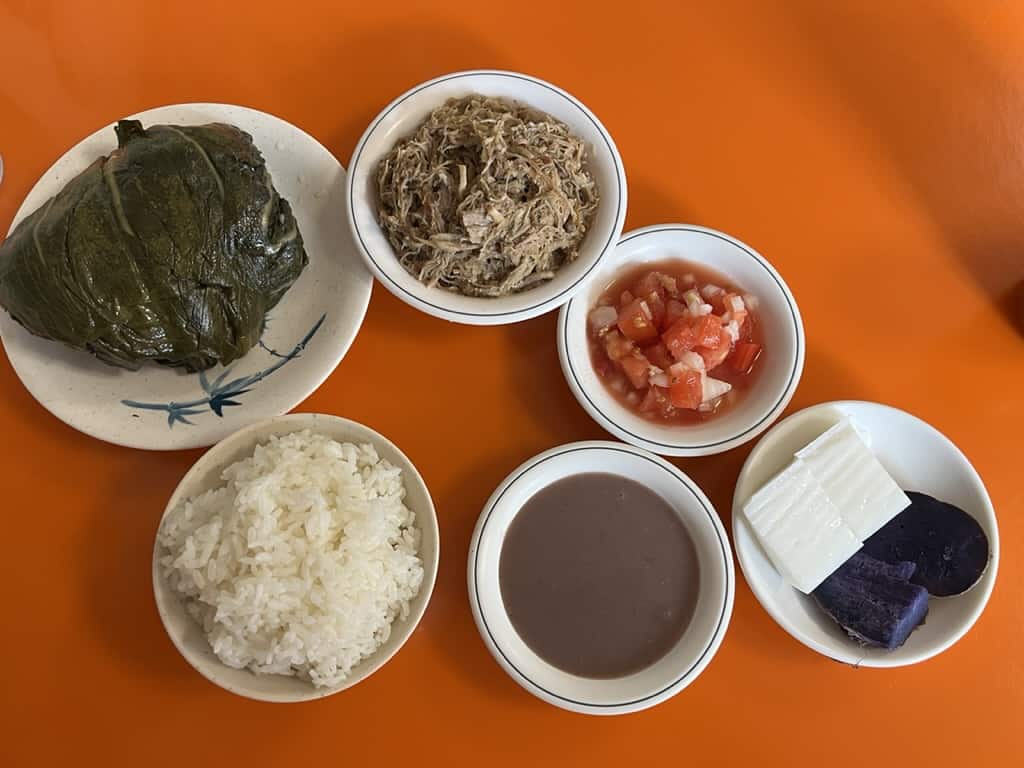 There are some specific local delicacies in Hawaii that you must try, and Ono Hawaiian Food is a good place for Hawaiian cuisine that is relatively close to Waikiki.
Hawaiian food includes dishes like Poke (raw fish salad), Kalua Pig (roasted pig), Lau Lau (pork wrapped in taro leaves), Poi (taro paste), and more. If you're staying near Waikiki during your trip to Hawaii, you can have lunch at Ono Hawaiian Food. I love them, which is awesome!
2. Ryder's Poke And Shave Ice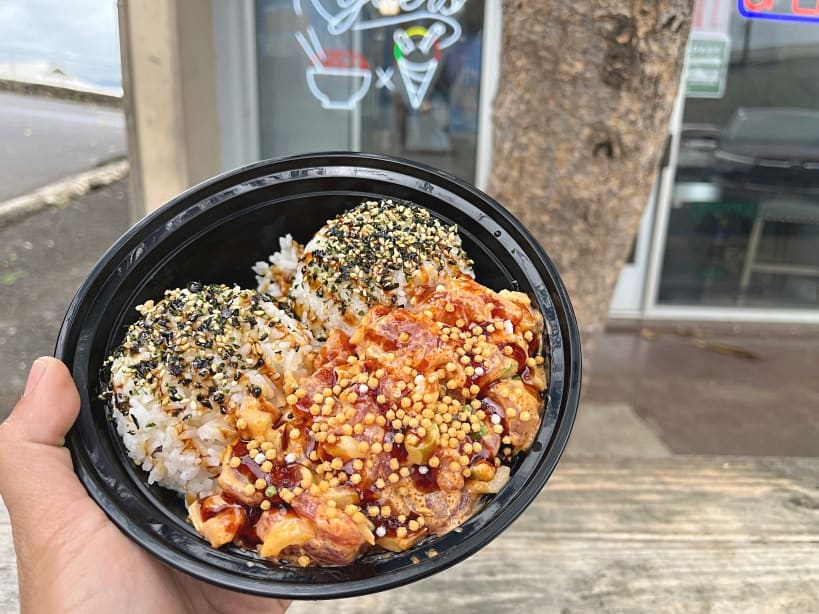 Ryder's Poke is located in Aiea. Their Poke Bowl, a dish consisting of raw fish over rice, is one of the best I've had recently, even though they only offer two different varieties.
However, I genuinely think it's delicious and highly recommend it! If you happen to be heading towards Aiea, you should definitely give it a try.
Additionally, their shaved ice is fantastic too. To be honest, it's much better than Matsumoto's shaved ice in Haleiwa, and it's very affordable!
3. Side Street Inn On Da Strip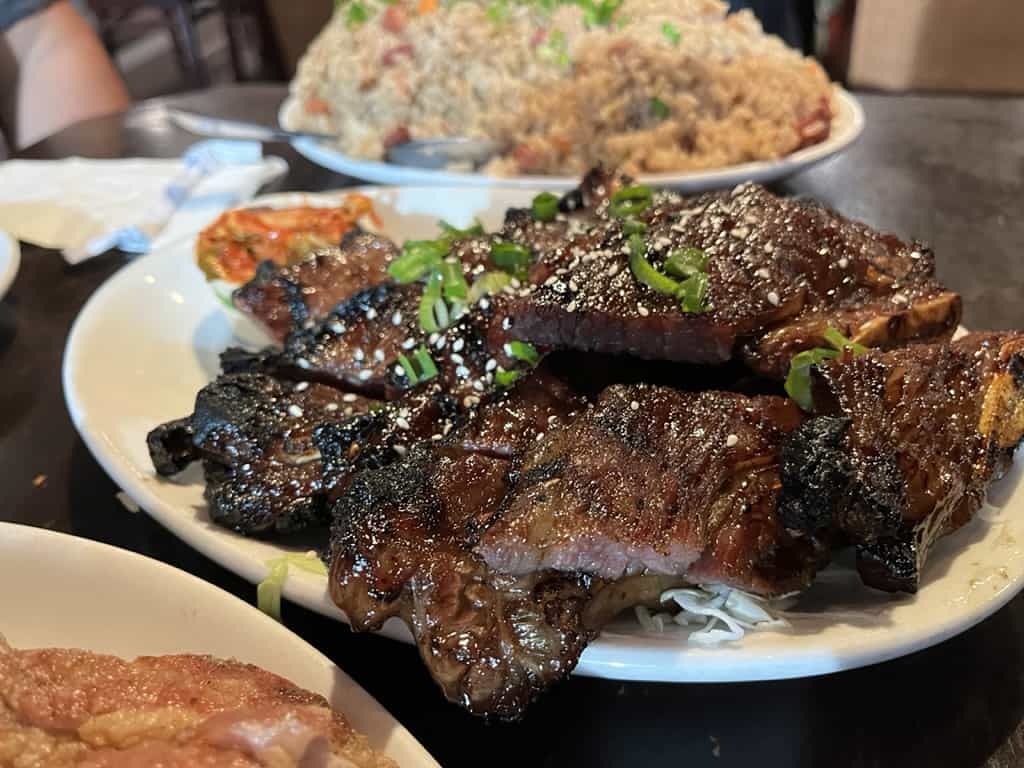 Side Street Inn is a highly renowned dining establishment in Hawaii, known for its meals that are perfect for groups of 3-4 people or more. If you're on a free trip to Hawaii with a group of friends, I highly recommend dining here!
They offer a wide variety of dishes, including the Kolbi Short Rib (with or without bones) featured in the picture, fried rice, breaded pork chops, and even their famous Brandy Fried Chicken, which I always make sure to order. Whenever I return to Hawaii, this is definitely one of the restaurants I visit.
4. Yanagi Sushi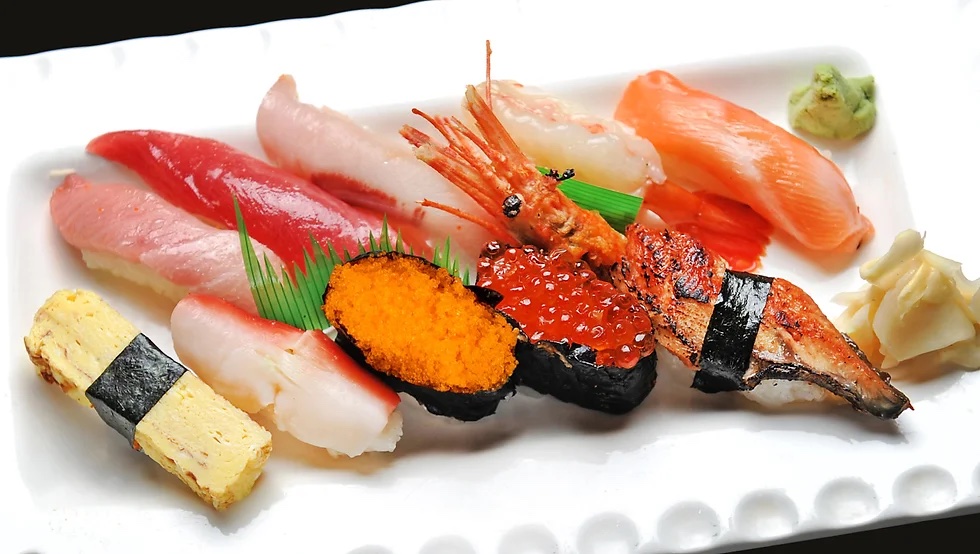 You'll find that there are numerous Japanese restaurants in Hawaii. In the early 20th century, there was a significant influx of Japanese immigrants to Hawaii (before World War II), which has greatly influenced the local culture.
Yanagi Japanese Cuisine stands out among them, as all of their sushi chefs are from Japan. The dishes they create are, in my opinion, impeccable.
My favorite time to dine there is during their Happy Hour, and I often order the Maui Onion Salmon, Baby Tako (octopus), Sashimi Deluxe, Tempura, and other delectable dishes. I guarantee that the food at Yanagi is absolutely outstanding!
5. Cheesecake Factory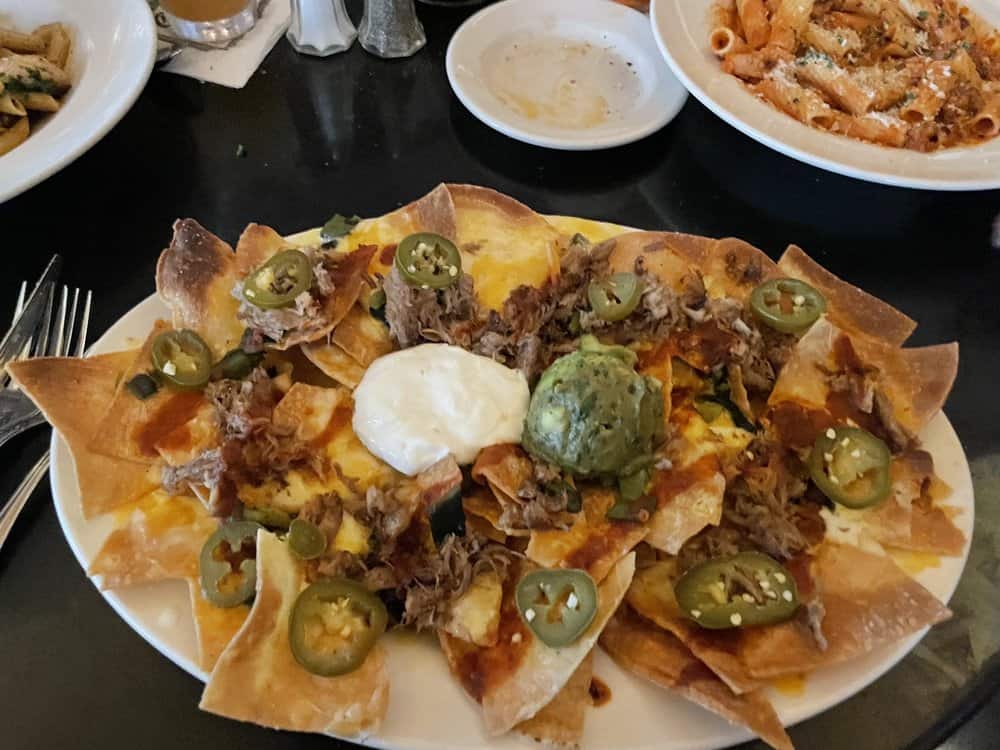 The advantage of staying in Waikiki is that you'll find restaurants to try no matter where you go. For first-time visitors to Oahu and Waikiki, Cheesecake Factory is an absolute must-visit. While their specialty is cheesecake, their other dishes are also incredibly delicious.
The menu here leans towards American flavors, so whether you're craving pasta, toast, steak paired with red wine, you can find it here. And of course, ending the meal with a dessert would make it even more perfect.
I believe it's a great value for your money and a fantastic restaurant choice for a date. If you're looking for a good restaurant for a date, I recommend giving it a try.
6. Liliha Bakery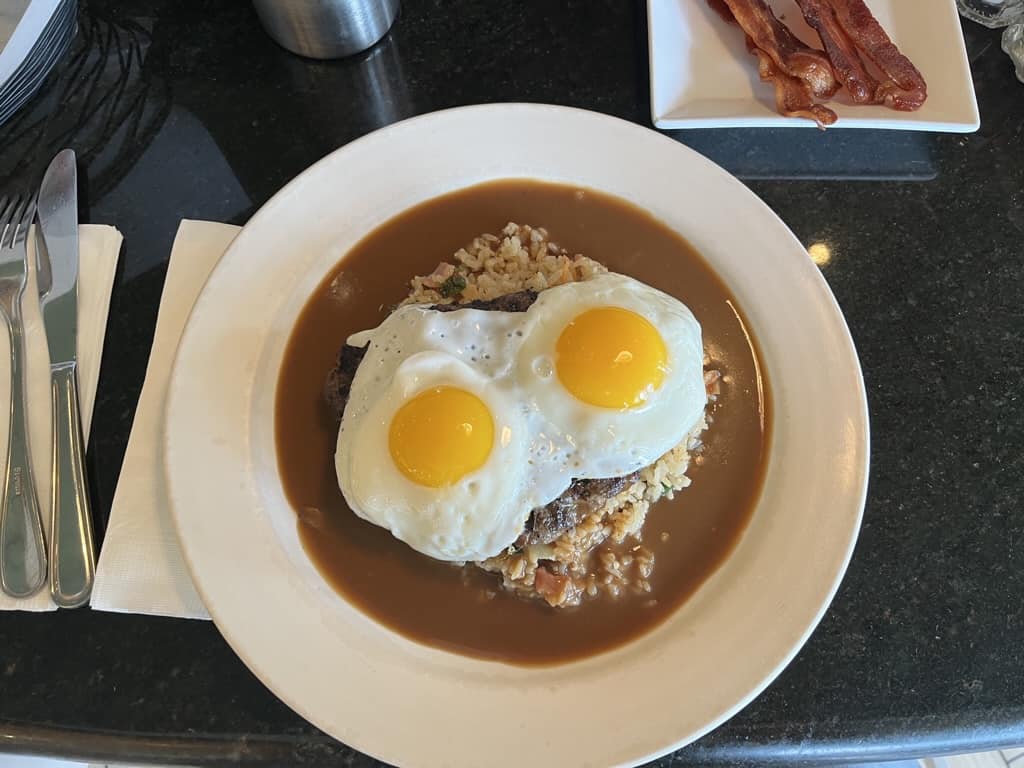 The most local coffee shops in Hawaii are not just about serving coffee and pastries. Most of these coffee shops have their own bakery, hot food menus, and various coffee options.
One of the most famous ones is Liliha Bakery, known for their Butter Roll with special jam, Oxtail Soup, and Hot Cakes topped with Hawaiian cane syrup. I usually come here to enjoy breakfast.
7. Kaila Cafe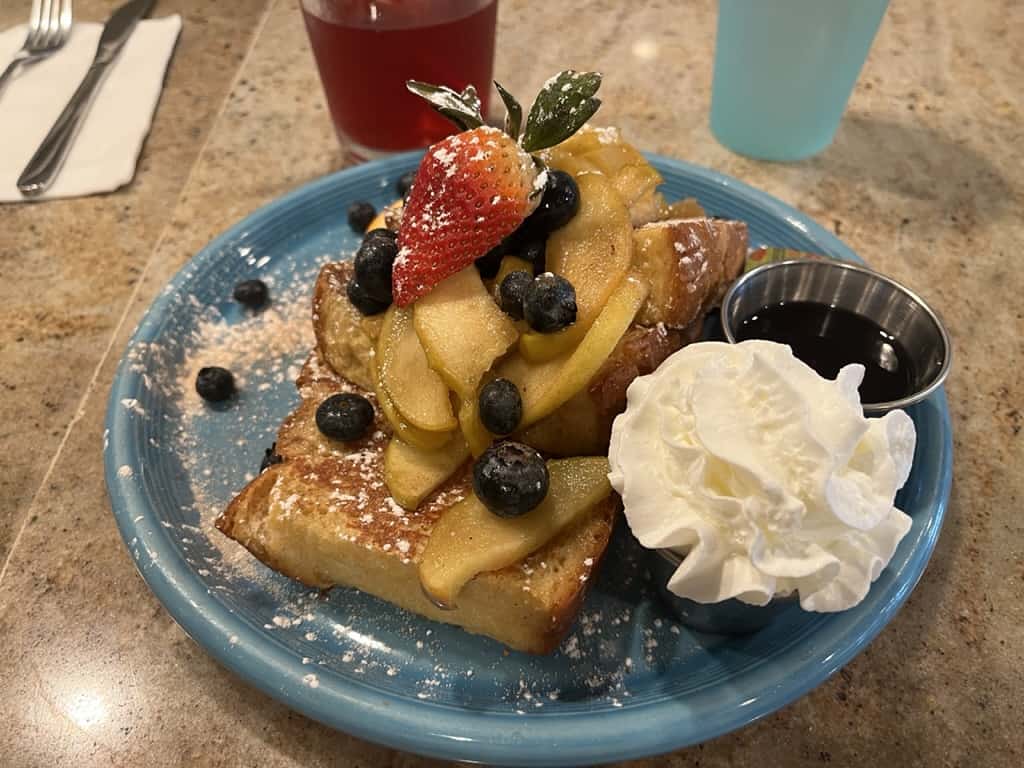 If you're looking for some American-style breakfast, then Kaila Café is a great choice. The flavors in Hawaii tend to be on the sweeter side, and the portions are generous, similar to the food in Tainan, Taiwan (sweet and large portions). They offer a variety of sweet options for breakfast, which is a real treat for those who have a sweet tooth.
My personal favorite is their Sweet Combo with cinnamon apple and strawberries. Every time I finish it, I feel completely satisfied. If you're unsure about what to order when you visit the café, don't hesitate to ask the staff for their recommendations.
One of the greatest advantages of traveling freely in Hawaii is that you don't have to worry about finding good food.
Wherever you go, there will always be restaurants that you'll enjoy. When dining in Hawaii, it's important to remember to tip 15% to 20% of the bill.
You might find this amount to be relatively high, but tipping is a common practice in the United States.
Many servers rely on tips as a significant part of their income, and they provide service accordingly. It's important to understand and appreciate this cultural aspect.
If you want to know more about the popular restaurants of my bucket list, you can read my Best 20 Restaurants in Oahu, Hawaii.
Must-Buy in Oahu, Hawaii
Hawaii is a major tourist destination, and another important activity during your visit is shopping. There are several places in Hawaii where you can go shopping, depending on your shopping needs. I will explain them below.
Here's the shopping mall list that worth it:
1. Waikele Outlet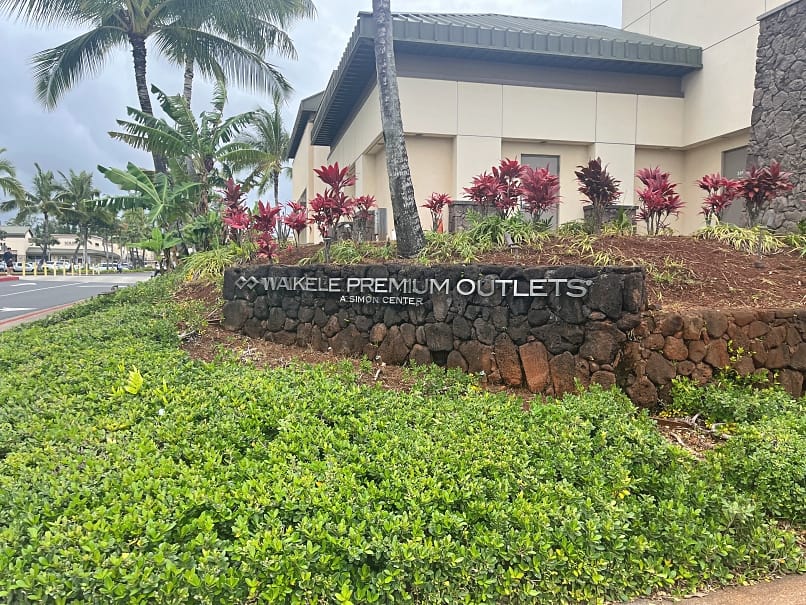 The first place that comes to mind for most people when it comes to shopping is an outlet. And the most famous outlet on Oahu is undoubtedly Waikele.
Here you'll find some well-known stores such as Polo, Levi's, Michael Kors, Gap, Coach, Kate Spade, and more. Additionally, there are occasional special promotions and discounts, so it's worth stopping by the information center to inquire about coupons or deals.
2. Ala Moana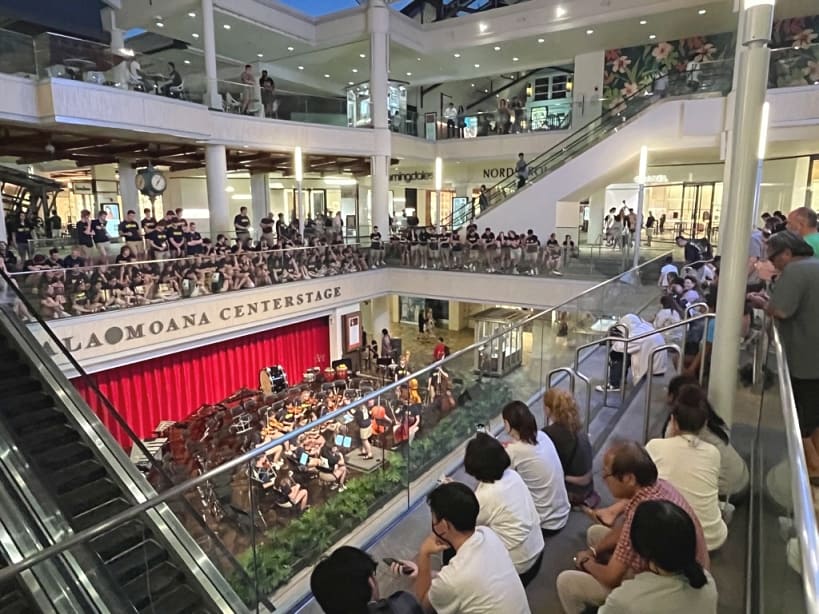 After talking about the outlet stores, let's take a look at Ala Moana Center, which was once the largest shopping center in the world. It has everything you could imagine, from affordable brands like Zara, Uniqlo, and Gap, to luxury brands like Harry Winston, Hermes, Louis Vuitton, Chanel, and many more. With over 350 stores in total, you'll have plenty of options to choose from. Just make sure your credit card limit is high enough because there's no shortage of things to buy here.
When I bring my family or friends to shop here, I usually arrange a meeting time and place in advance so I don't have to accompany them throughout the entire shopping trip. This way, I can do my own thing and I highly recommend it to my male friends. You can find a nice coffee shop to relax and enjoy some personal time.
3. Aloha Stadium Swap Meet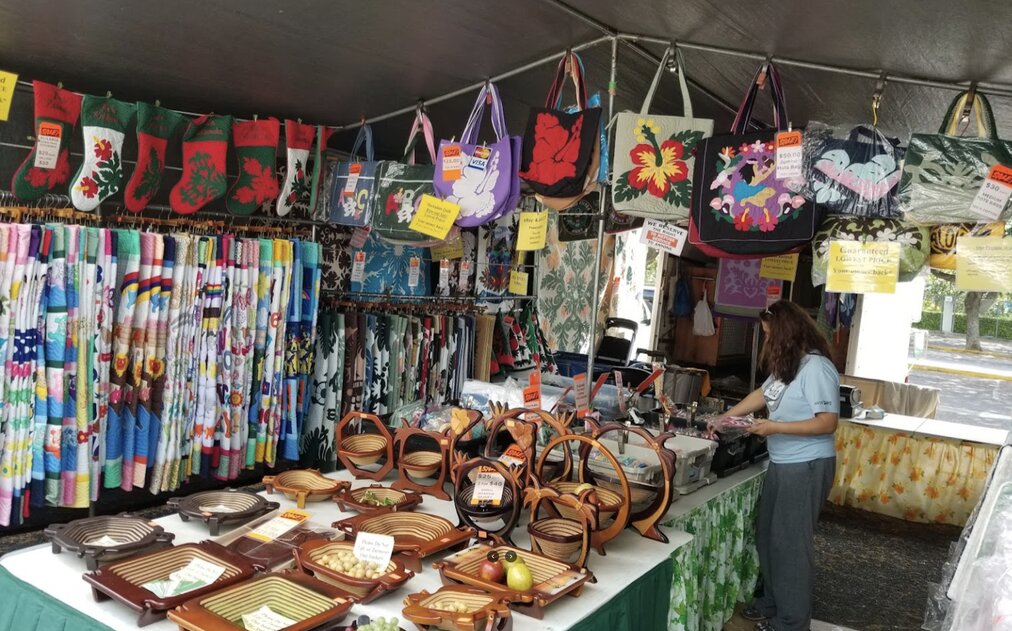 If you want to buy souvenirs, you should go to the Swap Meet, which is cheaper than any souvenir stand in Waikiki. The vendors here offer lower prices because the rental costs are more affordable.
At the Swap Meet, you can find many unique items, and local residents also come to sell some second-hand goods. If you are a long-term resident of Hawaii, it's worth checking out to see if there are any valuable items to discover.
The Swap Meet is not open every day. It operates on three days a week (Wednesday, Saturday, and Sunday) from around 6:00 AM to 3:00 PM. I recommend going early because it gets hotter around noon. Usually, after finishing shopping at around 8-9 AM, people head to the Waikele Shopping Outlet to enjoy some air-conditioned shopping, making it a full day of shopping itinerary.
4. Ross / Nordstrom Rack (My Favorite)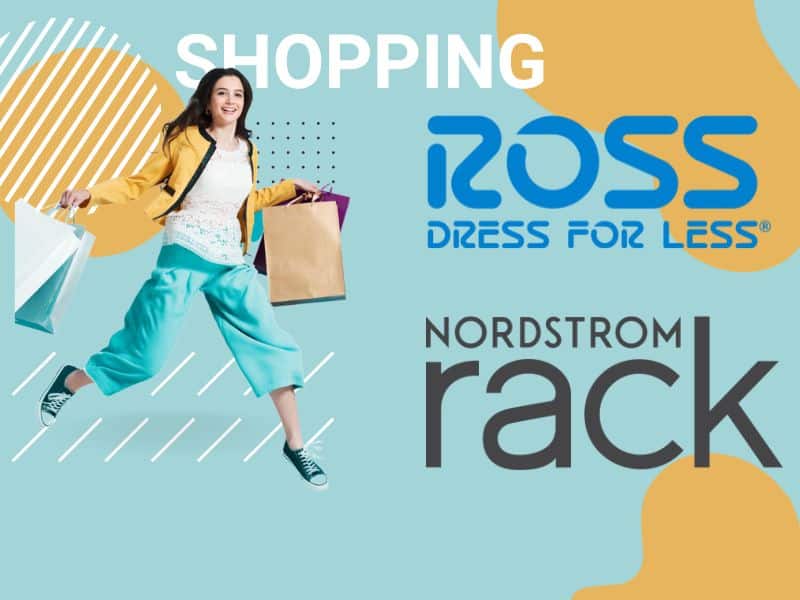 The places I shop most frequently in Hawaii are not the ones mentioned earlier but Nordstrom Rack and Ross. They are popular because they are close to the city center, offer affordable prices, and have branded items.
Ross, a favorite among locals, offers a wide range of home goods, clothing, cosmetics, watches, and even some high-end items. People often leave with carts full of purchases. It's especially great for children's clothing, as they carry sportswear brands like Nike and Adidas, making it a convenient option for personal use or gifting.
Nordstrom Rack, on the other hand, is a store that sells branded merchandise from previous seasons. Prices here are usually half to three-quarters of what you would find at an outlet. The items may be from the previous year or earlier, but they are still relatively new. I often end up spending more here than at the outlet. If I'm looking for gifts, I usually check out Nordstrom Rack first.
I recommend visiting these two stores first. If you have specific items you're looking for, you can then head to Waikele Outlet or Ala Moana. Here's the information for Nordstrom Rack and Ross:
Nordstrom Rack: There are two locations in Hawaii, one at Ward Shopping Center and one in the center of Waikiki. Both stores have a wide selection, so you can choose the one closest to you. Click Here for location on Google Maps.
Ross: Ross has branches scattered throughout Oahu, Hawaii. You can find them in most small shopping centers. Ross offers a more diverse range of items, so it's worth checking out multiple locations to discover different treasures.
Check all Rose Oahu's locations on Google Map>>
Estimate Cost of Hawaii Vacation
When it comes to traveling to Hawaii, it's not comparable to destinations like Thailand, South Korea, the Philippines, or Vietnam. After all, Hawaii is considered one of the most renowned island destinations in the world. If you're planning a trip to Hawaii, how much money should you prepare? I have calculated that for a day on Oahu with two people, the daily expenses would be around $500-$600 (including itinerary, accommodation, meals, and car rental; excluding airfare), which translates to about $250-$300 per person per day.
Of course, the actual expenses will vary depending on your chosen itinerary, hotel, car rental, restaurants, and other costs. With a budget of $250-$300 per person per day, I believe you can have a very enjoyable trip. If you want to save even more, you can focus on outdoor activities like hiking, visiting the beach, or surfing. By engaging in these types of activities every day, you could potentially lower your expenses to around $200-$250 per day.
I recommend planning all aspects of your Hawaii trip in advance so that you can accurately estimate your travel budget and take advantage of any early bird discounts available.
Other Things You Need to Know
1. Is It Safe in Oahu, Hawaii?
Many people see news about the poor security situation in the United States, and there are often major headlines. However, in my time in Hawaii, I can say that as long as you avoid going alone to certain specific places at night, it is generally safe for tourists.
In recent years, the Hawaii government has actively arranged housing for the homeless, which has significantly reduced the number of homeless individuals on the streets. Therefore, when traveling to Hawaii, there is no need to worry about security issues as long as we maintain the expected level of politeness and avoid going alone to specific places at certain times.
Examples of such places and times include Waianae, Nanakuli, Chinatown at night, the harbor at night, and Wahiawa City at night. By following these precautions, there is no need to be overly concerned.
To be continue….
Due to my content schedule, I will add more content in this article and keep updating consistently. Thank you for reading and apologize for your inconvenience.
People are interested on these topics: