There's a lot of itinerary ideas you can find from anywhere, indeed Oahu Hawaii vacation. However, if you are a budget traveler or a family who wants to have a cheaper vacation in Oahu, Hawaii, this itinerary should be a model for you!
In this article, I will reveal the details from this Oahu 3 day itinerary with my experience. But first, you better need one thing: Oahu City Pass.
First, You Better Need Oahu City Pass
I was sharing my personal trip experience on Oahu trip vacation with the City Pass ticket, you can read the article I've posted before, which talks about the package of Oahu City Pass you can choose and save more money for you.
And now, I uploaded some photos with the description below in the itinerary, and you can click the link to the single place review post to read, hopefully you enjoy my content!
Is Oahu City Pass worth it? Check my article!
Oahu 3 Day Itinerary Trip Detail (Ideal Plan)
In this budget trip plan, I will share all the details like the tourist attractions, day routine, and something you need to know, that could help you save more money and time.
I summarize this 3 days Oahu trip itinerary is:
Day1 – Pearl Harbor & Makani Catamaran Sunset Sail with Drinks.
Day2 – Polynesian Cultural Center.
Day3 – Iolani Palace & Biship Museum.
These tourist attractions are a must-visit with your Oahu City Pass ticket and worth it, and I will explain the routine for each day trip. So, let's break down the 3 days Oahu, Hawaii trip!!
If you want to plan a fantastic Hawaii vacation trip for your family, you can read me travel guide article. Click Here>>
Day1 – Pearl Harbor & Makani Catamaran Sunset Sail with Drinks
Pearl Harbor is the most famous place as a landmark in Hawaii, also it's an essential and critical attraction that people have been there. You can see battleships, submarines, air fighters, etc.
You can learn by listening to a tour guide's speech about the history of World War II. Some typical stories are like the Missouri-class battleship, USS Arizona battleship, and Bowfin-class submarine.
With the Oahu Go City All-include Pass ticket to visit the attractions of Pearl Harbor (USS Arizona battleship is expected), you can save a lot, also you can re-enter there by your city pass ticket.
If you didn't buy the Oahu City Pass ticket, the regular price is US$82.97, which is close to half of the 3-day package price. That's more expensive for you.
Note: All backpack, large size bags, or luggage are prohibited at Pearl Harbor, I suggest you rent a locker to store your luggage before you enter.
Once you get the CityPass ticket, you can scan the QR code at the entry checkpoint of the Ticket Center, which is at the right of the area.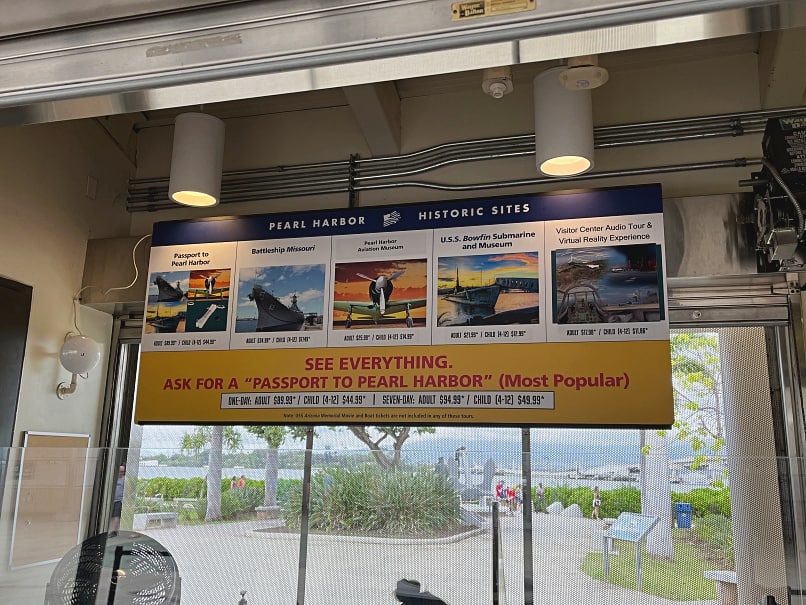 What a crowd of people visiting the USS Arizona battleship tour. You better get a line and wait because this museum only arrives by boat. When you get the waiting ticket, it will show the current boat time and you get back to take the boat later.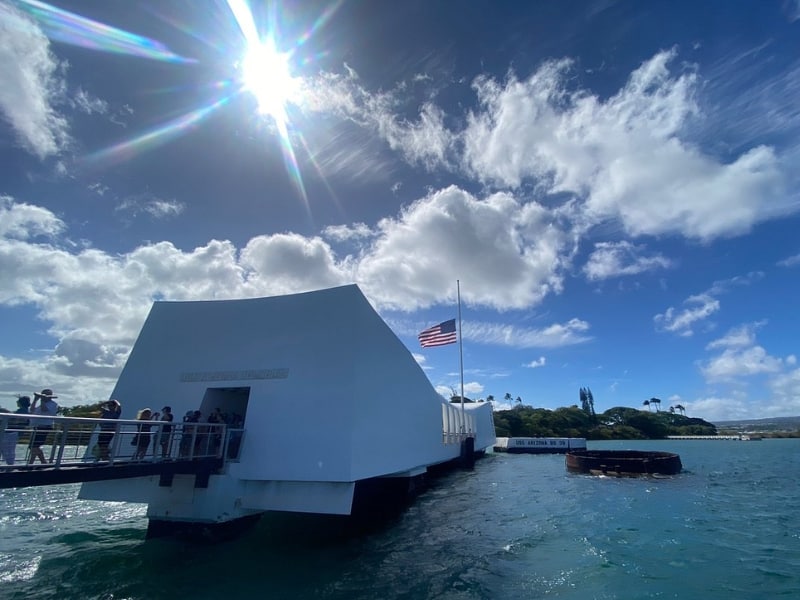 After I get the waiting ticket, I can move to the waiting line near the ticket center. There's a shuttle service to pick up visitors to Ford Island for the Missouri-class battleship and Pacific Aviation Museum. The shuttle bus is running every 15-20 minutes so that you don't need to wait for a long time.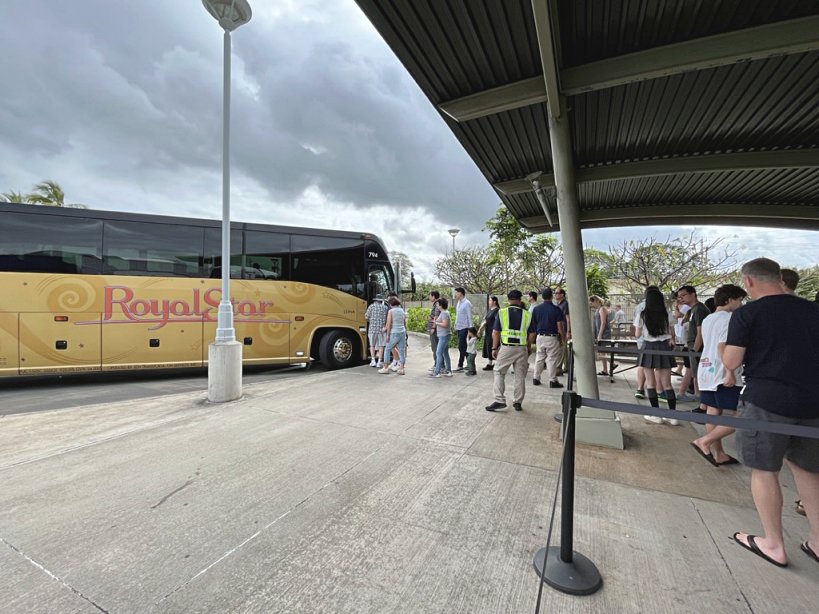 First, the first stop is the battleship where Japan signed the surrender in World War II – the USS Missouri. It doesn't look very large in the photos, but when you hear the guide explaining, you realize that it's actually over two football fields in length!
After its official retirement in 1995, the USS Missouri battleship was donated to Pearl Harbor in 1998 and has been moored there. It was opened for public visits in 2010 after extensive repairs and renovations.
Many of the ship's equipment and areas are preserved in their original form, such as the cabins, gun barrels, ammunition, radar, captain's quarters, and reconnaissance room. When I visited, I had a feeling of being immersed in that time period.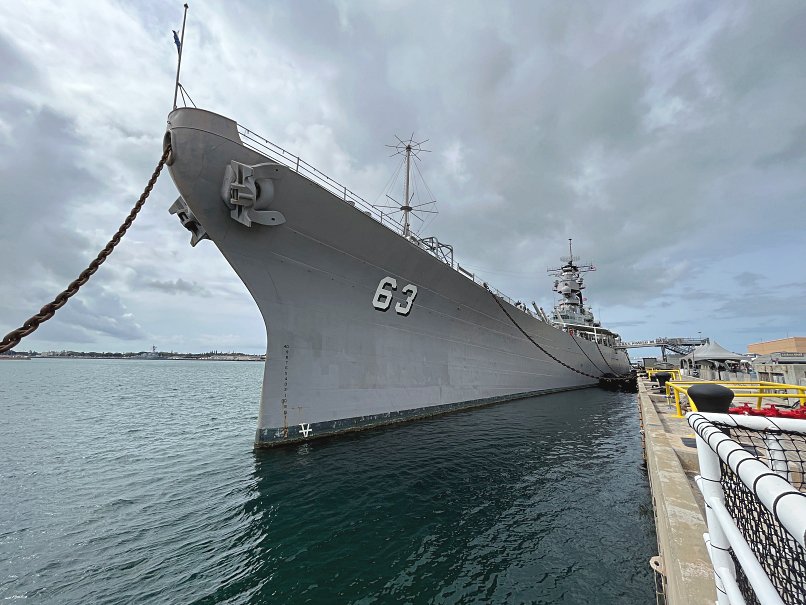 On the deck, you can choose to visit with the tour guide or explore on your own. I recommend following the guide because they are really professional and can provide detailed explanations about every corner of the ship. The guided tour in English is free, but it's not available every time, so I suggest you make a call in advance to make a reservation before you go there.
While on the deck, I saw these gun barrels and I was curious to ask: After firing the projectiles, does the whole ship move due to the recoil?
The guide immediately answered: No, it doesn't move at all. There was technology at that time to prevent the recoil from moving the ship. If you see the black canvas covering at the base of the gun barrels, there's a spring-like structure inside that prevents the ship from shifting.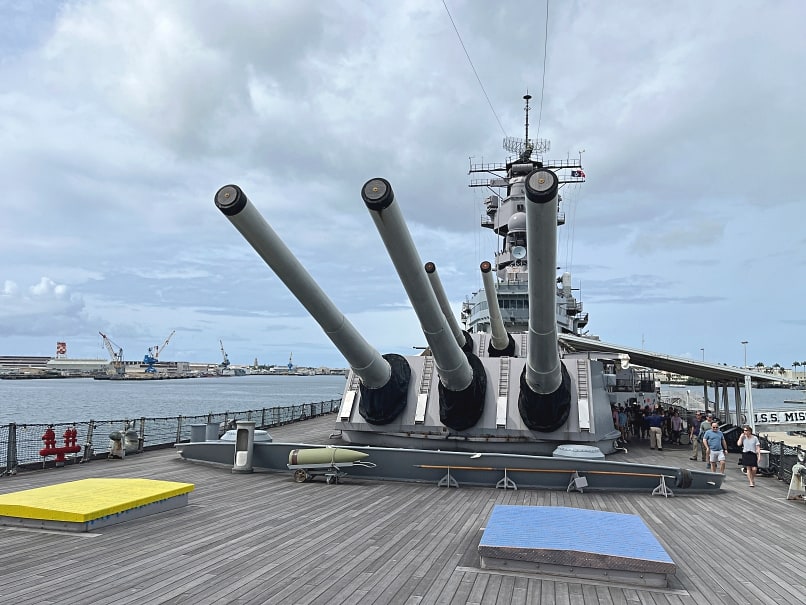 If you continue further inside, you will come across the site where Japan surrendered in World War II. Everything remains largely unchanged, allowing visitors to deeply feel the atmosphere of that time period.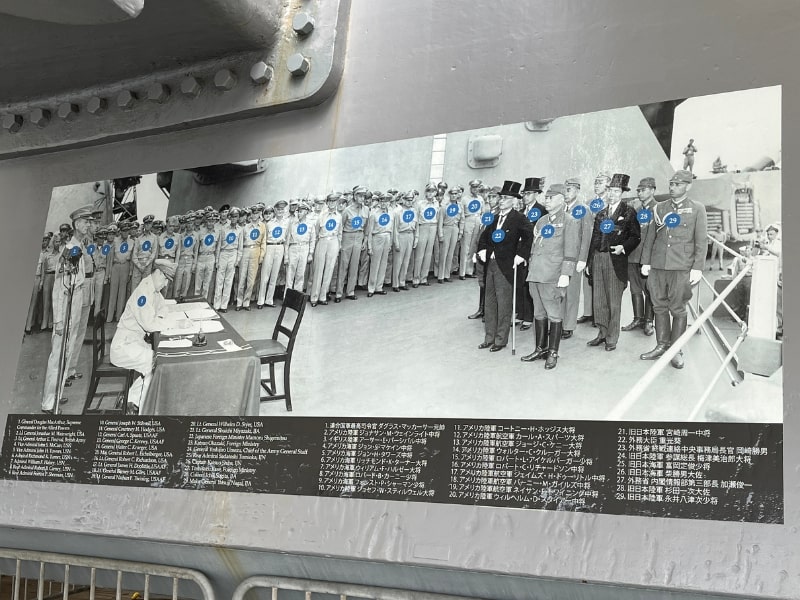 After listening to the guide's explanation on the deck for nearly half an hour, we would then proceed inside the battleship.
Here, in Pearl Harbor, the most authentic scenes from that time period are recreated. Some things are truly fascinating, and the highlight is learning about the facilities and structures within the battleship. It's really awesome!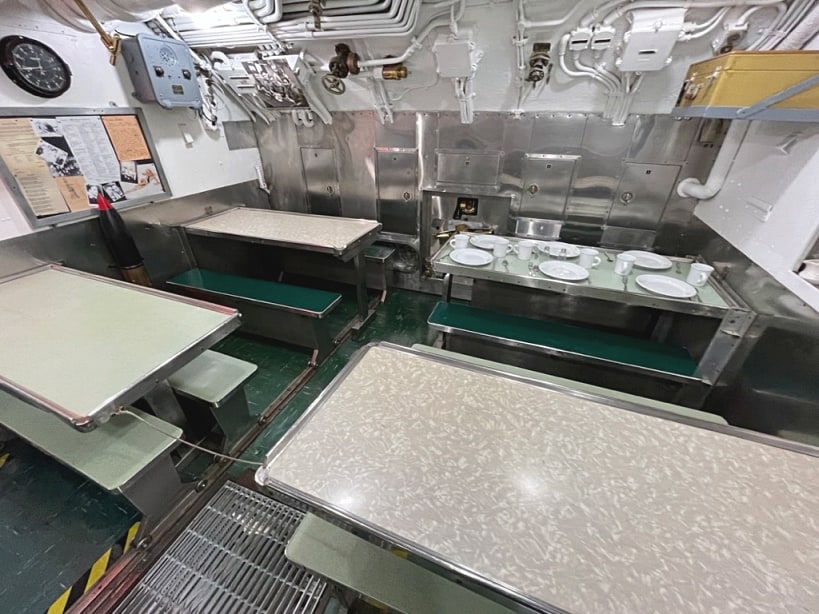 There are many scenes worth exploring both outside and inside the battleship, but this article focuses on explaining the use of the all-day access pass for Oahu Island, so I will briefly mention it.
The USS Missouri battleship looks majestic and beautiful for photography, especially in good weather. It's recommended to take a photo at the front center of the ship to capture its grandeur.
After visiting the USS Missouri battleship, we can return to the shuttle bus pick-up location. This time, the shuttle bus will take us to the Pearl Harbor Pacific Aviation Museum.
Here, you can see many important artifacts from World War II, such as planes, ammunition, photographs, and equipment.
If you want to learn more about the history of the Pacific War, visiting the Pearl Harbor Pacific Aviation Museum is a must-do when visiting Hawaii.
Upon arriving at the entrance, look up when you see this sign, and you will notice the huge bullet holes left by the Japanese during the Pearl Harbor attack on December 7, 1941.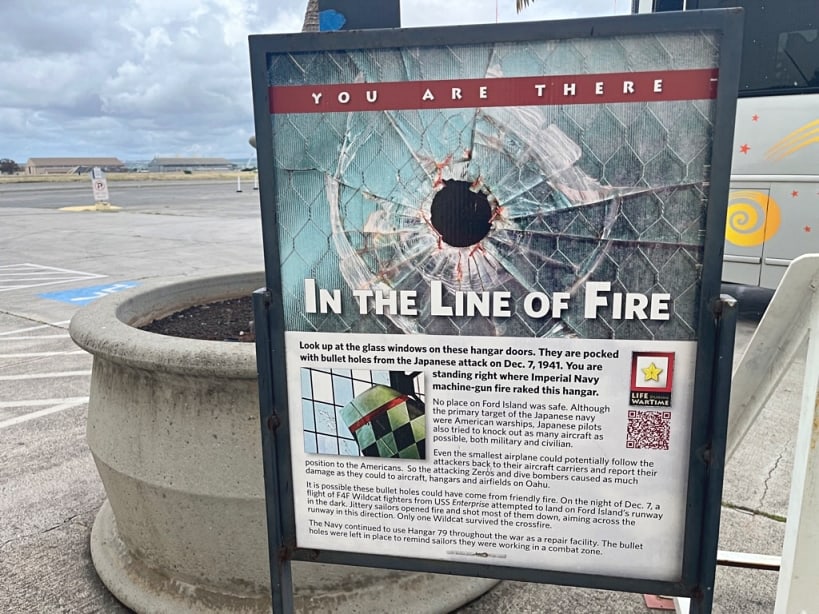 When you enter the exhibition hall, you can borrow a multilingual audio guide from the service counter on the right side.
Each aircraft or exhibit has its own barcode that you can scan, allowing you to directly access the historical records of that particular aircraft.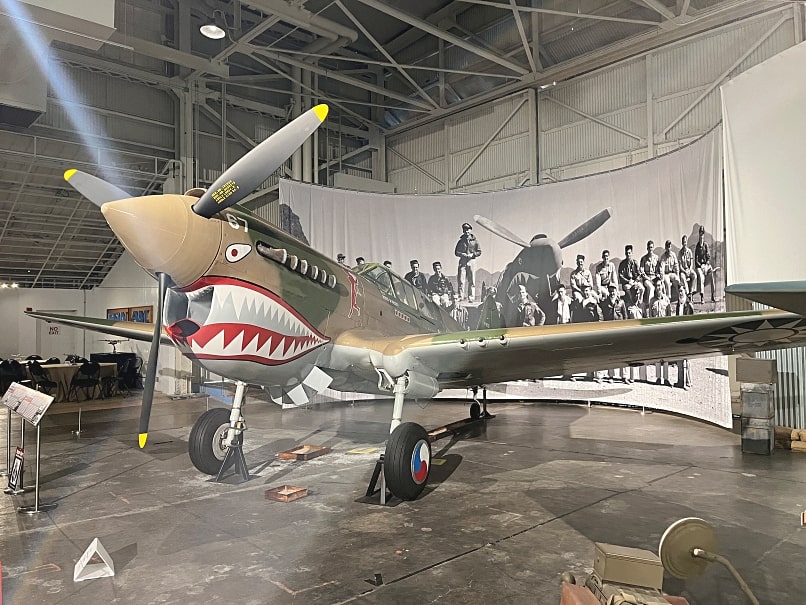 After exploring the history and origins of each aircraft, if you continue a bit further, you will come across the "Fighter Jet Simulator." If you want to experience how to fly a plane, you can give it a try.
It's somewhat like a roller coaster that spins in place, with a full 360-degree rotation and virtual reality presentation that I couldn't hold and make me feel dizzy. I think kids would absolutely love it because I remember trying other flight simulators when I was young, and the memories are still vivid.
After experiencing the simulator, as we walked outside, we came across a vintage firefighting truck from the World War II era! No matter what age you are, you never get tired of these cool stuff like these classic cars.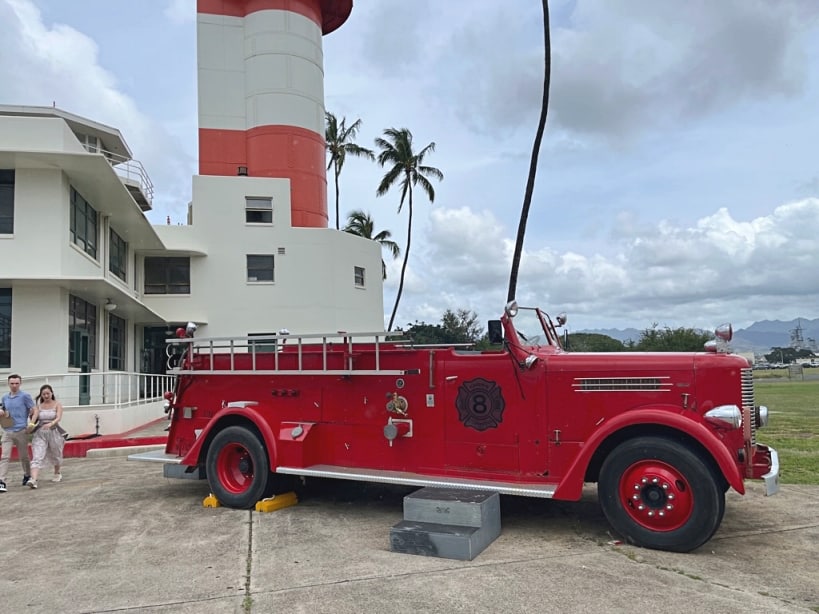 In the Pacific Aviation Museum, there are a total of two exhibition halls. After exiting, there are signs guiding you to the next exhibition hall.
Along the way, you will also see many classic fighter jets and cars. The image shows another World War II military jeep!
Usually, we only see miniature toy versions, but seeing the actual size for the first time makes me really want to have one in my own garage!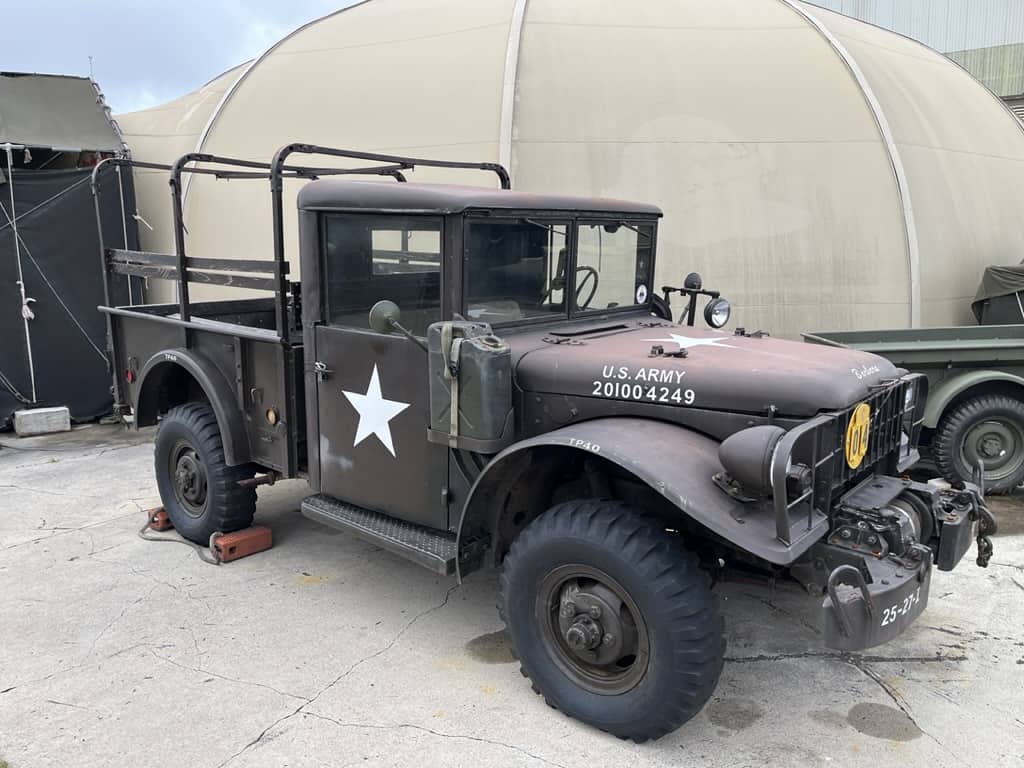 Furthermore, on the way to the second exhibition hall, you will notice a small yurt on the left side that is definitely worth visiting.
Inside, there is a display dedicated to Bob Hope. During World War II, when soldiers were stationed far from home, there was undoubtedly a longing for their homeland. Bob Hope was an American actor, comedian, and host.
Starting from 1941, he conducted annual overseas tours, and his performances not only provided a temporary escape from the pressures of war for the soldiers abroad but also made them feel supported and cared for on the battlefield.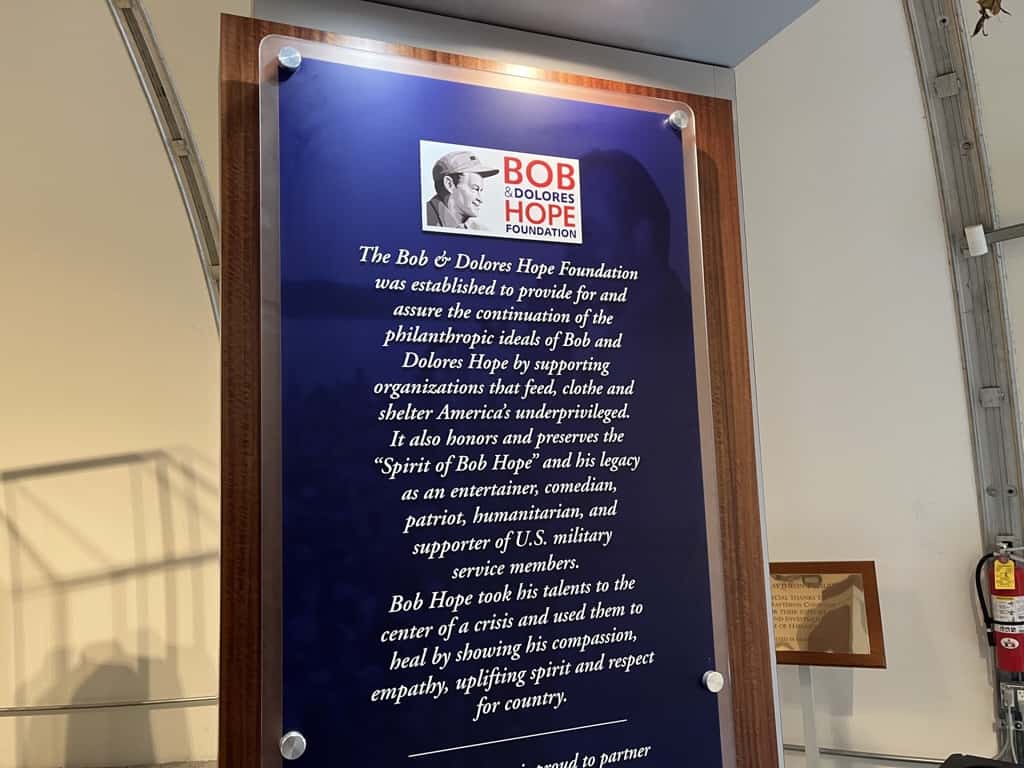 Furthermore, during World War II, Bob Hope also conducted fundraising activities for the Air Force, providing them with essential equipment, supplies, and training. He raised millions of dollars in total.
The contributions made by Bob Hope during the World War II era, through his touring performances and fundraising efforts, are undoubtedly an indelible part of American history.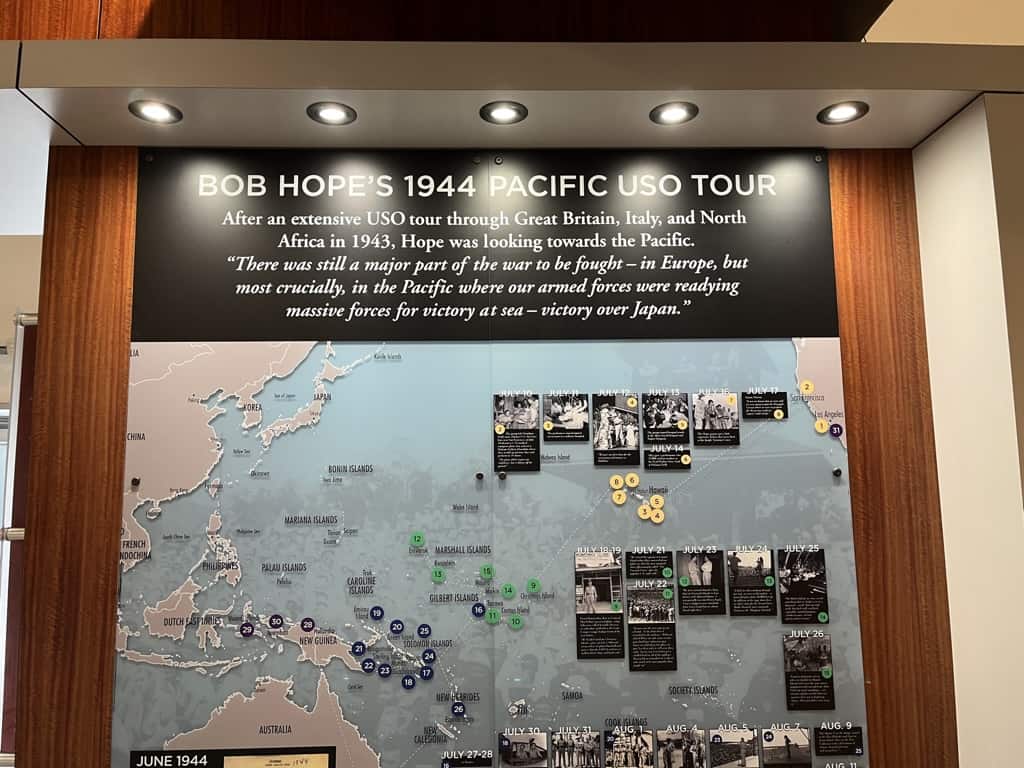 After visiting the Pacific Aviation Museum, we can take the shuttle bus back to the entrance of Pearl Harbor.
Finally, let's explore the last exhibition at Pearl Harbor – the USS Bowfin Submarine and Submarine Museum.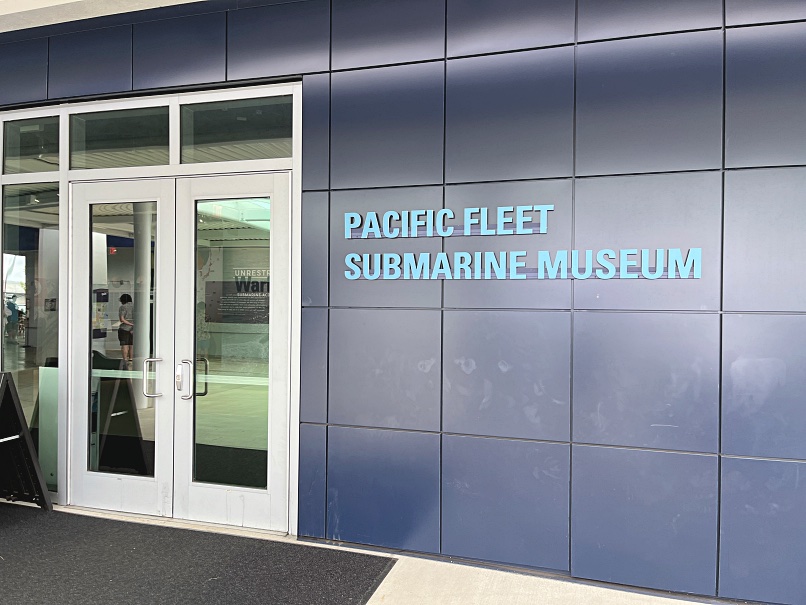 Inside the museum, there are two main areas: the submarine equipment explanation zone and the historical zone showcasing the effectiveness of submarines during World War II.
Here, you can gain a clear understanding of the complete structure of a submarine, including its exterior, interior layout, sonar systems, torpedoes, and more.
You can see and experience these aspects in the museum. One of the highlights that Joe's father found particularly cool is the sonar operation.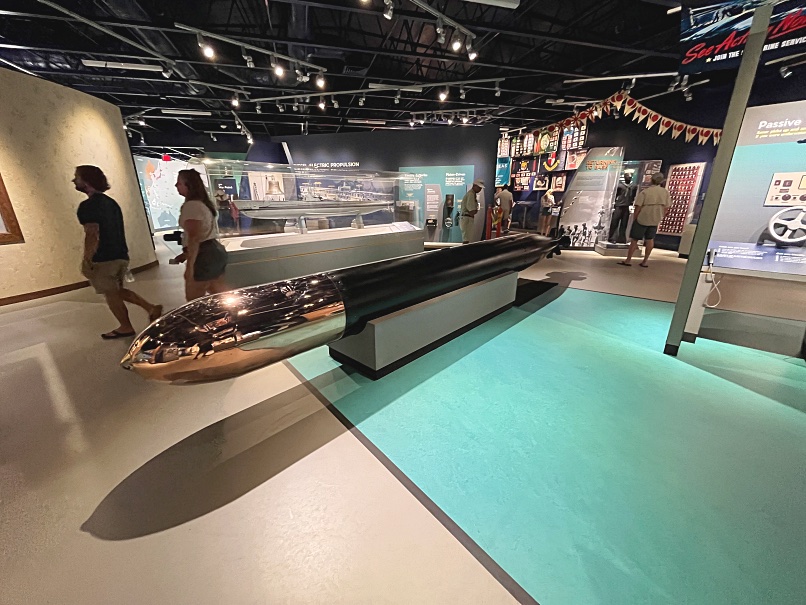 You can pick up the phone and use the simulated console to detect other submarines. It's really awesome!
If you want to experience the actual feeling of driving a submarine, there is also a model available that allows you to take a ride and have that experience.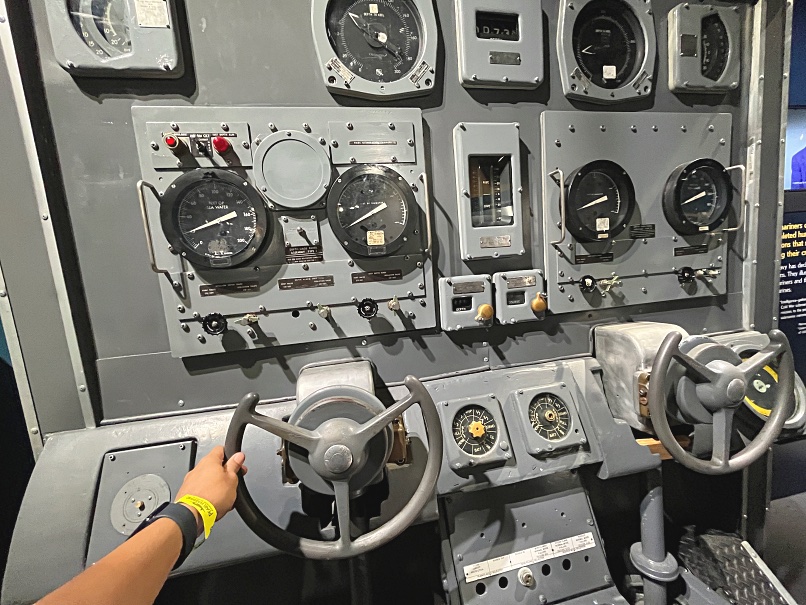 After finishing the tour of the submarine and the history of World War II development, we arrived outside by the waterfront where we could see the USS Bowfin submarine.
It was launched in 1942 during the World War II era and was equipped with state-of-the-art technology and weapon systems such as sonar torpedoes and anti-ship missiles.
I still remember the first time I stepped onto the submarine and saw the deck design. At that time, I thought it was designed for passengers.
But when I asked, I learned that the submarine itself had such a design, making it convenient for sailors to walk on the deck when the submarine surfaces.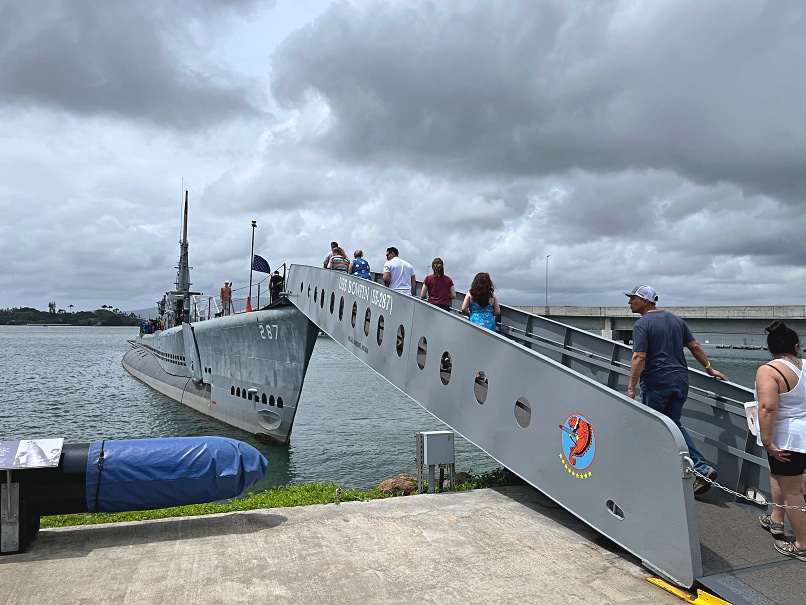 Upon entering, you will see rows of polished copper pipes shining brightly. However, the interior space of the submarine is relatively narrow, and only one person can walk through the passageway at a time.
Therefore, the visit inside the submarine is conducted in a one-way manner.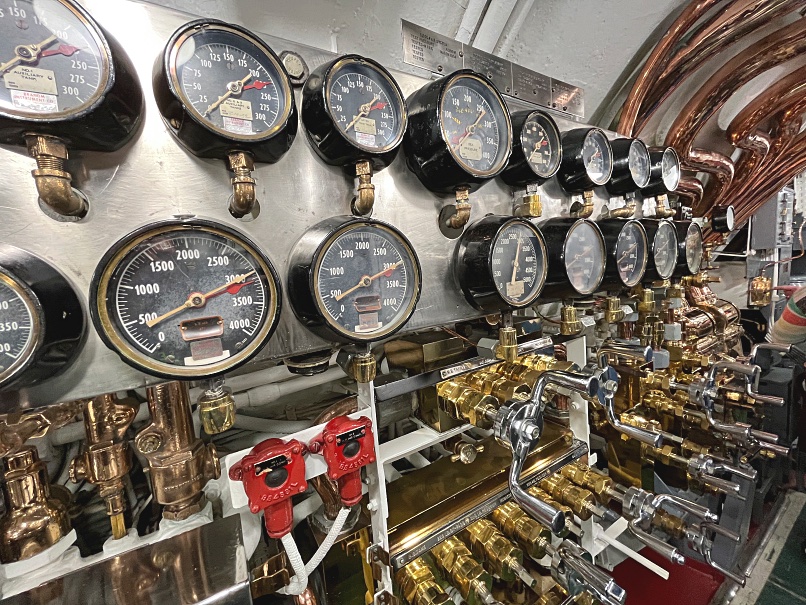 Inside the submarine, you can also see the living quarters of the sailors, such as the mess hall, post office, toilets, showers, game room, and the officers' quarters (which are quite different from the accommodations of the regular sailors!).
After completing the tour inside, head up to the deck to take a look at this artillery. Every time you visit these military weapons and equipment, there's a sense of shock.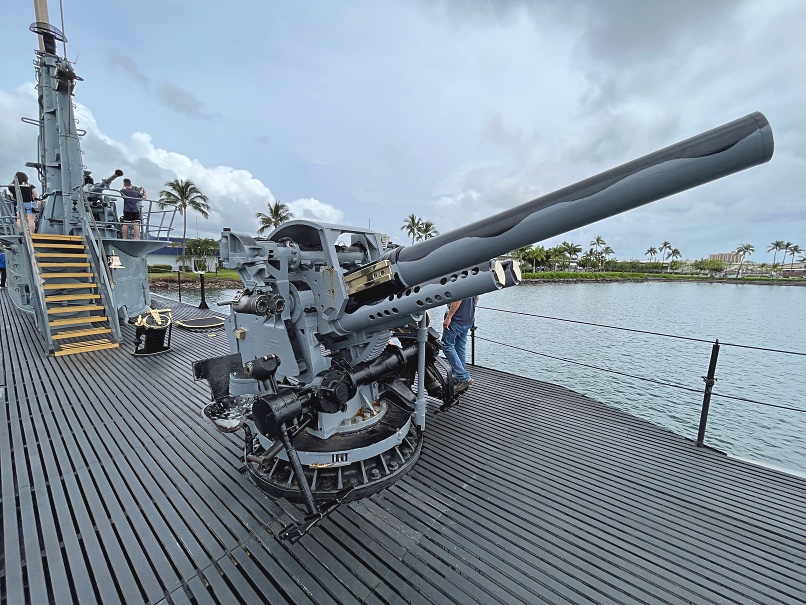 The above is an itinerary introduction to visiting Pearl Harbor using the all-day access pass on Oahu Island.
I suggest going early to experience Pearl Harbor because it is one of the main and must-visit places on Oahu Island, and it attracts a large number of visitors!
Sometimes it reaches its daily visitor capacity (tickets may be sold out), so it's best to go early in the morning.
After exploring Pearl Harbor, I recommend heading to Ryder's Poke nearby for a poke bowl or Aiea Bowl for Tasty's Chicken/Oxtail Soup for lunch, and then continue on to the next part of your itinerary.
You May Also Read:
In the afternoon, I have scheduled a special activity with the access pass – a two-hour Makani Catamaran Sunset Sail with Drinks. After exploring Pearl Harbor, you can enjoy a more relaxed afternoon itinerary. After experiencing so much in the morning and absorbing a lot of information, you might not want to visit more museums or information-heavy attractions.
The Makani Catamaran Sunset Sail is essentially a boat trip where you can enjoy drinks and admire the panoramic view of Honolulu. Yes, drinks are the highlight because you can enjoy unlimited drinks on board.
This itinerary requires a phone reservation in advance. Call them and let them know that you have the Oahu Go City Pass and would like to make a reservation for the activity. They will need the number of your electronic pass for verification. Once you provide them with the necessary information, the reservation can be completed.
Here is the contact information for Makani:
Phone: +1808-591-9000.
Address: 1009 Ala Moana Blvd. Slip F-31 Kewalo Harbor.
Check-in Time: 4:30 PM.
Tour Time: 2.5 hours.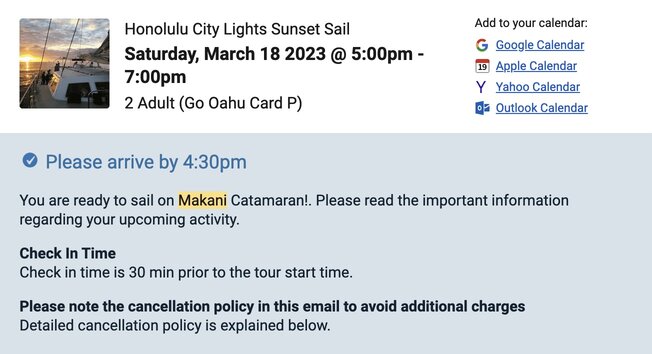 If you plan to have drinks, I suggest returning to your hotel and taking an Uber to the harbor. For friends who enjoy drinking, please do not drink and drive.
Once you have parked your car, look for this sign, which indicates the meeting point. Bring your electronic pass to the counter to check-in.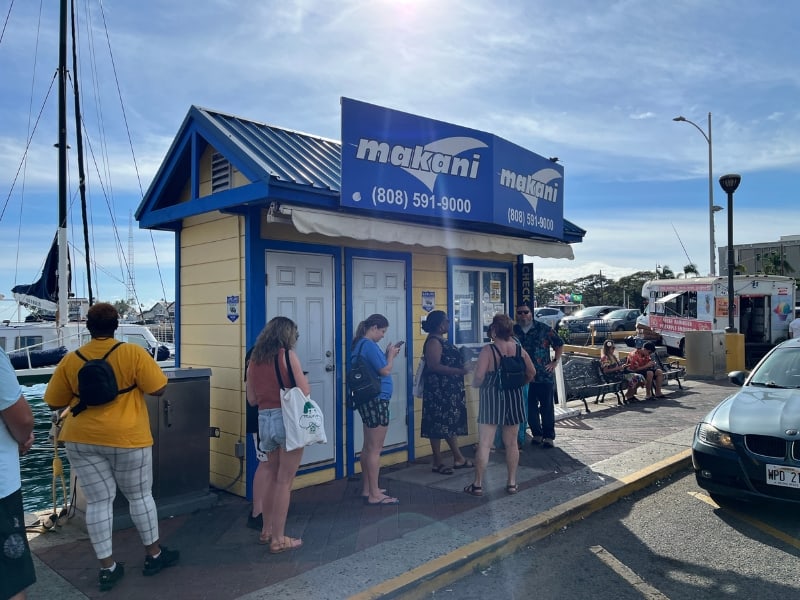 After the boat sets sail, the crew will provide some important safety instructions, and then you'll have complete free time.
I suggest sitting directly on this woven net—it's both safe and comfortable! Plus, you'll have an excellent view of the stunning scenery. Once onboard, you can relax and enjoy your time on this chill spot.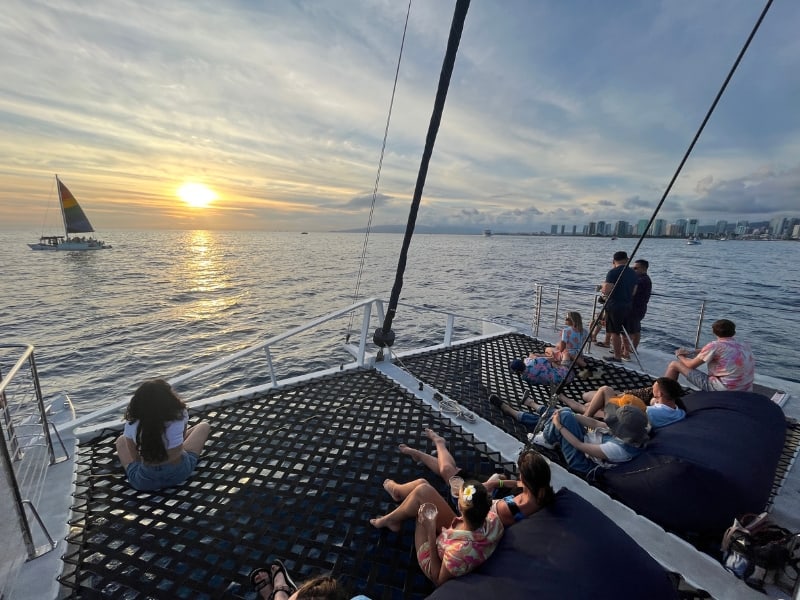 The weather in Hawaii is truly perfect for unwinding and letting go of all your stress. Being in Hawaii means constantly immersing yourself in the beauty of nature.
Just like the views you'll witness aboard the Makani sailboat, the sunset you'll see will undoubtedly be the most beautiful one I've seen in recent times.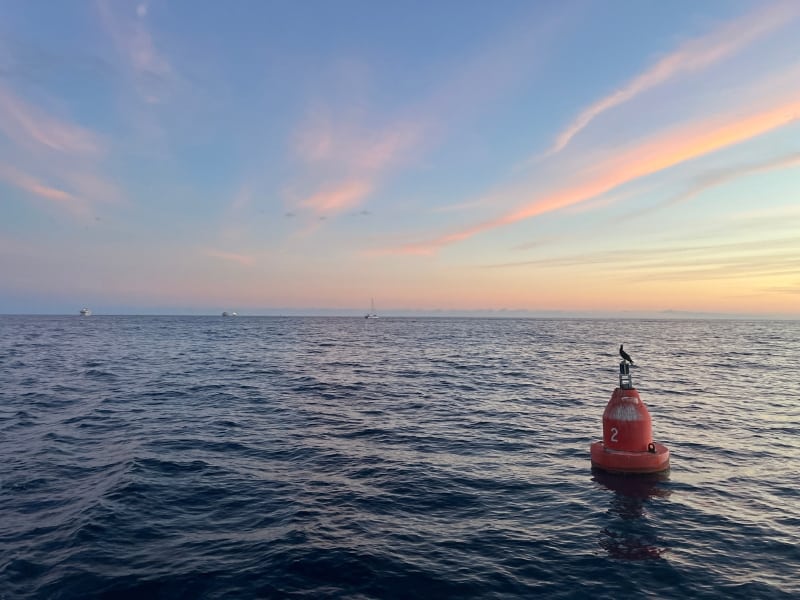 If you're visiting Hawaii between November and the end of March, you have the opportunity to go whale watching. During this time, whales from Alaska migrate to the waters near Hawaii to give birth to their offspring, making it a prime whale-watching season!
Here's a video of whales breaching taken in March 2023:
Lastly, let's end the day with a mesmerizing sunset video to help you forget all the troubles of today!
After enjoying the sunset, we conclude Day 1 of the Oahu Go City Pass itinerary, which has been incredibly fulfilling! Now, let's move to the Day 2.
Day2 – Polynesian Cultural Center
The itinerary for the second day is a bit more flexible. You can consider the activities you can visit in the morning with the Go City Pass (you can combine it with a visit to the Kualoa Ranch), and I recommend allocating around 1-2 hours for this. If you plan to visit the Polynesian Cultural Center, around 12 PM would be the most suitable time.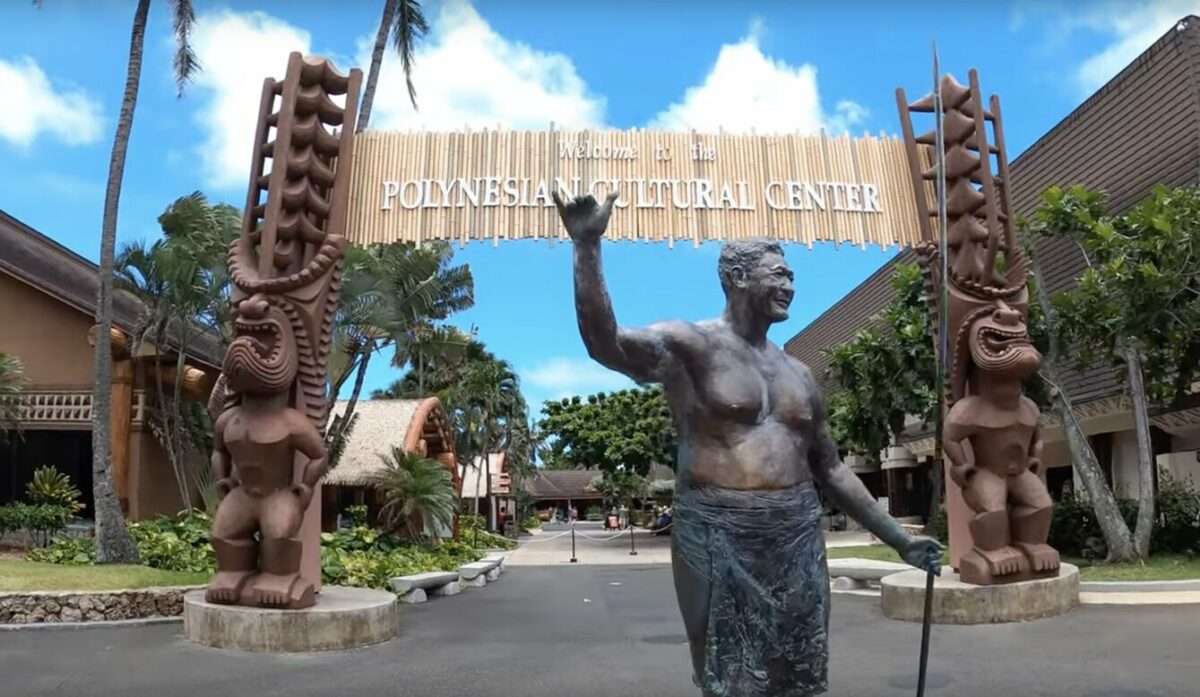 Alternatively, if you prefer a more relaxed morning schedule, here are a few suggestions for stops and activities along the way to the cultural village:
Green World Coffee Farm
Dole Plantation
Haleiwa Town
Waimea Bay
Kahuku Shrimp Truck (Good for lunch)
After discussing the suggested stops for Day 2 with the Oahu Go City Pass itinerary, let's move on to the main attraction: the Polynesian Cultural Center.
The Hawaiian culture which encompasses the cultures of Hawaii, Samoa, Tahiti, New Zealand, Tonga, and Fiji, etc, is not limited to the Hawaiian people.
The Polynesian Cultural Center showcases the traditional culture, history, and art of Hawaii and the Polynesian region. Here, you can enjoy performances, participate in hands-on workshops, and experience cultural activities.
If you're up for a wilderness survival experience, you must learn how to make fire! There are muscular guys dressed in traditional attire who will teach you how to create fire by friction:
(Note: Apologies for any stereotyping in the description, as it is based on cultural performances commonly seen at the Polynesian Cultural Center.)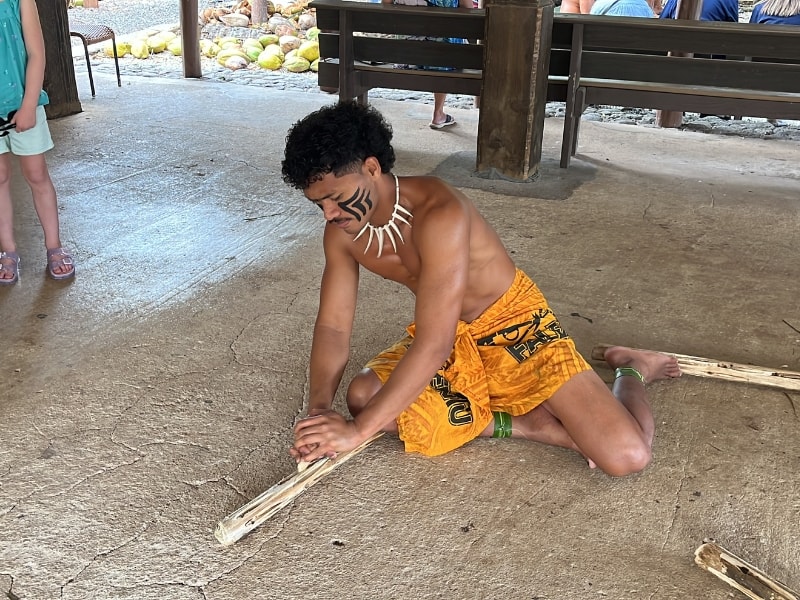 Speaking of wilderness survival, in island nations, it's also important to learn how to climb coconut trees to obtain the best source of nutrition. Every time I see them climbing trees so quickly, I can't help but wonder if they have ever fallen… because it seems a bit unrealistic.
The presenters will use funny American-style humor to explain something or knowledge during the performances, and it will definitely make you burst out laughing.
As mentioned earlier, Hawaiian local culture is composed of many different cultures, each with its own distinct characteristics. Here, you will see different performances from each culture. For example, Samoa showcases drum performances, Hawaii features the ukulele, and Tahiti has a vibrant mixed orchestra, as shown in the picture.
Did you know that grass skirt dances also come in many varieties? In Hawaii, it's called Hula and is performed at a slower pace, while the fast-paced swaying dance you may be familiar with is called Ori Tahiti.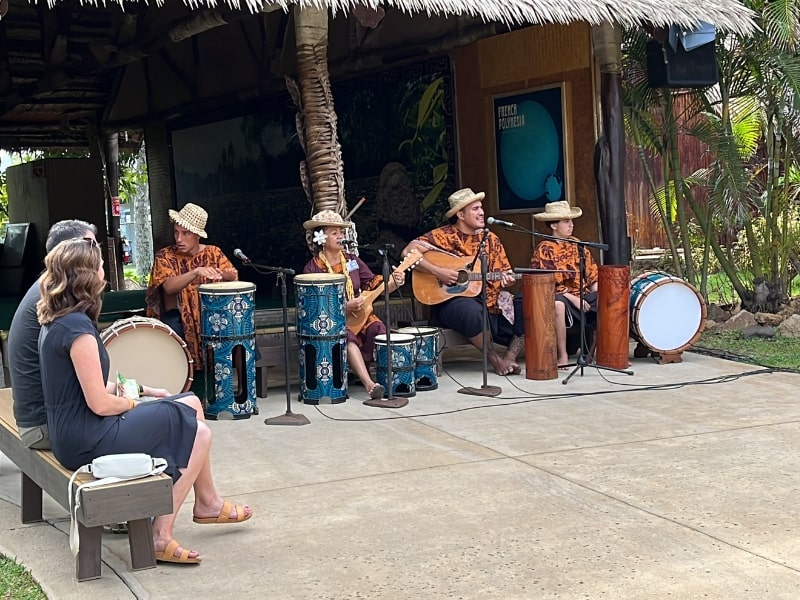 One village after another, we now arrive at the New Zealand village, where you can see the famous Haka dance in the video. Originally part of Maori culture, the Haka was used to intimidate enemies during warfare and is incredibly powerful. Over time, the Haka has evolved into a form of celebration, welcome, and expression of respect. Although it may appear intimidating, I always find it exhilarating to watch!
Additionally, from the video, you can see various totems on the walls and carvings on the pillars. Those carvings are called Tiki, and the Maori people consider them to be their ancestors. Each Tiki has its own special blessings and meanings, so when you go shopping in Hawaii, you will often come across souvenirs engraved with Tiki guardian figures.
With different cultures, in the past, traditional tattoos in Hawaii were reserved for individuals of special status, such as chiefs, warriors, and priests. Similarly, at the Polynesian Cultural Center, there are handmade temporary tattoos available. Each symbol represents different cultural beliefs, values, and meanings. Children can have the opportunity to create their own temporary tattoos here.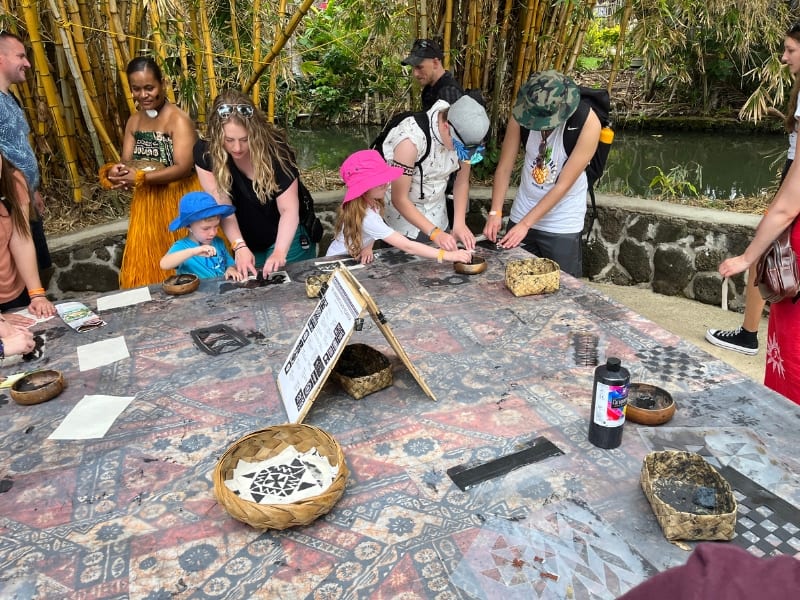 In the past, life was not like it is today with television, mobile phones, or any electronic devices for entertainment. Hawaii created its own game called Bowling, which is names "Makahiki Game."
In the video, you can see them rolling a disc and trying to pass it through the two bamboo sticks in the middle. If they pass through, they win, but if they don't, they lose. Although it's very different from modern bowling, the principle is quite similar if you look closely.
The Polynesian Cultural Center offers not only various performances and experiences but also the iconic Hawaiian feast called Luau. Luau is a cultural event in Hawaii that features a range of performances, such as fire dancing, hula, and Ori Tahiti. While enjoying the performances, you can also indulge in the local specialties, including Kalua Pig, Poke, BBQ Chicken, Haupia, and more.
After a full day of activities and feeling tired, if you don't have any evening plans, it's a good idea to have dinner here. However, please note that the Oahu All-Inclusive Pass package does not include the cost of the Luau. If you wish to participate in the Luau event, make sure to add it at the ticket counter.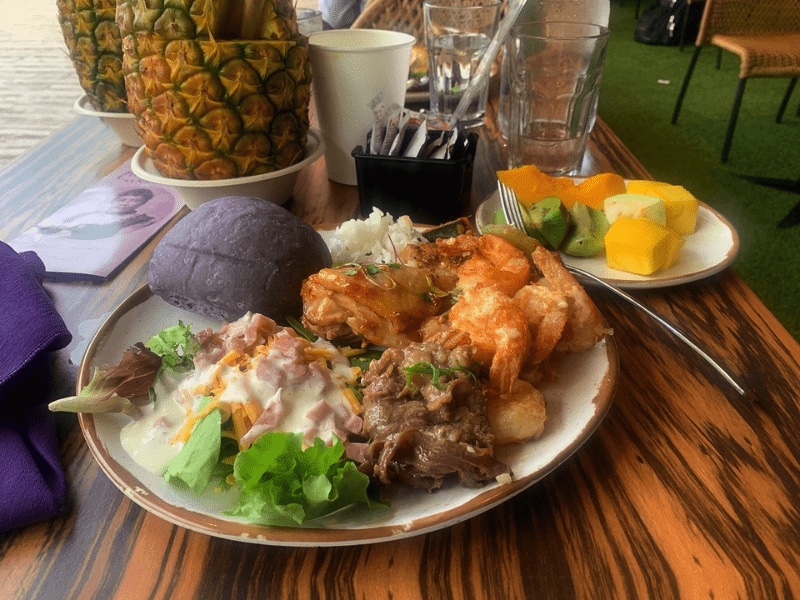 You don't have to have dinner at the Polynesian Cultural Center; it's just one of the activities they offer. If you finish your activities in the park before 6:00 PM and don't want to wait for the Luau, I recommend going to Waiahole Poi Factory (it's really delicious!). The authentic Hawaiian dishes served there are definitely tastier than those at the cultural center.
For example, one of my favorite dishes is the Hawaii Plate, which is incredibly delicious in terms of portion size and flavor.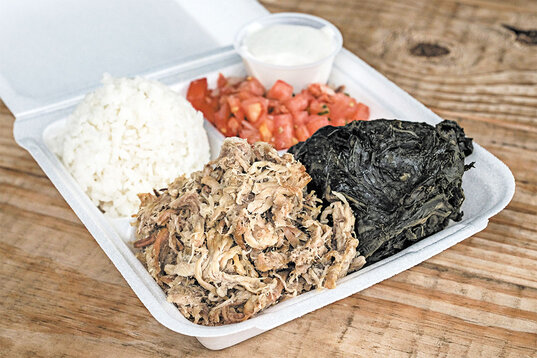 Also, don't forget about their famous Sweet Lady and Tahitian Lady ice cream desserts. Sweet Lady is taro-flavored, while Tahitian is banana-flavored (both are amazing!).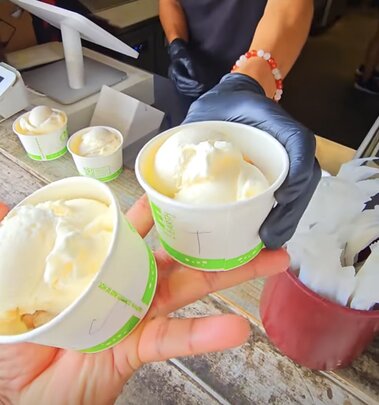 It's the information about Waiahole Poi Factory:
Name: Waiahole Poi Factory
Phone: (808) 239-2222
Open Time: 10 AM – 6 PM.
After introducing the itinerary for Day 2, do you already find the Oahu All-Inclusive Pass worth it? If you're still considering, you can continue to explore our Day 3 itinerary. If you want to learn more about the Oahu All-Inclusive Pass options, you can visit the Go City's website for package information.
Check the Oahu City Pass Electric Package and Save You More>>
Day3 – Iolani Palace & Biship Museum
On the third day, we will visit Iolani Palace and Bishop Museum, following a historical museum route. Hawaii has a rich variety of cultural and historical museums, and Iolani Palace is one of my favorites.
As soon as you walk through the entrance, you'll be captivated by the beauty. The palace has preserved its original appearance, from the grand entrance to the items inside the palace.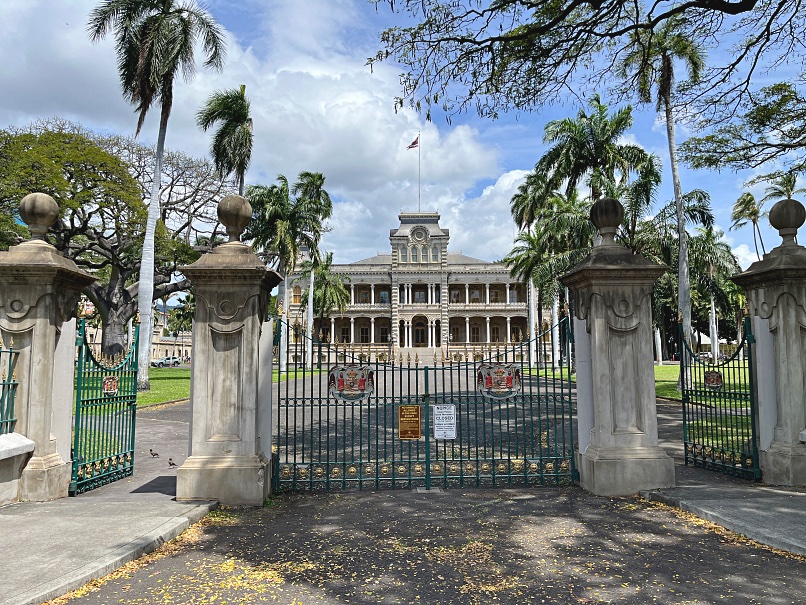 Hawaii was annexed by the United States in 1898, but prior to that, Captain Cook accidentally discovered Hawaii, and afterwards, Hawaii became one of the main ports at that time.
The most valuable products in Hawaii's economy were sugar and tobacco, generating annual revenues of around 4 to 5 million dollars, which is equivalent to over 1.1 billion dollars today.
Therefore, at Iolani Palace, you will see many artifacts from Russia, Spain, Britain, and the United States, which were gifts left behind during that time.
Here is the emblem of Hawaii at that time (on the iron gate of the entrance):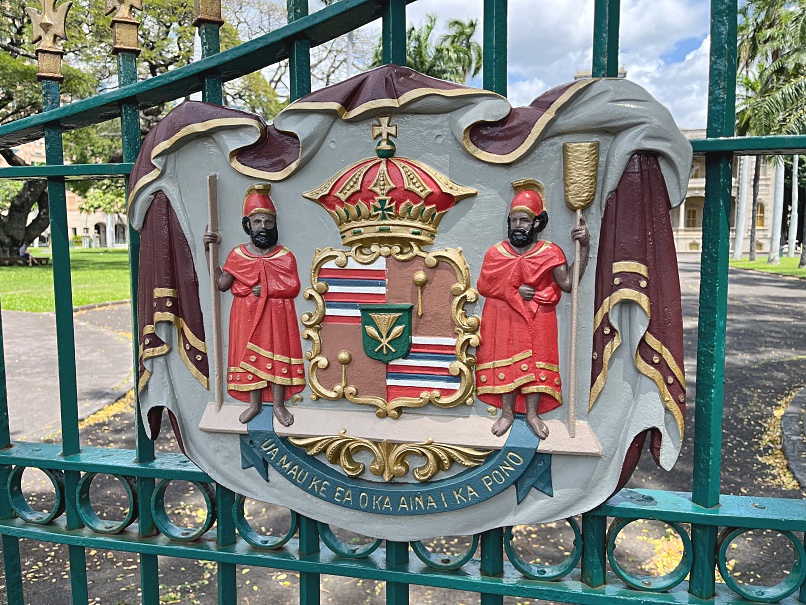 Upon arriving here, not only will you visit the palace, but from the moment you walk through the gate, you can deeply feel the grandeur of the palace.
Look around at the tall trees and grassy areas, and you will experience a great sense of tranquility. As you continue further inside, you will see the Iolani Palace that we are going to visit today.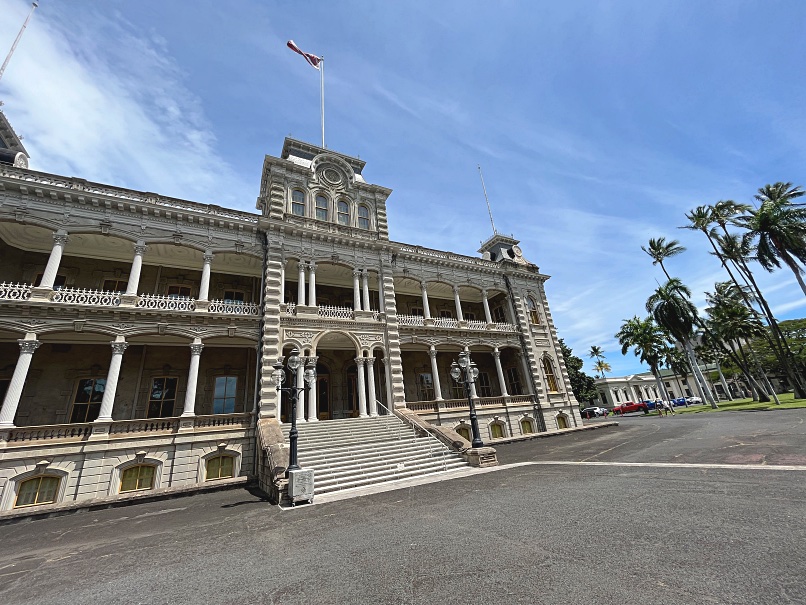 To be continue…
Note: Due to my content schedule, I will add more content in this article and keep updating consistently. Thank you for reading and apologize for your inconvenience.
People are interested on these topics: