If you are traveling to Honolulu, Hawaii, you better not miss this awesome service: Oahu City Pass! With this electric ticket, it can save you at least 50% of the ticket cost for many places.
Everyone, every one of my friends when they are on a trip in Hawaii, I strongly recommend them using the Oahu City Pass electric ticket, they provide several values like all-include package. You can order the package for your ideal tourist attractions and save money!
In this article, I will share with you how to use the Oahu City Pass All-include package for your trip.
What is Oahu City Pass?
Oahu City Pass is an all-in-one online service that provides tourist attraction electronic tickets, bus tickets, place access permits, etc. By using your mobile, go to Go City official website and install their app, purchase the package, and show the QR code, you can pass many places and save your trip budget.
Where to Buy Oahu City Pass?
Generally, there's many places you can go to buy this service, but the most convenient method is GoCity dot com, which is an official website and they provide full packages with good customer service.
You can buy the Oahu City Pass via this link: Click here>>
No matter what country you are from, just make an order from the website before you fly to Hawaii.
Also, if you have installed the Go City mobile app, you can choose Oahu, Hawaii and buy the city pass ticket package which is more quickly.
Price of Go Oahu City Pass All-Inclusive Package List
As seen on Go City's website, here's their city pass package with the price list, notice it has different prices for adults and kids by day.
1 Day Package – Adults $109, Child $99.
2 Day Package – Adults $174, Child $154.
3 Day Package – Adults $262, Child $219.
4 Day Package – Adults $329, Child $289.
5 Day Package – Adults $364, Child $319.
7 Day Package – Adults $414, Child $359.
Note: The child age is between 3-12 years old.
Only you choose the 3-days up package that includes a choice of 1 premium experience. In my experience, I recommend you book a 3-day package for the Oahu city pass.
Which Package is the Best?
I suggest you choose the 3 days package because it can save you more budget and let you access many famous tourist attractions. Besides 3 days, 4-7 days are ideal choices you may consider, depending on your vacation plan.
Why Choose 3-Day Package? (Or More Days)
I know many people will plan over one week for their Hawaii vacation, definitely they would rather stay one more week.
Don't think Oahu is just a small island, there are so many places, especially some culture tours and historical sites that you better visit in the first 3-days, also they have one premium tour choice for you as long as you book a 3-day package.
How To Use Oahu City Pass? Something You Need To Know
When you complete booking, you will receive their email sent from Go City, and the email is an electronic ticket with your booking date.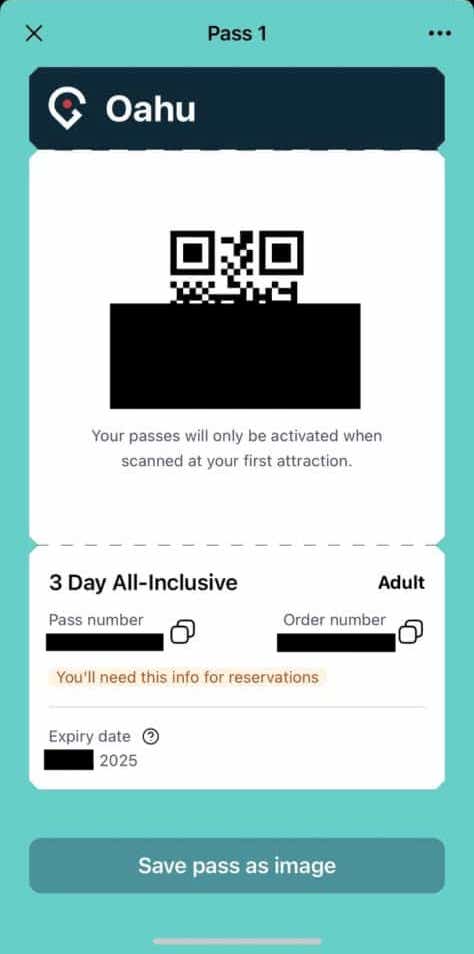 It's super easy to use the Oahu Go City All-including Pass electronic ticket, just open your Go City mobile app, click the date and show your QR code. The other method to scan this QR code is to take a screenshot or print it as paper, and let them check and scan your QR code. That's it.
Generally, the electronic ticket's effective usage is two years from your date of order, but once you start to use the ticket, it will be 14 days for expiry. Also, you don't need to use the ticket for 3 days straight, it's flexible for your use.
For example:
In my trip experience, I booked a 3-day ticket. I visited Pearl Harbor on April 1, and I have to use another 2 days before April 14. I visited Polynesian Cultural Center on April 10 as a second ticket, and I visited Iolani Palace & Biship Museum on April 12 as my last ticket, which means I used a 3 days City Pass ticket flexible for my Oahu vacation.
Once I don't use another two tickets before expiry date, the tickets will be invalid.
What I Choose the 3 Day Package Is..
So, what's the best suggestion for a 3 days itinerary on vacation with Oahu City Pass All-include Pass tickets?
In my experience, you can follow above all places that official site recommend, but I prefer to choose these tour below:
Pearl Harbor + Makani Catamaran Sunset Sail with Drinks (USD$149 values)
Polynesian Cultural Center + Moana Splash Luau (USD$164.96 values)
Sea Life Park: Dolphin Aloha + Hawaiian Reef Encounter + Admission (USD$188.46 values)
There are still many places that are worth visiting, considering your limited time and budget, these places above are my suggestions. However, you can choose your favorite and add it to your Oahu vacation itinerary.
Check My 3 Day Itinerary Oahu Trip Plan>>
Check Oahu Travel Guide (Long Article)>>